Best Places to Celebrate Halloween in the USA
Thursday, February 28, 2019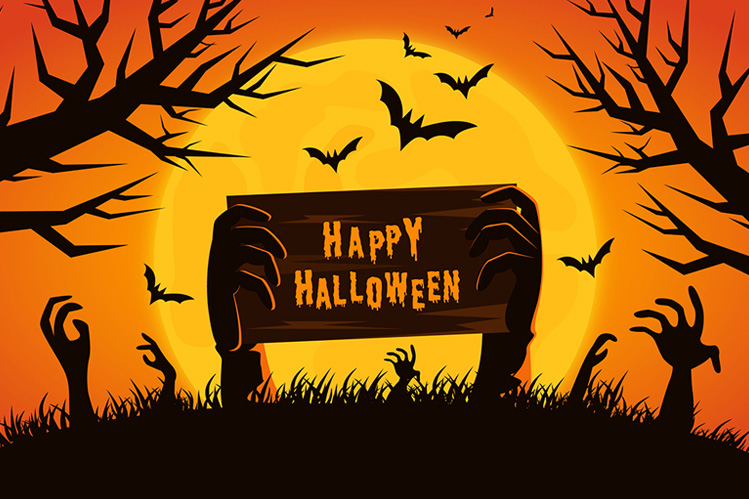 Halloween is loved by everyone worldwide. But, especially in the USA, many places celebrate Halloween more than others. Here are some of the spooktacular places in the country where Halloween is celebrated in a big way. Book Halloween travel deals to enjoy a getaway like none other.
Salem, Massachusetts — Best Halloween Celebrations
Salem is situated on the north coast of Massachusetts and is among the oldest cities in the United States. It gained popularity in 1692 for its witch trials which witnessed the execution of several locals for the alleged practice of witchcraft.
With Halloween travel offers, more than 250,000 people come to Salem annually to celebrate Halloween.
Many events take place on occasion, which includes a Grand Parade, chilling theatrical presentations, live music, haunted houses, ghost tours, costume balls, Family Film Nights on Salem Common, and the Haunted Biz Baz Street Fair. Book Halloween flights for less and experience this fest like never before.
Anaheim, California — Best Halloween Parades
Halloween travel has cast a magical spell on the people of Anaheim since 1924. The annual a-mile-and-half-long Anaheim Halloween Parade passing through the darkened streets of the downtown with a nighttime pageant of ghosts, witches, jack-o-lanterns, and goblins has become a family favorite in Southern California. We'll help you book cheap Halloween airfares with great discounts and help you save huge.
Atlanta, Georgia — Little 5 Points Halloween Festival & Parade
The Little 5 Points Halloween Festival & Parade in Atlanta is among the top 10 Halloween events held in the United States of America. This signature Halloween festival with amazing Halloween costumes in the southeast is organized in Little 5 Points every year, a premier art, music, and business district in Atlanta.
Nearly 35,000 people converge in Little 5 Points in October and book Halloween flights every year to participate in the Halloween festival and enjoy live entertainment, great food and drink, and of course, the best Halloween parade in the South. Do not miss out on great Halloween Day flight specials from our travel team and revel in the spirit of Halloween this year.
Knott's Scary Farm, California — Best Event at a Theme Park
Let not pricey Halloween flight deals keep you from enjoying the seasonal Halloween event. Knott's Halloween Haunt or Knott's Scary Farm is held at Knott's Berry Farm in Buena Park in the State of California.
The theme park is transformed into "160 acres of horror" during the famous Halloween event through a series of terrifying mazes, roaming monsters, and "scare zones". You can also see clippings from Halloween movies and enjoy fancy dress events.
This is the largest Halloween event organized in a theme park in the USA. It may be noted that the Knott's Berry Farm theme park is spread over 160 acres and can be visited around the year.
It comprises eight haunted houses, a zombie shootout attraction, five scare zones, and two live shows. In addition, we have the best Halloween airfare deals to save you great offers from your wallet.
Savannah, Georgia — Best Halloween Tours
Let not expensive deals keep you out of Savannah. It is the most haunted city in the United States of America. Our cheap flights for Halloween allow you to explore one of America's most loved events.
This haunted city has been prominently featured in the "L.A. Times," "Georgia Traveler," "The Travel Channel," "Scariest Places on Earth," "Wheel of Fortune," and many more that can be experienced with low-cost Halloween airfares and top festive deals.
Enjoy the Halloween holiday with Savannah Ghost Tours and Bonaventure Cemetery Tours, rated among the top 10 tours in the USA. The Ghosts & Gravestones Tours is another hugely popular ghost tour organized by Old Town Trolley Tours in Savannah. Quickly grab the best deals for Halloween from Fond Travels and escape to your desired Halloween city.
Sleepy Hollow, New York — Best Halloween Town in the USA
Sleepy Hollow is a town in New York that people visit in large numbers for Halloween travel. The tale of the Legend of Sleepy Hollow is taken to its darkest extremes by all who are ready to be scared out of their mind.
With cheap flights for Halloween, witness the 300-year-old Philipsburg Manor be transformed into a fearsome landscape ruled by ghosts, ghouls, undead soldiers, witches, and vampires — all serving the Headless Horseman himself.
The Sleepy Hollow Cemetery Tour shouldn't be missed in any case to make your Halloween celebrations memorable. In addition, the Halloween sale on Fond Travels is on now; call us to get the best offers.
America's Most Famous Haunted Hotel — Stanley Hotel
The Stanley Hotel will remind you of Stephen King's "The Shining" and Jack Nicholson's spectacular performance. You will then come to know the immense popularity of this hotel. With the best deals for Halloween, do not miss this fun-filled venture.
The Stanley Hotel had inspired Stephen King for the story, which was based on Room 217, where Mr. King himself stayed. This particular room at The Stanley Hotel was a hotbed of paranormal activities for over 100 years.
The paranormal activities, such as things moving, reports of ghost children running through the hotel and laughing, and lights turning on and off by themselves, are undoubtedly the perfect setting for ghost tours and some of the best Halloween celebrations.
Halloween sale on Fond Travels can be availed simply by just visiting our website and browsing through the arrayed list of flights and booking the one most suitable to you. You can also spook your friends and family by gifting them flight tickets this Halloween.
During your Halloween travel, we also offer cheap car rentals and deals on hotel bookings to make the journey more convenient and pleasant. So, what are you waiting for? Book your cheap Halloween flights with Fond Travels (+1-571-389-6426) and celebrate the festival like never before!
Also, read our blog Introduction to Hajj & Its Significance.
Customer Comment
Your email address will not be published.
For immediate assistance
kindly call on below number
571-389-6426
OR, We will contact you within 24 hours.