Cheap Flights to Mexico from the US
Thursday, February 02, 2023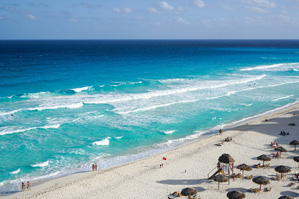 Mexico is a popular tourist destination, drawing hordes of travelers each year. From Los Angeles, you can find cheap flights to Mexico between $113 - $275 and to Cancun for as little as $110-139. A flight from Chicago to Guadalajara won't exceed $150.
If you book during peak sales like Black Friday, Cyber Monday, and Thanksgiving Day, these airfares may drop below $120. To find the flight bargain that best suits you, browse through all the travel offers on Mexico-bound flights.
Mexico is well-known among American travelers who book cheap flight to Mexico to escape the cold and take in the breathtaking scenery, beaches, and ruins in a budget-friendly manner. Historians are particularly drawn to Mexico's historic colonial cities—Aztec and Mayan ruins. It is also abundant in foliage due to its distribution in climate zones that range from barren deserts to lush tropical rainforests.
How to find cheap flights to Mexico City?
The nation's capital, Mexico City, is home to upmarket shopping, renowned museums and various dining establishments. Mexico is a stunning nation that offers something for everyone. It is blessed with beautiful weather, exquisite beaches, distinctive cuisine, and archaeology. It boasts the Gulf of Mexico, the Caribbean Sea and the Pacific Ocean to the east and west.
Last year in 2022, more than 45,000 people booked cheap flights to Mexico. For the same reason, one of America's top travel companies, Fond Travels, provides discounts on flights to Mexico.
Popular Cities in Mexico:
Mexico City
Cancun
Guadalajara
Puerto Vallarta
Acapulco
Oaxaca
Terminals at Mexico City International Airport (MEX)
There are numerous cheap Mexico flights from many US cities. Mexico City International Airport (MEX) is the busiest airport in the nation and the hub of Aeromexico, followed by Cancun International Airport.
Lufthansa, Air Canada, United Airlines, Air France, American Airlines, All Nippon Airways, Jet Airways, and British Airways are a few airlines offering lowest flights to Mexico.
Which month has the lowest flight to Mexico City?
February is the cheapest month to fly from the US to Mexico City. Since this is the off-season, flight costs are frequently lower. Book flights to Mexico City from the United States in March if you cannot travel during February. While not as inexpensive as those in February, flights to Mexico City in March still cost a lower average.
Cheap flights to Mexico — When to visit?
Mexico's climate varies greatly because the country is split into tropical and temperate regions. When dry outside, December to April is the best time to book flights to Mexico. You may visit tourist places without fighting the crowd during the wet season, which runs from May to October.
You might also find inexpensive flights to Mexico during this time through Fond Travels. And we are just a call away from some exciting deals. Call +1-(571)-389-6426 to speak with an agent and book Mexico flights without hassle.
How long does a flight to Mexico take?
Given the size of the nation, the distance between where you are traveling from in the United States and where you are going in Mexico will determine how long your cheap flight deals to Mexico will be.
Depending on how far east or west, or how far north or south, you are from your destination, flights could take an extra one to two hours. Flight times range from 2 hours and 45 minutes from Dallas to 5 and a half hours from New York to the airport in the center of Mexico City.
It takes 3 hours and 45 minutes to fly from Chicago to Cancun, the second-largest and easternmost airport in Mexico, as opposed to flights from the south, which take about 2 hours.
With cheap flight tickets to Mexico, the quickest journey from Los Angeles to Cabo San Lucas takes 2 hours and 25 minutes, while the longest flight from New York, takes up to 6 hours and 15 minutes.
Low-Cost Flight Tickets to Mexico
It cannot be easy to find affordable flights to Mexico online. Let FondTravels experts handle all the legwork to save your time and money. To provide low-cost flights to Mexico, our travel agents combine the most affordable airfares with practical itineraries.
Fly to Mexico at a discounted rate with our carefully negotiated online and offline flights. Thanks to our contractual airline prices, you get access to the most affordable flight options from hundreds of different airlines.
Final Word
We've developed our ground-breaking business concept to give our clients the best of both worlds: reduced airfares negotiated at wholesale pricing and a customized approach for each and every request! We pledge to offer only the best and most reasonably priced tickets to Mexico and other locations to our esteemed customers.
The days of expensive fares have ended! Call our travel expert to discuss low-cost travel to Mexico, or fill out a callback request, and we'll get in touch with you as soon as possible.
Also, read our blog Events and Festivals in Mexico in November.
Customer Comment
Your email address will not be published.
For immediate assistance
kindly call on below number
571-389-6426
OR, We will contact you within 24 hours.