Top 5 beaches in Miami
Wednesday, February 27, 2019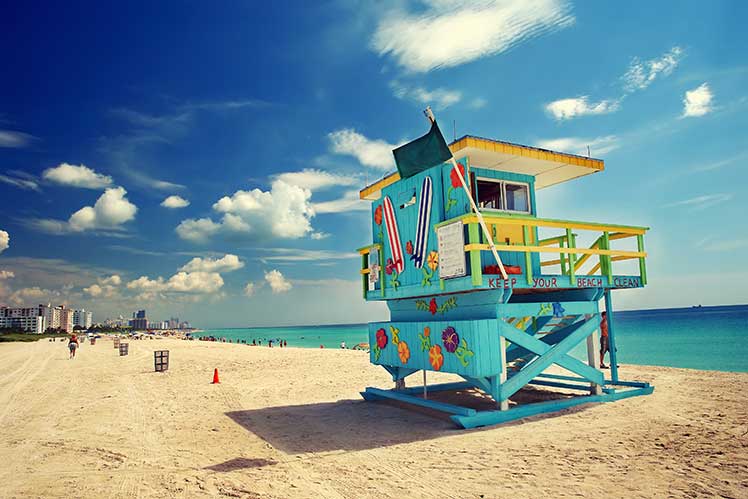 Miami is synonymous to its beaches. There are many beaches encompassing Miami city and its surrounding areas. The most famous of them all is the iconic South Beach, which is mostly frequented by sunbathers and water sports lovers. There are many other beaches in Miami which are major attractions for both domestic and foreign tourists. These include Lummus Park Beach, Mid Beach, North Beach, Haulover Beach, Sunny Isles Beach, Virginia Key Beach, Hobie Beach and Crandon Park Beach. If you are seeking respite from the urban crowds and want to spend an entire day or a week in the sun then consider visiting the gorgeous beaches in Miami. Here are the top 5 beaches in Miami that you should consider visiting.
South Beach
South Beach has forever lived up to the hype of being the quintessential Miami Beach experience for tourists from within the United States and abroad. This is the beach where you will love to have oodles of fun and frolic, and a gala beach party throughout the night at the popular Ocean Drive nightclubs across the street. While at the South Beach, you will get jet-setting celebrity sightings with increasing frequency. South Beach is renowned for its popular art deco architecture. The admirable deco-painted lifeguard stands here make it impossible to mistake your location from the water or sand.
Lummus Park Beach
The funky Lummus Park Beach stretches from the 5th Street to the 15th Street. It's quite exciting and relaxing, and pretty much anything goes. You will get to see topless sunbathers, a gay scene around the 12th Street, and plenty of people seen happily feeding a large number of birds. If you are looking for some shade then take refuge in the thatched huts. The free public restrooms can also be used for relaxation. You can also look forward to inline skating, jogging and walking on the paved pathway. The pickup volleyball games being played here occasionally get raucous.
Mid Beach
The Mid Beach is the central part of the Miami Beach. It starts around 21st Street, extending north to the neighborhood of the famous Fontainebleau hotel. The beaches here are usually quiet. You will come across some of the best examples of Miami Modern architecture. The resurgence in this area started in 2013, capped by the inauguration of the Faena Hotel in 2016. The Mid Beach is largely more relaxed than South Beach. If you however want to enjoy the South Beach scene, then you can always consider a day-trip or night outing.
North Beach
The North Beach extends from around 63rd Street north along Collins Avenue. It has the laid-back air of classic Miami Beach, and is contrary to South Beach which is more fun. The North Beach is mostly dominated by a Latino population on its 12-mile sandy stretch. There are a number of restaurants here which offer affordably priced Salvadoran, Brazilian, Mexican and Cuban homely food. Besides these, many eateries can be found serving Indian, French, Italian, Thai, and other ethnic cuisines here.
Haulover Beach
Haulover Beach is the only legal "clothing optional" beach in Miami. It is situated on Miami Beach between Bal harbor and Sunny Isles Beach. The prime attraction here is the dense vegetation protecting the dozen miles of white sandy beaches. The signs of "Nude Beach" are clearly marked everywhere to prevent surprises. If you want to shed your swimsuit and roam around nude, you can easily do so by avoiding the crowd. The surfers are instantly attracted with the dependable supply of nicely formed waves. It's great to here particularly on Tuesday nights when live music is set to enthrall you and food trucks are there to satiate your hunger.
Apart from these five top beaches in Miami, there are many others that seek your attention. Consider visiting the 2-mile stretch of sandy Sunny Isles Beach, which is a good vacation destination. Here you will find many souvenir shops and restaurants. Virginia Key Beach, situated right off the Rickenbacker Causeway (on both the north and south sides) near the Miami Seaquarium, is one of the most interesting beaches in South Florida. The vacationers find it to be an appealing destination. Hobie Beach is a major attraction for surfers. Also nicknamed "Windsurfer Beach", it offers fascinating views of the Miami skyline.
Customer Comment
Your email address will not be published.
For immediate assistance
kindly call on below number
571-389-6426
OR, We will contact you within 24 hours.