United Airlines Launching Three New Routes to Hawaii
Tuesday, February 16, 2021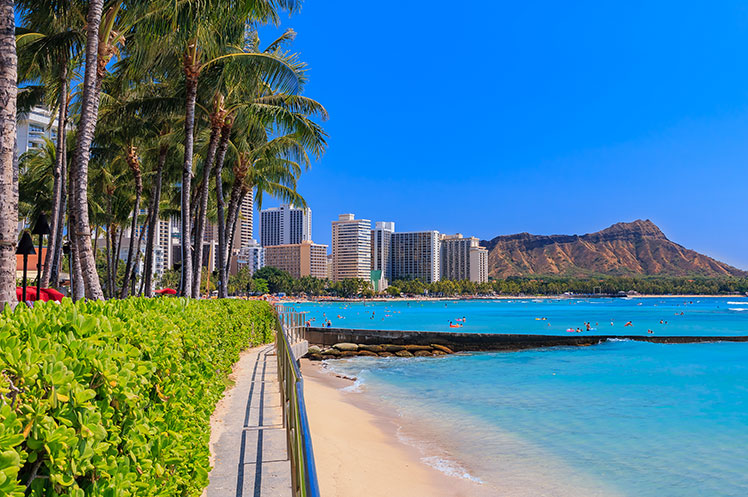 United Airlines Launching Three New Routes to Hawaii
Tourism prospects to the Hawaiian Islands have brightened. Tourists from the U.S. mainland will now be able to take United Airlines flights to the tropical paradise with three new routes being launched by the airline this year.
United Airlines announced it will be launching three new routes to Hawaii. Among these three routes, two of them are completely new and haven't been operated earlier by another airline. The new flights to Hawaii are keeping in with the aviation industry trends to gradually open and expand flights to warm destinations where social distancing protocols are being easily accomplished.
Ever since COVID-19 pandemic is showing signs of waning after rollout of vaccines, the travel demand to leisure destinations is growing and airlines too are finding them to be lucrative in order to boost their finances and earn revenues.
United Airlines said that starting from May 6 it will begin operating daily nonstop flights to Honolulu from Orange County's John Wayne Airport in California. The route will be served with the help of a 126-seat Boeing 737-700 aircraft. The flights between Honolulu and Orange County will be operated once daily in each direction. The nonstop flight will depart from Orange County at 8:30 am local time and arrive in Honolulu at 11:30 am. The return flight will be departing from Honolulu at 12:50 pm and arrive in Orange County at 9:10 pm.
Earlier, the Orange County-Honolulu route was served by Aloha Airlines, which however ended operations in 2008 after winding up finally. The destinations being presently served by United Airlines to Orange County include Houston, Denver, San Francisco and Chicago.
United Airlines is currently operating nonstop flights to Hawaii from Los Angeles International Airport. The new Orange County-Honolulu route will provide more options to the travelers in the eastern Los Angeles metropolitan area to visit Hawaii conveniently instead of spending long hours driving west to LAX.
Two new Hawaiian routes previously not served by any other airline will also be launched on June 3. Travelers will now get opportunity to make United Airlines reservations for nonstop flights to Kona International Airport on the Big Island from Chicago O'Hare International Airport. The airline will serve the Kona-Chicago route with Boeing 787-8 aircrafts four times per week on Thursday, Friday, Saturday, and Sunday.
The airline's third new route will be between Maui and United's east coast hub of Newark. The flight on Maui-Newark Liberty route will operate four times per week similar to frequency of Chicago-Kona route with Boeing 767-300ER aircraft. The new route will however be in addition to the airline's Newark-Honolulu route served with nonstop flights.
Hawaii COVID-19 Travel Protocols
Tourists are being welcomed in Hawaiian Islands. They will however need to take a negative COVID-19 test within three days of their departure for Hawaii. If they fail to take the test prior to their departure then quarantine for 10 days or the duration of stay if it is less than 10 days will be mandatory. United Airlines has tried to ease the travelers' testing and quarantine requirements through its recently-launched digital solution called "The Travel-Ready Center". The service will enable the travelers to upload test results so that they can have more convenient and easier experience pertaining to testing requirements. It may be noted that United Airlines' move is akin to American Airlines, which had entered into a partnership in January this year for using a digital app to assist the travelers in keeping track of testing and quarantine requirements.
Hawaii Tourism prospects brighten
The Hawaiian Islands have opened doors for tourism in winter this year. The Aloha State's decision to welcome tourists followed the rollout of its pre-travel testing program in October 2020. Hawaii is proving to be the most idyllic domestic destination for American travelers presently. The beauty of Hawaii can be best enjoyed by soaking up its rich culture, spectacular nature, stunning world-class beaches and countless adventure opportunities. The wonders of this tropical paradise can be experienced by American tourists without a passport and visa. The Hawaiian Islands promises a safe and enjoyable holiday experience for travelers of all hues. Why wait? Board flights to Honolulu for your next vacation.
Also, read our blog United Airlines Cancelation Policy.
Customer Comment
Your email address will not be published.
For immediate assistance
kindly call on below number
571-389-6426
OR, We will contact you within 24 hours.