Cancel Your Flight $0 Cancellation Fee*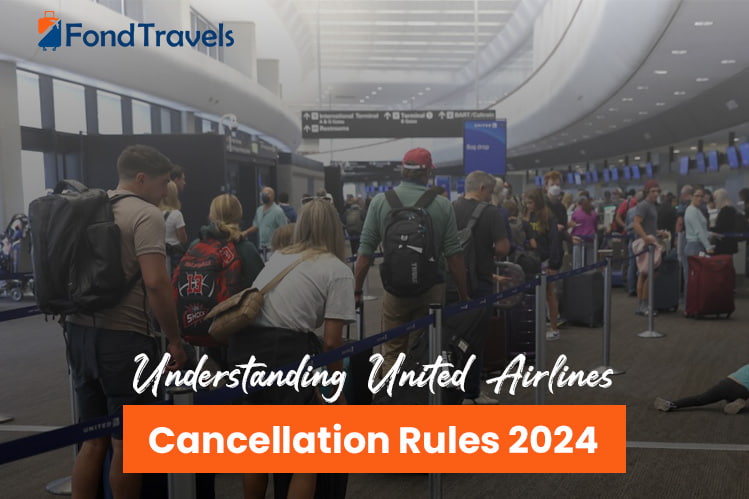 United Airlines Cancelation Policy
Friday, April 22, 2022
Are you planning to fly with United Airlines, or have you already reserved your flights? It's important and wise to know about the cancelation and refund rules if something pops up at the last moment. If your travel plans change, always have a plan B - either you cancel your flight or the airline cancels, you'll know what to do next and your rights to United Airlines cancelation policy and refund.
United Economy Cancelation Policy – what to know?
As a major US airline headquartered in Chicago, United is the third-largest airline globally, operating a fleet of international and domestic routes across large cities in the US and over 6 continents. Recently, UA revamped its policy regarding basic economy fares, which went into effect on Wednesday, April 20, 2022. Now passengers can either cancel free or upgrade to a standard economy ticket. Usually, basic economy tickets are cheap and bear restrictive fare options by United.
There's more to it: United is altering rules to change their basic economy tickets to make things easier and passenger-friendly. As mentioned by a United representative – according to United Airlines cancelation policy, customers can either pay to upgrade to a basic economy ticket where they can reschedule their flight and enjoy all the benefits of the basic economy, consisting of premier perks, free seat allocation, and free carry-on baggage and more. If customers do not wish to rebook, they can cancel their journey and get a residual credit instead of their basic economy ticket.
United Cancelation Fee
The airline offers 6 state-of-the-art cabins: United Polaris Business, United Premium Plus, Transcontinental, United First, Economy Plus, Economy, and Basic Economy. Passengers who want to cancel their basic economy ticket will get a flight credit for their ticket price without any fee. The cancelation fee depends on the kind of ticket bought. Refundable tickets are not entitled to any refund.
As per United Airlines cancelation policy, for domestic flights, the fee is $49.50 for one-way tickets and $99 for roundtrip tickets, while for international flights, the fee is $99.50 for one-way tickets and $199 for roundtrip tickets.
United Airlines Cancelation Policy 24 hours
Most UA tickets are non-refundable, but customers now have more options. Canceling United Airlines tickets within the 24-hour timeframe has its benefits. Even basic economy tickets qualify for a full refund within 24 hours of booking. It's all well and good as long as you book your United Airlines flights a week in advance before departure.
According to the United Airlines 24-hour cancelation policy, your refund will be credited to the original payment.
If you exceed the 24-hour time slot, no cancelations would be allowed beyond 24 hours for basic economy. Since most tickets are non-refundable, it means you will not get cashback. Instead, you could qualify to request the value of your canceled ticket for the price of a new ticket with upgraded travel credits. Depending on the fare type, you can cancel and get a refund on a refundable ticket, with a fee charged.
Cancel Flight United Airlines or change it?
If you have a plan to rebook your United flight and are aware of the dates, changing your flight instead of canceling it might save you money. Most United flights that have been paid by cash are no longer subject to change fees. As per United Airlines cancelation policy, no change fee for:
Domestic and international flights originating in the US in every fare class except basic economy.
Basic economy tickets that are issued before April 30, 2021.
Flights not originating in the US were ticketed by July 31, 2021.
Basic economy flights and international flights originating outside the US ticketed after the cutoff date may incur a change fee.
United Cancelation Policy for illness or death
United Airlines flies to 240 domestic destinations and 120 international cities in more than 40 countries. As per United Airlines cancelation policy, the airline allows complete refunds for death and illness. The easy policy covers all types of tickets, even those paid by cash, credit, or check. It also includes award tickets, bulk airfares, web fares, etc.
United Airlines Cancelation phone number
You'll mostly find the steps that will help you to cancel a United Airlines flight online:
Visit the United Airlines website
Proceed towards the 'My Trips' tab on the UA homepage
Enter your booking code and the last name in the field
Click 'Search' to list out your booked flight
Proceed towards the flight you wish to cancel
Upon canceling, you'll receive a confirmation from United Airlines.
A journey should be smooth and hassle-free. It's vital to know about the airline you are flying with and its policies to be on the safe side. United Airlines looks out for the betterment of its customers. Passengers avoid doing United cancelation policy all by themselves. United Airlines cancelations can be made by phone easily.
Call Fond Travels at +1-571-389-6426, and talk to your travel agent. If you have booked your ticket through an online travel agency, you must contact them directly for cancelation. Moreover, you can also receive information regarding United airlines reservations, discounted flight tickets, unpublished fares, and more. We'll make sure you fly with no worries, and also have a trouble-free cancelation and refund.
United Airlines Cancelation Policy – general FAQs
Q. How do I cancel my United flight and get a refund?
Ans - United airline is one of the best airlines that provides all the services but in case you want to cancel the flight due to some reason, then refer to the above steps to get it done or talk to one of our airline experts.
Q. How do I contact United Airlines for Refund?
Ans - Call Fond Travels at +1-571-389-6426, online, and talk to your travel agent. The agent will solve United Airlines canceled flights issue sooner than imagined.
Q. Can I cancel my flight with United Airlines and get a refund?
Ans. Yes, you can cancel your flight and get a refund on that. But that completely depends on certain factors, which are the terms and conditions created by United for the smooth transition of the cancelation.
Q. Can I get a refund if I cancel my non-refundable flight on United?
Ans - Chances are less. A non-refundable ticket may not get a refund. You might get a full refund if the cancelation is from the airline's side.
Also, read our blog United Airlines Unaccompanied Minor Policies, Booking and Fees.
Customer Comment
Your email address will not be published.
For immediate assistance
kindly call on below number
571-389-6426
OR, We will contact you within 24 hours.