United Airlines Unaccompanied Minor Policies, Booking and Fees
Wednesday, February 17, 2021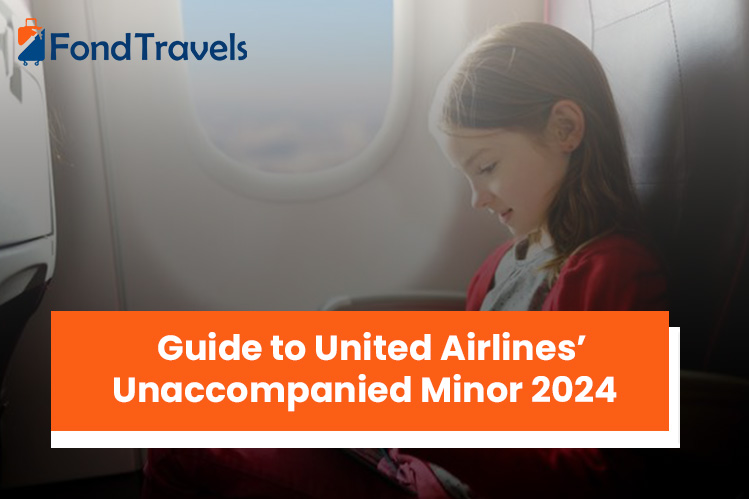 United Airlines Unaccompanied Minor Policies, Booking and Fees
There are occasions when your little child needs to fly solo without being physically accompanied by a known acquaintance or adult member. Situations like these are worrisome both for the parents and child. The only concern will be your child's safety on board the flights when travelling alone. When choosing to fly with United Airlines, your child is in great hands and assured comfortable travel experience with its unaccompanied minor service.
United Airlines unaccompanied minor flights are provided to children aged between 5 and 14 years when they are travelling alone without being accompanied by a family member of any known person. Children aged between 15 and 17 years are allowed to travel alone, but the option to avail unaccompanied minor service is also available. The perks offered when utilizing the service includes a free snack on board the flights, and early boarding prior to the start of normal boarding so that the child gets extra time for settling down before takeoff.
Who is allowed to fly as an unaccompanied minor by United Airlines?
According to United Airlines unaccompanied minor policy, the children who are of 5-14 years old and flying without a parent, legal guardian or an adult passenger at least 8 years old will be compulsorily offered unaccompanied minor service. The airline has certain requirements for unaccompanied minors, which needs to be strictly followed. These are the following:
Unaccompanied minors are allowed to travel only on nonstop flights operated by United Airlines or its subsidiary United Express
The unaccompanied minor service will not be allowed on codeshare flights and other flights operated by United's partner airlines
United Airlines doesn't offer unaccompanied minor service on connecting flights from other airlines
Children aged 5 years and less are not allowed to board flights as unaccompanied minors, even if they are travelling with an older unaccompanied child
Young passengers aged between 15 and 17 years are allowed to fly alone on any United Airlines or United Express flights. They can however opt for the unaccompanied minor service as well after paying $150 each way for every two children travelling on the same reservation when utilizing such service.
What is United Airlines unaccompanied minor fee?
United Airlines unaccompanied minor fee depends on the number of children travelling alone. The airline charges $150 as unaccompanied minor service fee per passenger for one-way flight ($300 for roundtrip flight). The amount charged will be the same for two children travelling alone on the same reservation. The service fee for up to four unaccompanied minors on the same reservation will be $300 for one-way flight ($600 for roundtrip flight). United Airlines will however charge a service fee of $450 for one-way flight ($900 for roundtrip flight) for up to six unaccompanied minors travelling alone on the same reservation.
As per United Airlines minor policy, when two or more children will be travelling alone together then the airline will take into account the age of the youngest child and assess whether unaccompanied minor service will be needed by the children or not.
Children aged 5 years and younger will be allowed to travel with a parent, legal guardian or an adult passenger aged 18 years and above
If the youngest traveller will be 5-14 years and the oldest traveller is 15-17 years then the younger traveller will still be treated as unaccompanied minor
If a 15-17 years traveller seeks unaccompanied minor service and will be travelling with another child then it must be ensured that travel is booked on the same reservation so that they have to pay only combined service fee for their flights
It must be noted that the unaccompanied minor service fee will be extra, and in addition to the flight tickets charges to be paid to United Airlines. The fee covers the extra service provided by flight attendants as well as airport staff. During online booking or by making reservations on phone, the service fee will be included and charged when paying for the child's ticket.
What is the booking process of United Airlines minor flights?
United Airlines minor flights booking can be done in various ways. It can be done online by visiting United Airlines official website. You will need to select the advanced search option and the number of children travelling. Alternatively, you can also call United Airlines reservations department and pay $25 booking service charge for unaccompanied minor reservations. You can also talk directly to Fond Travels booking experts at +1-844-392-7019 for United Airlines unaccompanied minor flights booking. We will be happy to assist you with your bookings.
Do remember that you will have to provide information about the person dropping off the unaccompanied minor at the airport and picking up at the destination airport. This information is to be provided when booking the child's flight.
United Airlines assures the parents or legal guardian that the child will be seated on board the aircraft in the best way so that adequate care and attention is provided to him/her by the airline's flight attendants. In fact, the seat for the unaccompanied minor will be selected by United Airlines and the seat assignment can be seen 48 hours after the child's reservation has been made.
If the travel is being made by an adult passenger with children on the same flight but on separate reservations then unaccompanied minor service will not be required. When doing so you need to call United Airlines reservations to add the relevant information for each reservation. It should also be noted that United Airlines doesn't provide online and mobile check-in to children under 15 years old so it must be kept in mind that children travelling on a separate reservation will be required to check in with a United Airlines representative at the airport.
Checklist recommended when preparing for unaccompanied minor trip
Provide your child with phone numbers by writing down for them just in case it is needed for calling you or any other known adult
Educate the child beforehand about the experience to be expected at the airport, such as passing through security, finding the gate and boarding the plane
Teach your child on how to identify uniformed United Airlines representative and wait for them to walk the child off the plane after landing at the destination airport
Make sure that the electronic devices being brought by the child is fully charged before leaving for the airport. Also, pack some games or books for keeping your child entertained during the flight
Remind your child to always seek help from United Airlines employees at the airports and flight attendants on board the aircraft for a safe and fun travel experience
Online and mobile check-in is not provided to unaccompanied minors travelling alone. You will therefore need to visit the airport counter personally along with your child for check-in
United Airlines provides a trackable wristband and special bag tags to unaccompanied minors. Ask your child to wear the wristband so that it becomes easier for United Airlines airport employees and flight attendants to identify him/her
Ask your child to put important travel documents such as passport, unaccompanied minor forms, boarding passes, and baggage claim tickets and receipts in the special envelope provided by United Airlines safe and handy
Get a gate pass during check in at the airport counter. This will allow you and your child to go through security and to the gate. After reaching the gate provide your introduction to United Airlines representative at the desk informing them that your child is an unaccompanied minor and will be travelling alone
You will be required to wait at the airport for at least 30 minutes after the flight on which your child is travelling alone is airborne. This is important just in case your physical presence is needed if the flight has to return to the airport after technical malfunction
Your child will be provided one free food item on flights offering food for purchase. Do remember to pack your child's favorite snack. You should however avoid packing gel or liquid snacks over 3.4 ounces as it won't be allowed to be taken through TSA security
Ask your child to wait for the United Airlines representative in the aircraft after arrival at the destination airport so that they will walk off your child out at the airport for being handed over to the designated/authorized person named in the unaccompanied minor form for pickup
Knowing about United Airlines unaccompanied minor service rules and regulations beforehand will prove to be beneficial for you and your child. Flying with United Airlines will undoubtedly be a smooth, convenient, comfortable and hassle-free experience.
Also, read our blog Best Day to Book a Flight on United Airlines.
Customer Comment
Your email address will not be published.
For immediate assistance
kindly call on below number
571-389-6426
OR, We will contact you within 24 hours.