Breeze Airways Unaccompanied Minor
Thursday, March 17, 2022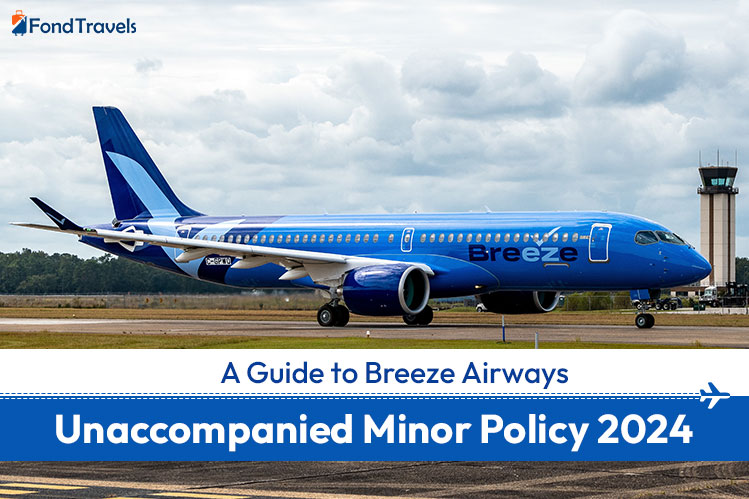 Sitting at the airport watching the flight your child is on sets out a bag of mixed emotions. It could be interesting or intriguing watching your child proceed towards the plane without you. You could be proud or nervous, or both. Most US airlines will escort your child to the flight without a parent or guardian once they are 5 years old once the unaccompanied minor fee is paid. Here's a rundown of Breeze Airways unaccompanied minor rules and regulations that every parent should know. There are many stories about a child flying alone and being proud in gaining self-confidence but also, there are rare cases about such minors being transported on the wrong flight.
Breeze Airways Minor Flight Booking
A child might be thrilled to fly alone at age 7, whereas another won't be ready even at 15. Most of these things do not happen but in case you as a parent face such a situation, how to prepare your child to fly alone? Firstly, make sure your child is prepared mentally and emotionally to travel alone. Whether he/she needs to visit grandparents in another state or fly back home after spending a few days off from school. A few tips to observe before your child flies alone:
Main a simple itinerary - Keep your child's journey as simple as possible by booking non-stop flights. Book early departure flights that avoid delays or diversions.
Select their seat wisely - Choose a seat closer to the cabin crew so that they can reach out whenever needed.
Make ways for your child to contact you - Make sure your child has a phone to reach out to in an emergency. It could be any electronic - a smartphone, an iPad, etc. Also, give them a few important phone numbers in case they want to call anyone in the family.
Pack required items - Ensure your child has some cash or card to pay for food. Do not depend on the airline.
Reach the airport early - Sending your child as an unaccompanied minor takes much effort and paperwork. On the day of departure, reach the airport early to interact with the airport officials and complete all the required paperwork to check-in easily.
Keep a track of the flight your child is flying - You can be at the airport till the flight takes off but you need to keep a track of the flight your child is on. Keep track from the airport's website every 15-20 minutes.
Breeze Airways Unaccompanied Minor Flight Booking
The UMNR - Unaccompanied Minors Program is essential for children between the ages of 5 and 13. A child who has reached the age of 14 is not considered an unaccompanied minor while traveling. He or she must be booked as an adult. To follow minor rules and safety, Breeze Airways has kept the number of unaccompanied minors to a total of 3.
Flight for the unaccompanied minor (above the age of 13) may be booked on Breeze Airways. While booking online, Breeze Airways unaccompanied minor fee of US$150 per way, per person will be charged and should be paid at the time of booking.
Breeze Airways Unaccompanied Minor Policy
These are the present rules that Breeze Airways has for unaccompanied minors:
Children below the age of 13 will not be allowed to travel without an adult.
Before booking, parents should ensure that any child traveling should adhere to all directives.
Pay heed to Breeze Team Member suggestions and advice.
Breeze discourages minors to travel alone if they are unable to follow a set of certain rules.
Travelers aged 13-17 traveling alone need to present a photo ID proving their date of birth.
Breeze Airways Minor Flights - documents
You need to fill out the unaccompanied minor form that is available online and needs to be filled out in advance to avoid last-minute hassles. Print 3 copies of the form and carry them with you to the airport. Photo identification is required for either party who will drop and pick up the minor. The age of the adult who picks up the minor should be 18 years old and above and must carry a valid ID. He or she should be listed in the dropping and collecting the child list.
Breeze Airways Unaccompanied Minor Phone Number
Breeze Airways understands that along with other travels and services, unaccompanied minor policy and travel is a sensitive issue for parents whose child needs to travel alone. Maybe you are sending your child for the first time to their grandmother's home or they need to travel back home from their sibling's place, there are several things to follow and take into consideration. As per Breeze Airways minor policy, the rules and steps mentioned here are imperative and vital. It is not easy to send a child alone on the flight but such situations do come and one has to be prepared.
Being a low-cost American carrier, Breeze Airways has always been striving to provide the best services and amenities to its customers. Call Breeze Airways customer care number - Fond Travels at +1-571-389-6426 to receive any travel-related assistance and solve issues promptly. The well-trained Breeze travel agents are equipped to provide the best travel solutions to the customers at any time.
Also, read our blog Turkish Airlines Unaccompanied Minor - Children Flying Alone Policy.
Customer Comment
Your email address will not be published.
For immediate assistance
kindly call on below number
571-389-6426
OR, We will contact you within 24 hours.