Cancel Your Flight $0 Cancellation Fee*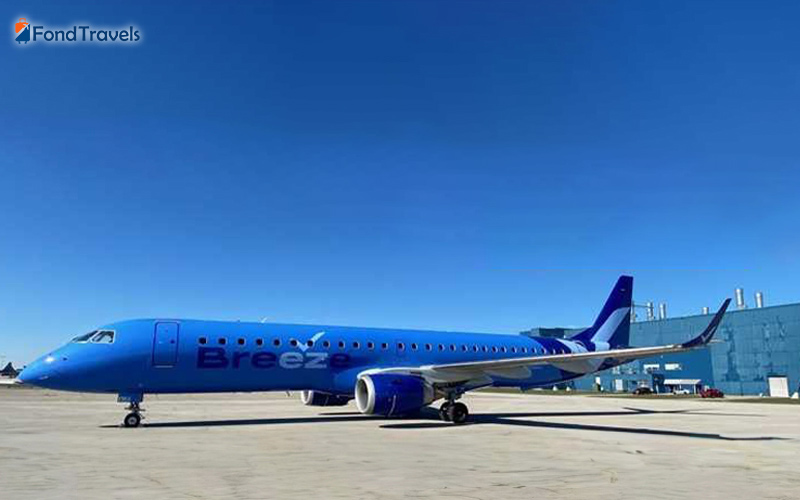 Breeze Airways Cancelation Policy
Friday, May 27, 2022
Have you canceled your flight with Breeze Airways, or did your flight get canceled? Do you need detailed information regarding Breeze Airways cancelation policy? Take it easy; we've compiled important points and rules to assist you with cancelation and refunds.
Founded in 2018 and Headquartered in Utah, Breeze Airways is a new low-cost airline that operates flights mostly within the southeast portion of the United States. It promises a positive customer experience by keeping prices and Breeze Airways cancelation policy simple and transparent.
The airline offers two types of cabins: Nice and Nicer or Economy and Breeze Plus. The pitch of the seats in Breeze's 'Nice' cabin is 29 inches and 31 inches. You can upgrade your seat to 'Nicer' for an additional fee and fly to 70 newer destinations within the US.
Breeze Cancelation Policy
Breeze Airways cancelation policy allows you to cancel or rebook your flight without penalty 15 minutes before departure. Breeze sells only non-refundable flights. BreezePoints will be used to credit your flight if you cancel.
Cancelations are subject to one exception. Breeze Airlines will refund your money if you cancel within 24 hours and less than 7 days before your scheduled departure date.
Breeze Airways Routes
Breeze Airways operates within 16 southeastern destinations in the United States. Breeze opted for a point-to-point system, which means that flights fly directly to destinations rather than through a hub. These are the first destinations:
Tampa, FL (TPA), Charleston, SC (CHS), Hartford, CT (BDL), Louisville, KY (SDF)
Tulsa (OK), Norfolk, VA (ORF), Bentonville/Fayetteville, AR (XNA), Akron/Canton (OH) (CAK)
Oklahoma City (OKC), Columbus, OH (CMH), New Orleans, LA (MSY), Pittsburgh, PA (PIT)
Huntsville, AL (HSV), Richmond, VA (RIC), San Antonio, Texas (SAT), Providence, RI (PVD)
Breeze Airways Baggage Policy & Other Fees
Breeze Airways follows a fairly typical baggage policy. The following fees apply to flights on the Economy (Nice) Fare:
Free-personal items must be able to fit under the seat.
$20: Pay early online through the app or website.
$25: For flights that take more than three hours and are paid online
$50: Pay at the airport regardless of flight duration.
Book Nicer Fare, and you will receive one carry-on bag free, one checked bag free, and a personal item free.
Breeze Airways will charge you for seat selection. Starting at $10 to $30 for a Nice Fare, Tickets are available easily. Nicer fares come with nicer seat selection flights. The price of the seats depends on which flight it is and what type of seat they are.
For more premium seats, this flight will cost you an additional $30 if you choose the Nice fare. $10 is the lowest price for selecting a seat. You can skip the seat selection at check-in and get a seat assigned automatically.
Flying with children aged 2-12 years old is free. Family seating is for two adults and one child. If more than one child is travelling, the family seating arrangement will consist of one adult per child.
Breeze Airways Customer Service – Cancelation
There are several options to make your move for your Breeze cancelation policy. All of them are easy. Passengers can use one or the other suitable for them based on their preferences.
Talk to an airline executive by dialing Breeze Airways cancelation phone number.
The executive will cancel your flight tickets on your behalf.
You will need to give him all details about the flight, including the confirmation number, departure city, your name, and age.
An airline may ask why the flight was canceled and provide a valid reason.
The person will inform you about the cancelation and refund within a few minutes.
Once you are satisfied with the information provided by the executive about the flight, he will ask for confirmation and will take suitable action.
Breeze Airways Cancelation – FAQs
Q - Where do breeze airlines fly from?
A - Breeze offers flights to and from 10 new cities: Las Vegas; Los Angeles, San Francisco, and San Bernadino, California; Nashville; Savannah, Georgia; Syracuse; Jacksonville, Fort Myers and Sarasota/Bradenton, Florida.
Q - Can I cancel my Breeze Airways Flight?
A - Yes. According to Breeze Airways cancelation policy, travelers can cancel non-refundable tickets and get a partial or complete refund. However, they will be subject to a Breeze cancelation fee.
Q - What is the best way to cancel a Breeze Airways flight?
A - We can be reached at the airline cancelation number to assist you with cancelations and adjustments. It's easy and quick!
Q - If I cancel my reservation within 24 hours, do I need to pay Breeze Airways cancelation fees?
A - No. No cancelation fees will be charged. Breeze Airways 24-hour cancelation policy does not apply to passengers who cancel during the risk-free period. The full refund will reflect within two to three weeks in your account.
Q – What is the Breeze Airways cancelation fee?
A - Breeze cancelation policy states that cancelations or changes are subject to a 45 USD non-refundable fee.
Breeze Basic – For all domestic flights within the United States, the cancelation fee for Breeze is $150 and $200 for all other itineraries. You can make a verified change on the same day for 100 US Dollars per flight, without any additional fare.
Breeze Extra or Breeze Plus - No cancelation fee if you cancel your reservation before departure.
Q - How much does it cost to fly Breeze Airways?
A - The fare range from $59 for the 'Nice' seating choice, while 'Nicer' is $99 and 'Nicest' is $149. Call the given number for discounted and cheapest fares.
Q – What is Breeze Airways cancelation phone number?
A – Do you need to cancel your Breeze flight? It's all good! The policies and refunds are easy. Call Breeze Airways customer service
Also, read our blog Delta Airlines Unaccompanied Minor Flight Policy - Complete Guide.
Customer Comment
Your email address will not be published.
For immediate assistance
kindly call on below number
571-389-6426
OR, We will contact you within 24 hours.