Alaska Airlines Unaccompanied Minor Flight Policy
Friday, February 19, 2021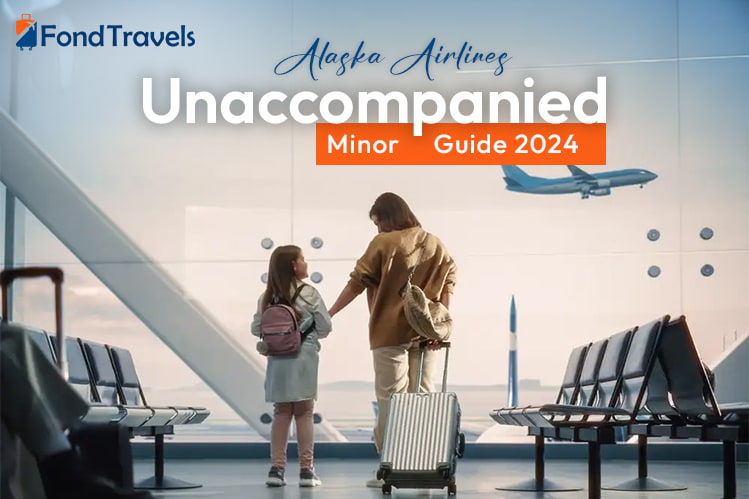 There are various reasons when you might find yourself in a piquant situation where your cute little one is required to fly alone as an unaccompanied minor. Situations like these are indeed stressful and make you helpless as a parent. If there's an emergency then you don't have a choice except to stay behind on the ground yourself while your young child has to travel alone without being physically accompanied by a known acquaintance on board the flight. The major concern for parents or legal guardians is safety and well being of the child. But this shouldn't be a cause of worry at all if your child is flying solo with Alaska Airlines. The robust Alaska Airlines unaccompanied minor flight policy has guidelines that will ease your concerns in every way possible. Let's take a look at the unaccompanied minor rules and regulations of Alaska Airlines and all that it has to offer.
Who is regarded as Unaccompanied Minor by Alaska Airlines?
Alaska Airlines children flying alone program "Junior Jetsetters" has been specifically designed for children aged between 5 years and 17 years who will be travelling alone without the physical presence of a known passenger on board the aircraft when flying to either domestic or international destinations. Alaska Airlines treats such children as unaccompanied minor and accordingly offers unaccompanied minor service for a fee under its Junior Jetsetters program. The child is taken care of at the airport by Alaska Airlines representatives as well as flight attendants on board the aircraft and supervised at all times.
Under the Junior Jetsetters program the unaccompanied minor is provided a lanyard and a trackable wristband for wearing on the flight so that the child is easily identified by Alaska Airlines agents and flight attendants. The unaccompanied minors will also be offered early boarding for getting comfortable their seats, along with a special safety briefing from flight attendants before the departure of the flight.
What is the age requirement for unaccompanied minor flying with Alaska Airlines?
Alaska Airlines minor flights are available for children aged 5-12 years old who are travelling without being physically accompanied by parent, legal guardian or an adult passenger at least 18 years old. The airline's unaccompanied minor service is however optional for young children between 13 years and 17 years who are travelling alone without a parent, legal guardian or an adult passenger aged 18 years and older. Alaska Airlines will be providing unaccompanied minor service to 13-17 years old children upon request by the parent after paying a fee. If such children want to make a connection to another airline and are travelling as an unaccompanied minor then they will be doing so under Alaska Airlines Junior Jetsetters program. All the applicable rules and fees for both Alaska Airlines and the connection airline will be applicable. An adult will also be required to meet the children at their connection point for completing the transfer to other airline. The flight restrictions applying to the youngest child will also be applicable to all other children travelling together, including those who haven't requested the airline's Junior Jetsetter service. A proof of age such as passport or birth certificate may have to be provided at the time of check-in at the airport for the safety of the child.
Alaska Airlines unaccompanied minor service fee
Alaska Airlines unaccompanied minor fee charged for 5-7 years old child will be $50 each way per child. The children will be allowed to travel on nonstop or direct flights only. They will however not be allowed to travel between 9 pm and 5 am, and require Junior Jetsetter service. Guardian and gate escort contact will also be needed.
For unaccompanied minors aged between 8 years and 12 years old, the unaccompanied minor service fee charged will be $50 each way per child for nonstop or direct flights and $75 each way per child for connecting flights. Among other requirements include Junior Jetsetter minor service, and guardian and gate escort contact. They will not be allowed to travel between 9 pm and 5 am, and also no connections to the last flight of the day or layovers of more than 2 hours unless no other option is available.
The Junior Jetsetter minor service for young children aged between 13 years and 17 years will be optional. However, if unaccompanied minor service is required for them then all the fees, conditions and restrictions will apply similar to that of 8-12 years old.
There are however some important things to note about these fees and restrictions. These are the following:
Unaccompanied minor service fees will be waived off for children attaining Gold 75K Mileage Plan, MVP Gold or MVP status
For Mexico travel payment for Alaska Airlines tickets and fees will have to be made only in Mexican Pesos or through credit card/debit card
The age limits, fees and unaccompanied minor policies of other airlines may differ from Alaska Airlines. Some airlines might not permit unaccompanied minors to be booked in the same reservation with Alaska Airlines flights. You will be required to check directly with the concerned airline about their age limits, fees and policies requirements if the child's itinerary includes non-Alaska Airlines flights
Alaska Airlines Unaccompanied Minor Flights Booking
The booking for Alaska Airlines unaccompanied minor flights can be made online by visiting the airline's official website or calling Alaska Airlines reservations. If you are looking for convenience and hassle-free reservations then you may talk directly to our booking experts by calling Alaska Airlines unaccompanied minor phone number at (878) 233-0733 and clearly specify that you want to book Alaska Airlines flights and seeking Junior Jetsetter service for your child. They will book the flights for you after being provided with the age proof and other travel details of the child.
You will however have to adhere to certain restrictions and guidelines before planning to book your child's ticket. These restrictions are as follows:
The number of unaccompanied minors on each Alaska Airlines flight is limited due to the security and safety of children travelling alone without an adult passenger
Unaccompanied minors won't be allowed to be booked on flights departing between 9 pm and 5 am
Unaccompanied minors won't be permitted to travel on the last connecting flight of the day, unless there isn't any other option available
Children aged between 5 years and 7 years travelling alone will not be allowed to travel on flights involving connections or transfers
Children aged between 8 years and 12 years travelling alone may be allowed to be booked on flights involving connections or transfers to flights operated by Alaska Airlines, Ravn Alaska, PenAir, Horizon Air, or SkyWest Flight Series 3300-3499
Unaccompanied minors will not be allowed to travel on flights with connections of 2 hours or more waiting time. Connections of more than 2 hours will be allowed only if the city doesn't provide connections less than 2 hours
Online booking through Alaska Airlines official website is not allowed on flights connecting to or from other airline flights. You will have to seek more information about this by calling Alaska Airlines reservations department
Unaccompanied minors may be subject to seat reassignment at the airport
An escort pass must be obtained by the parent or legal guardian from the airport ticket counter for escorting the unaccompanied minor to/from the gate. Up to 2 adults and all children aged within 13 years old accompanying the unaccompanied minor will be allowed to go through the security checkpoint
The parent or guardian coming to drop off the unaccompanied minor must remain in the boarding area until the time after the departure of flight and when it is airborne
The parent or legal guardian coming to pick up the unaccompanied minor at the destination airport will have to provide a valid government-issued photo ID when picking up the child. Moreover, the child will be released only to the person named or listed on the guardian contact form
Alaska Airlines Unaccompanied Minor COVID-19 Rules
Alaska Airlines has announced certain guidelines for unaccompanied minors due to COVID-19 concerns. According to Alaska Airlines unaccompanied minor COVID-19 rules, children travelling alone are not barred from boarding flights. The airline, however, requires every passenger, including unaccompanied minors, airport staff and flight attendants, to wear mask all the time whether at the airport or onboard the aircraft. Refusing to wear a mask will be considered as a violation of COVID-19 safety guidelines and boarding will be denied. For further safeguard, the unaccompanied minors are also not currently being provided entertainment tablets or meals on any of its flights. The child's parent must also ensure that the unaccompanied minor carries an empty water bottle which is to be filled after clearing security. The child should also be provided sufficient snacks or meals for the duration of the flight. It is mandatory to adhere to COVID-19 guidelines for a safe and comfortable travel on Alaska Airlines flights.
Alaska Airlines simplifies the allowance of younger children aged 5 to 12 to fly alone. For more clarification on Alaska Airlines unaccompanied minor policy, call Fond Travels experts at +1-(571)-389-6426.
Also, read our blog Alaska Airlines announces new routes for summer 2021.
Customer Comment
Your email address will not be published.
For immediate assistance
kindly call on below number
571-389-6426
OR, We will contact you within 24 hours.