Qatar Airways Unaccompanied Minor Policy
Friday, February 26, 2021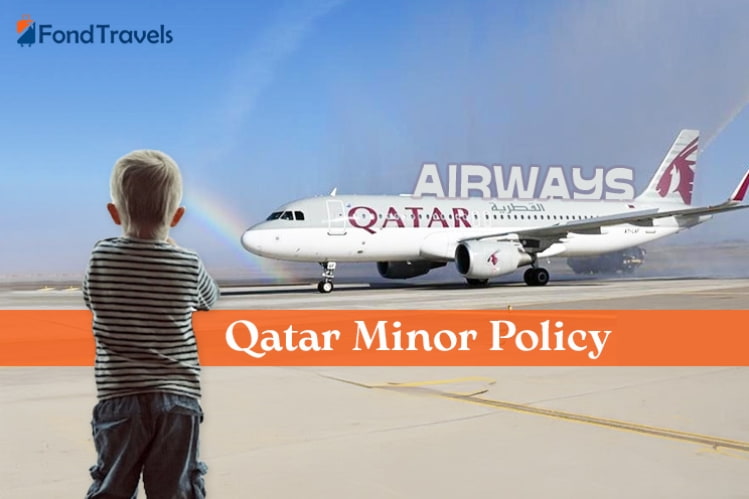 There are occasions when a solo trip for your little one becomes important. These situations obviously become scary for parents and make them nervous. However, when you are planning to book tickets for your child who will be travelling alone then there's absolutely no reason for you to worry at all. Flying with Qatar Airways will be a great experience for your child and also be comforting for you too. It would be just great for you to know all the rules and regulations pertaining to Qatar Airways unaccompanied minor policy beforehand to make the journey as convenient and smooth as it can be.
Qatar Airways promises to make the trip for your child enjoyable and assures them to take care very well during the entire duration of the journey. When you book Qatar Airways children flying alone unaccompanied minor service the airline provides special assistance to your child by receiving him/her at the originating airport, taking care during transit as well as onboard the aircraft, and handing over to the person authorized by the parent or legal guardian upon arrival at the final destination.
Who is eligible for travelling as an unaccompanied minor with Qatar Airways?
For being eligible to avail of Qatar Airways' unaccompanied minor service or escort services the child must be aged between 5 years and 15 years old and must have not reached his/her 16th birthday at the time of travel. He/she must be travelling alone with the company of an acquaintance or an adult passenger. The child must also travel on Qatar Airways operated flights. Children under 5 years of age won't be accepted by the airline to travel as unaccompanied minors, and they must be accompanied by a parent or legal guardian whenever flying with Qatar Airways.
What is the unaccompanied minor fee charged by Qatar Airways?
The parent or legal guardian is not required to pay any Qatar Airways unaccompanied minor fee. An adult fare will be required to be purchased for the child. Certain fare types are though not eligible for availing the unaccompanied minor service. Qatar Airways also provides an escort service for unaccompanied minors travelling alone. When seeking the escort service for children flying solo, Qatar Airways will be providing dedicated staff to accompany the child throughout the trip. The parent or legal guardian will be required to pay for a return ticket for the airline employee who will be accompanying the child. To request the escort service for unaccompanied minors the parent or legal guardian will be required to contact Qatar Airways reservation department at least 72 hours prior to the departure of flight.
Qatar Airways minor flight booking process
Qatar Airways minor flight booking cannot be made online under any circumstances. This is because children require special needs when travelling. The parent or legal guardian will need to contact Fond Travels Qatar Airways unaccompanied minor phone number at 1-571-389-6426. You will have to convey to the airline that the booking is to be made for unaccompanied minors.
The unaccompanied minor service can be booked by providing information about the age of the child, as well as the names, addresses and telephone numbers for the parent or legal guardian of the child, and also the name of any other relevant contact person(s) who will pick up the child at the destination airport. Any special requirements that may be needed by the child can also be highlighted.
The important documents required to be carried by an unaccompanied minor includes a passport with a validity of at least six months, a valid visa for the country to be visited, and a re-entry permit to return to his/her home country. It must also be ensured that the child has taken all the required vaccinations and medical check-ups, and carries the necessary medical papers with him/her.
Are any other privileges offered by Qatar Airways to unaccompanied minors?
Qatar Airways offers several privileges to unaccompanied minors. The airline assists unaccompanied minors by providing them with baggage claim, security checks, passport control and check-in. A dedicated representative of Qatar Airways escorts the child to and from aircraft, while flight attendants take special care by looking after them well during flights.
Qatar Airways provides a welcoming and safe environment for unaccompanied minors as well as for children of all ages by providing them with a dedicated lounge at Hamad International Airport. A variety of facilities are offered to them, which includes snacks and refreshments, play areas, toys, puzzles, video games, televisions, and child-friendly washrooms and amenities. A team of trained attendants are deployed inside the lounge to look after the children and ensure that they remain happy and are comfortable.
The airline's dedicated employee escorts the unaccompanied minors to the lounge while waiting for their transfer or departing flights. Qatar Airways allows the dedicated personnel only to enter the exclusive kids' lounge, and access to any other staff or passengers is barred. The children travelling alone are escorted from the lounge to the aircraft only when flight boarding starts.
What is the check-in and pickup process for unaccompanied minors?
The parent or legal guardian of unaccompanied minors should escort the child along with his/her baggage to the Departures hall at Hamad International Airport, and then proceed for check-in at the flight's designated row. The unaccompanied minor will be accepted by a Qatar Airways representative after necessary documentation and completing the check-in. For pick-up, the parent or legal guardian of unaccompanied minors should wait for the child in the greeting area of the Arrivals hall. The child will be released to the designated person whose name has been earlier provided to the airline by a representative of Qatar Airways after proving his/her identity and signing the release documentation.
Can miles be redeemed for unaccompanied minors?
The parent or legal guardian can redeem their earned Qmiles to book award tickets for an unaccompanied minor aged between 5 years and 15 years for travel in Economy Class on Qatar Airways marketed and operated flights. The award ticket booking for unaccompanied minors (aged 5 to 11 years) or young travellers (aged 12 to 15 years) can be done online by visiting the "Redeem Qmiles and Qcredits" page on Qmiles website. While placing unaccompanied minor service requests you will need to provide the necessary information such as child's name as displayed in the passport and date of birth, along with an attached copy of child's passport. After receiving your request for unaccompanied minor service along with the required information, the parent or legal guardian will be sent an email by Qatar Airways with details of the child's award ticket and instructions on how to make payment online. The request for unaccompanied minor service must be submitted at least a minimum of 96 hours (4 days) before the planned departure date. The airline will also charge a service fee of 3,000 Qmiles for making use of the unaccompanied minor service. This will be in addition to the required Qmiles for the award ticket.
FAQs about children flying alone with Qatar Airways
How will I be informed that the child has arrived at his/her destination?
A Qatar Airways representative will give a call to both the parent/legal guardian at the Departure airport as well as the designated person for pick-up at Arrival airport and inform about the flight's expected time of arrival. It will be your responsibility for making arrangements for the child to be met at the airport.
What assistance will unaccompanied minors get during check-in?
Ground staff of Qatar Airways will be meeting and assisting the unaccompanied minor with a smoother and faster check-in. It must be ensured that the parent or legal guardian accompanying the child should remain at the airport until the time of the flight's departure. Among other facilities offered to the child at departure and arrival include priority assistance through customs clearance, baggage collection, boarding, security and immigration processes. The child will also be assisted by the airline's representative in filling out the forms needed by Immigration and Customs.
Also, read our blog Qatar Airways Flight Change.
Customer Comment
Your email address will not be published.
For immediate assistance
kindly call on below number
571-389-6426
OR, We will contact you within 24 hours.