Best Day to Book a Flight on United Airlines
Friday, January 21, 2022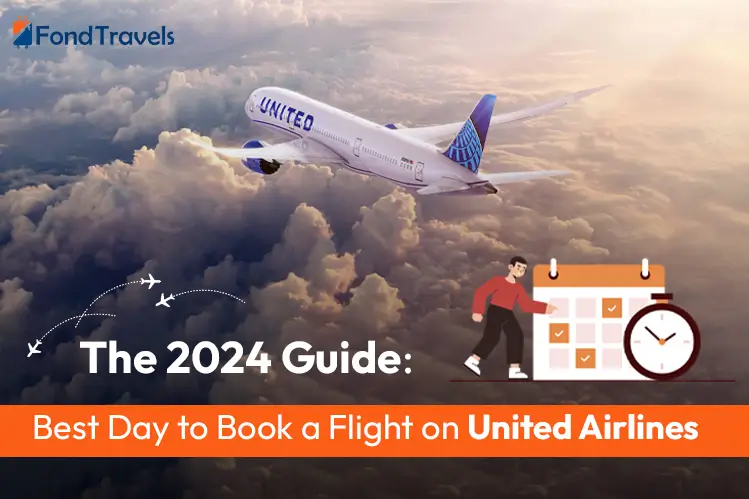 Raise your hand if you're one of them who have ever spent sleepless nights only to find the lowest airfares? Well, that's our first and foremost task when we have upcoming travel plans. Especially on Monday nights, we grab a cup of coffee and glue our eyes on an airline website or get busy talking to several travel agents who would give us a good deal. If you're one of them who is either planning for a business trip or a vacation with United Airlines, here are some tips and tricks to locate the best day to book a flight on United Airlines.
Best Day to Book a Flight Online
I guess it's time to explore your favorite destinations again. Whether it's one of the domestic destinations or an international city, flying United Airlines is an experience that no one forgets. With a catchy slogan: 'Fly the Friendly Skies', United Airlines is the founding member of the Star Alliance, the world's largest airline alliance and one of the oldest airlines in the world that was founded in 1926. Headquartered in Chicago, United Airlines is the third-largest airline in the world. Presently, UA flies to 235 domestic destinations and 120 international destinations in 50 countries.
As the old saying goes: 'the best day to book a flight or the cheapest flight deals are out on a Tuesday.' It's time to get all the facts straight and correct. And, that's not always true. Yes, you can find cheap flights on Tuesdays in the US as several airlines list out airfare sales, and this day you can get the best deals. But you could also get a much better deal on a Wednesday or even on a Monday night, or Thursday. It could be any day of the week.
Cheapest Day to Book a Flight on United Airlines
Are you planning to book a flight with United Airlines but not sure when is the best day to book a flight with them? United Airlines offers amazing deals and lets you fly on a limited budget with praiseworthy services and support. There is neither magic nor any rocket science involved to get access to fantastic money-saving deals on United Airlines, or any airline.
Fond Travel tip is -- during Covid-19, airlines regulate a flexible booking system for travelers and we've got you covered as well. It's not that hard to know when those lowest airfares would be highlighted. Get instant notifications and alerts for the cheapest airfares. We are always on the lookout for the best flight offers for you, 7 days a week, 365 days a year and we're already watching out for budget-friendly and competitive airfares for 2022.
When is the Best Time to Book a Flight on United Airlines?
It's a question everyone wishes they knew the answer to. Unfortunately, there is no best time to book a flight. In short, it depends. Also, several factors contribute to forming the answer. Whether planning a domestic or international trip and how much in advance you book your flight.
The common advice is to book domestic flights between 1 and 4 months in advance and around 4 to 6 months for international flights. But start monitoring flights ten months in advance to get a clear picture of the pricing trend. If airfare decreases, you may wait a bit more for the price to drop. Though Tuesday was once considered the best day to book a flight on United Airlines, trends have changed.
Travelers booking on Saturday or Sunday get lower airfares compared to those booking on weekdays. It's not that lower airfares are available on those days, but leisure passengers book on weekends, whereas business travelers book during the week. So, the average airfares on Saturday and Sunday are lower. Also, remember that the cheapest tickets are purchased between 6 am and noon. Airfares are more likely to rise during the day.
Keep a check on the airfares, and do not hesitate to talk to one of our Fond Travels experts at +1 (571) 389 6426 to get the best flight and vacation offers.
5 Tricks to Book United Airlines Flight Tickets
For those who love to explore new places and frequent business flyers, traveling does not stop. If you are always on the move, cutting down your flight expense is a wise decision. No need to wait for those airfare sales and festive offers, you can easily bag discounted flight offers. You just have to follow these simple steps:
#1 Book early
#2 Use incognito mode
#3 Use flight comparison websites
#4 Opt for different airlines
#5 Don't book on the weekend
When is the Best Time to Book United flights?
The best day to reserve your flight differs on the fact of who you ask. We cannot ignore the fact that airfares are constantly changing to win over customers and undersell air tickets than their competitors. Hence, one must not assume that they are getting the best flight deal on a Tuesday night.
Take it from us: Our air ticket experts toil endlessly searching and comparing the lowest, pocket-friendly airfares for Fond Travel customers. The best fares and deals do not just show up only one day of the week. In our everyday search, we come across crazy cheap flights, mistake airfares like nonstop and roundtrip fare for $63, and even unadvertised award sales every day.
Cheapest Days to Fly and Best Time to Buy Airline Tickets
So, summing up all we talked about; grabbing the best flight deals is quite an art, but even humanism or economics is also involved. Moreover, only two main rules are involved -- airfares that are involved for booking about a year in advance and airfares that keep changing frequently before departures. So, you will surely want to book your flight ticket well in advance of your trip as prices shoot up in a snap these days.
With the increasing number of air ticket booking sites, it is simpler to go for Fond Travel by calling +1-571-389-6426 for United Airlines Flight Reservation. Although airfares could be highlighted by algorithms in today's modern times, if you are looking to save a few dollars on air travel, plan your travel much in advance and be flexible in your travel dates.
Also, read our blog United Airlines Unaccompanied Minor Policies, Booking and Fees.
Customer Comment
Your email address will not be published.
For immediate assistance
kindly call on below number
571-389-6426
OR, We will contact you within 24 hours.