United Airlines Name & Date Change Policy
Monday, May 08, 2023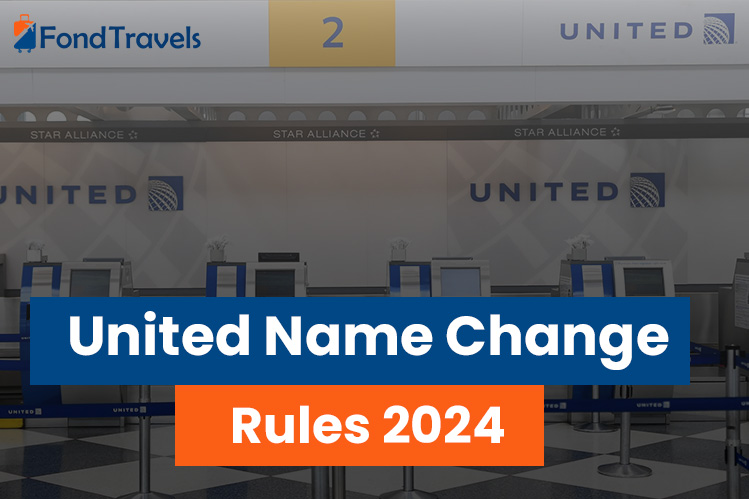 United Airlines, one of the leading airlines in the world, serves as a gateway to countless destinations for travelers worldwide. Whether you're embarking on a business trip or planning a dream vacation, understanding the intricacies of airline policies is crucial, which can save you from potential headaches and unexpected costs.
So, let's embark on this journey of understanding United Airlines name and date change policy, empowering you with the information you need for a stress-free travel experience.
Understanding name and date change policies for UA
Understanding the name and date change policies is crucial in ensuring a smooth and hassle-free travel experience. Here are some reasons why it is essential to comprehend these policies:
Avoiding Penalties & Additional Costs: United Airlines imposes fees and penalties for name and date changes like most airlines. By understanding United Airlines ticket name change policy, you can avoid unnecessary expenses by making changes within the specified guidelines and timeframes.
Correcting Errors & Changes in Plans: Mistakes happen and plans can change unexpectedly. Whether it's a typographical error in a passenger's name or a need to modify travel dates due to unforeseen circumstances, understanding the policies enables you to rectify errors or make necessary adjustments promptly.
Compliance with Security & Immigration Requirements: Name accuracy is critical regarding security checks and immigration procedures. United Airlines flight booking process adheres to strict regulations, particularly for international travel. Understanding the name change policies ensures that your travel documents match the information on your tickets, avoiding potential complications and delays during security checks or immigration processes.
Maximizing Flexibility: Travel plans can be unpredictable, and having the flexibility to change names or dates can be immensely beneficial. By familiarizing yourself with United Airlines policies, you can choose more flexible fare options, allowing you to modify your travel arrangements if necessary without excessive fees or restrictions.
Smooth Travel Experience: Clear understanding of United Airlines name change policy provides peace of mind and confidence throughout your travel journey. It enables you to address any issues, preventing last-minute stress or disruptions proactively. Adhering to the policies allows you to enjoy a seamless travel experience from booking to boarding.
Permitted change name on United Airlines ticket
United Airlines permits name changes in specific circumstances, understanding that there may be legitimate reasons for passengers to modify their names on tickets. Here are some common scenarios under which United Airlines allows name changes:
Spelling Errors: If there is a typographical error in the passenger's name or the name is misspelled on the ticket, United Airlines name correction policy ensures the name matches the passenger's identification documents.
Legal Name Change: In case of a legal name change, United Airlines permits passengers to update their tickets accordingly. This includes marriage, divorce, or any other legal process resulting in a name change.
Transferred Ticket: If a passenger transfers their ticket to another individual, United Airlines may allow a name change to reflect the new traveler's information. However, it's important to note that not all tickets are transferable, and restrictions may apply.
It's crucial to remember that name correction on United Airlines may vary based on the specific fare type, ticket conditions, and applicable terms and conditions. It is recommended to review the airline's official policy or contact Fond Travels customer service at +1-(571)-389-6426 for the most accurate and up-to-date information regarding name changes.
United Airlines Name Change Fee & Restrictions
United Airlines imposes fees and restrictions for name changes, and it's important to be aware of these policies before requesting any modifications. Here are some key points regarding United name change fee and restrictions:
Name Change Fees: United Airlines typically charges a fee for name changes. The exact amount can vary depending on the ticket type, fare class, destination, and the specific terms and conditions associated with the ticket.
Fare Class Restrictions: Certain fare classes may have stricter restrictions on name changes or may not allow name changes at all. It's important to review the fare rules and conditions associated with your ticket to determine if name changes are permitted and any associated fees.
Non-Transferable Tickets: In most cases, United Airlines tickets are non-transferable, meaning they cannot be transferred to another individual. Name changes are generally allowed only to correct errors in specific circumstances, such as legal name changes or transferring the ticket to an eligible family member.
International Travel Considerations: As per United Airlines name change on ticket rule, when traveling internationally, United Airlines may have additional restrictions and requirements for name changes due to immigration and security regulations. It is important to ensure that the name on the ticket matches the traveler's passport or other identification documents to avoid complications during international travel.
Ticket Validity and Expiration: Name changes are typically only allowed for tickets that are still valid and within their specified validity period. If a ticket has expired or is no longer valid, making name changes may be impossible, and purchasing a new ticket may be required.
For hassle-free support and quick solution, call Fond Travels at +1-(571)-389-6426 to talk to one of our travel experts for any support on the name change, United pet policy, or ticket cancelations.
Customer Comment
Your email address will not be published.
For immediate assistance
kindly call on below number
571-389-6426
OR, We will contact you within 24 hours.