How to Book Delta Airlines Red-Eye Flights?
Tuesday, March 15, 2022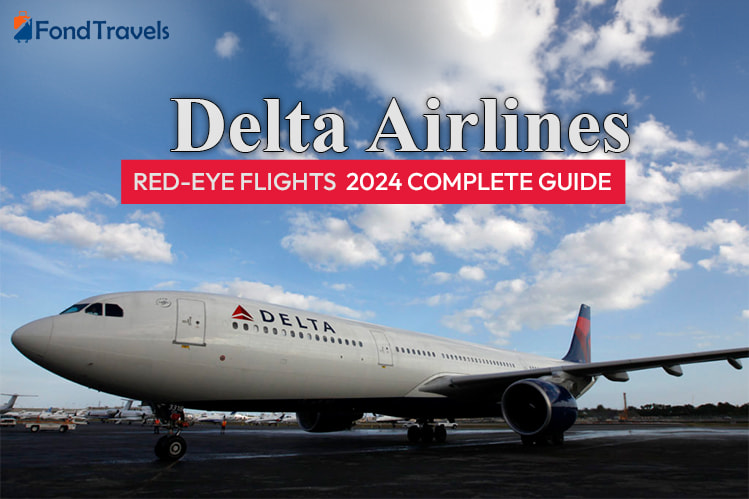 Delta Airlines is one of the leading airlines of the United States headquartered in Atlanta. Typically known as Delta, it is also a legacy carrier and one of the oldest airlines in services with over 5,000 flights daily and services more than 350 destinations in 50 countries. More than just a name, Delta offers the joys of traveling - utmost comfort, exceptional food, in-flight services, amenities and affordable flight tickets as well - all managed by excellent crew members and on-ground travel experts. So, wondering how to book Delta Airlines red-eye flights? With Delta, you can easily search and buy red-eye flights with just a few clicks. Is there anything better than taking off at midnight at LAX and landing at 8 am ET in New York? Finding red-eye flights on Delta is super easy. Just follow this lead and bingo, here's your red-eye air ticket.
Red-Eye Flights with Delta Airlines - What is it?
The term 'Red-Eye', doesn't it remind us of the 2005 Hollywood flick starring Cillian Murphy and Rachel McAdams? Quite a page-turner! Well, red-eye flights are known to depart late-night and arrive early morning. They usually take off after 9 pm and land at their destination before 6 am. Most times the arrivals depend on the route and other reasons. And yes, some passengers prefer such flights due to their timing. Now the surprise - Delta Airline is the first airline firm to introduce red-eye flights for nocturnal travelers and they enjoy all the perks and benefits a red-eye flight offers.
Red-eye flights are cheaper because of supply and demand. Airlines need more paying customers on these flights to fill them, so they make the tickets cheaper. Flights during peak times/days are more expensive because they are more in demand and people are willing to pay the higher price. Let's see the benefits:
Delta Airlines Red-Eye flights - advantages
These flights are cheaper than the normal day flights
These flights are less tiring and less exhausting
They assist passengers in catching morning flights easily
They help save a lot of time on a single trip
Passengers enjoy a better sleeping experience
Claim your baggage in a much shorter time
It's ideal if you wish to return the same day
Enjoy speedy check-in time with red-eye flights
Avoid traffic while reaching the airport
A Red-eye plane is often less crowded
Select your flight even mid-week
You can select your seat, if possible opt for a window seat
How to Book Delta Airlines Red-Eye Flights?
Red-eye flights are common, but not for every route. The most regular red-eye flights are long-haul flights that travel from west to east. For example, Los Angeles to New York, New York-JFK to McCarran International, or New York to Europe. Also, Los Angeles to Toronto, or Vancouver to Toronto. Red-eye flights are usually a minimum of four hours to six hours or more.
You need not work your fingers to the bone to obtain Delta Red-Eye flights. It has a quick and efficient air ticket booking team that works round the clock to help night flyers book easily. Whether you wish to book a single ticket or group bookings, the Delta Red-Eye booking experience is a walk in the park. The red-eye ticket specialists are extremely experienced and trustworthy to serve red-eye travelers. Just dial the number given below to book cheap red-eye flights and enjoy an amazing experience like never before.
Book Red-Eye Flights with Delta – how & why?
As the name proposes, Delta red-eye flight departs at night when you all are fast asleep at your homes. Being a night flight Delta Airlines ensures that passengers enjoy a peaceful and pleasant journey. Whether you need to attend a business conference the next morning or meet relatives the next day, Delta red-eye flights are a perfect choice. As mentioned, these flights take off after 9 pm and reach the destination early morning. They are popular and people's favorite to save an entire day! Here are some amazing benefits of booking Delta red-eye flights:
Enjoy luxurious services at cheaper prices with Delta
Dodge the morning traffic and reach your destination at dawn
It is a calm and less grueling Delta flight
Delta provides a commendable sleeping experience by giving extra seats and amenities
The check-in period takes less time
Chances of misplacing personal items are less
With Delta red-eye flight, there is no need for hotel bookings
Travel and return the same day with Delta red-eye
How Do You Book Red-Eye?
Step 1: Visit Delta Airlines official website
Step 2: Click 'Book' tab
Step 3: Fill the required details
Step 4: Choose one of the search options/advance seen on your screen
Step 5: Select red-eye flight option and see the availability and fares
Step 6: Visit advance feature section and choose favorite meal, entertainment options, seat, free Wi-Fi and other options.
Step 7: Choose your payment method, select your bank, etc.
Step 8: Enter the OTP sent on your mobile number or email and booking confirmation will be sent to you on your mobile or mail ID.
You can also book Delta Red-Eye flight ticket through one of our expert travel executives by dialing Delta Airlines customer service number.
How Do You Get a Delta Red-Eye Flight?
Surveying US domestic flights, there are over 120 red-eye flights that fly within 1,300 miles out of which Delta flies more. Major airports that cater to such flights are Las Vegas, Phoenix, New York, Los Angeles, Portland, San Francisco, and Denver have lion's share of flights. Many of the popular overnight routes are air routes between the United States' East Coast and West Coast, and even beyond the USA.
Fond Travels offers Delta Airlines red-eye for destinations you need. Whether it's a quick city break, a short business trip, or leisure, we're here to serve you with money-saving red-eye deals on Delta. Fond Travels is a one-stop travel portal for all your travel requirements - discounted flight tickets, hotel accommodation, vacation packages to car rentals, queries on how do I get full refunds from Delta, Delta Airlines missed flight policy, and more, Call at +1 (571) 389-6426 we assist travelers from A-Z as your comfort and experience are our top priority.
Also, read our blog Delta Airlines Flight Cancelation.
Customer Comment
Your email address will not be published.
For immediate assistance
kindly call on below number
571-389-6426
OR, We will contact you within 24 hours.