Book Cheap Independence Day Flights (4th July)
Monday, February 27, 2023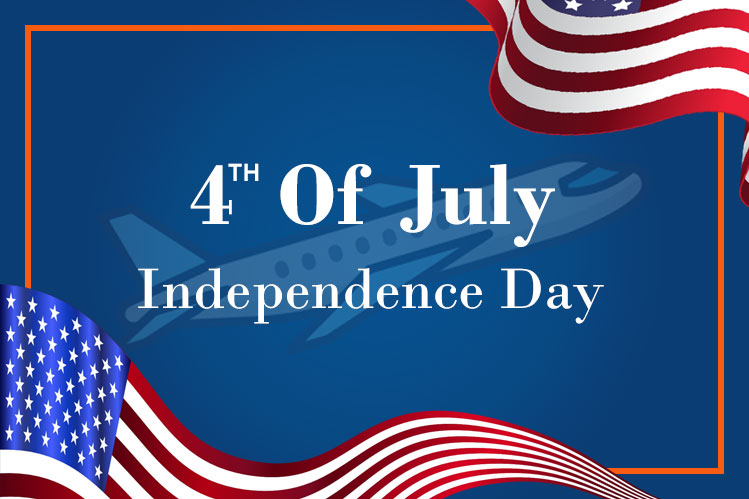 Independence Day is here in the town and people are excited for the 4th of July weekend holiday. The colorful sky, the beautiful land and the euphoric horizon...this is how independent day feels and different people have different ways of celebrating their weekend holiday. Either a trip with your families or perhaps a gateway to their soul...whatever it is, don't let the patriot spirit die in you and book your flight tickets because we got your back with the best Independence Day flight deals. Continue reading further to know them all and lay your footsteps in your utopia.
How to get the best 4th of July flight deals?
Book Early – When one knows that there are going to be loads of people booking their flight on 4th of July then it is wise to book your flight ticket way ahead of the departure date. As the flight dates get closer, the flight ticket prices increase, so it is best to book your flight ticket prior 60 days (about 2 months) from your departure dates.
Destination Flexibility – If you are flexible with your travel destination on 4th of July, it will help you a lot to save the cost of your flight ticket and enjoy 4th of July flights. When you have no destination in mind, then you can check out the prices and book the one that suits your budget.
Look for red hours – You can try booking your flight for the time when not many passengers get onboard. The early morning hours and the late-night hours are known as the red hours, one can book the flight for these hours because less passengers signifies less ticket price.
Try out different airlines - You should not just rely on one of the airlines to check the prices but keep on looking for different airlines because different airlines have different price standards.
Use different search engines – One should avoid using the same search engine to check out the prices when booking the 4th of July 2023 flight tickets. Because the same search engine used repeatedly for the same reason – to check out the flight prices will let the airline know about it and they will then increase the initial price. So, it is best to use different search engines.
What are the popular destinations you can visit on the 4th of July?
Now that you are aware of how you can get cheap flights for Independence Day, it is time to figure out some of the popular destinations or the destinations you can be flexible about to feel the celebration of Independence Day. The list is as follows: -
New York City
Jekyll Island
San Francisco
Washington D.C.
Mackinac Island
New Orleans
Key West
San Diego
Charleston
Las Vegas
The above are some of the places you can get the best Independence Day airfare for. And the plus point being the massive and extravagant celebration of the auspicious day.
What is the best time to book a flight ticket for Independence Day?
The best and most worth it time to book the flight tickets for Independence Day is at least 30 days (about 4 and a half weeks) – 60 days (about 2 months) ahead of your departure dates. Because the earlier you book the ticket, the lowest will be the cost of your flight tickets.
What airlines are offering 4th of July flight deals?
There are various airlines that understand the patriotism in the people and let them enjoy the Independence Day flight specials to continue growing country and as an individual as well. You can refer to the airlines below:
Air Canada
Frontier Airlines
United Airlines
Swiss International Airlines
Frontier Airlines
Emirates Airlines
Qatar Airways
Get the best Independence Day flights at FondTravels
At FondTravels, we believe in adding value to your travel and making it hassle-free and comfortable. If you are anxious about the way to get the 4th of July 2023 flight tickets, then we are your remedy. We are available 24 hours and 365 days with the best flight deals, car rental services and hotel reservations too.
We are your one-stop solution to all your travel problems. Simply give a call (+1 (571) 389 6426) at any time of the day and our customer executive will connect with you to help you figure your way through an amazing journey.
Also, read our blog Ethiopian Airlines Unaccompanied Minor Policy.
Customer Comment
Your email address will not be published.
For immediate assistance
kindly call on below number
571-389-6426
OR, We will contact you within 24 hours.