Los Angeles International Airport – A Traveler's Guide
Monday, January 31, 2022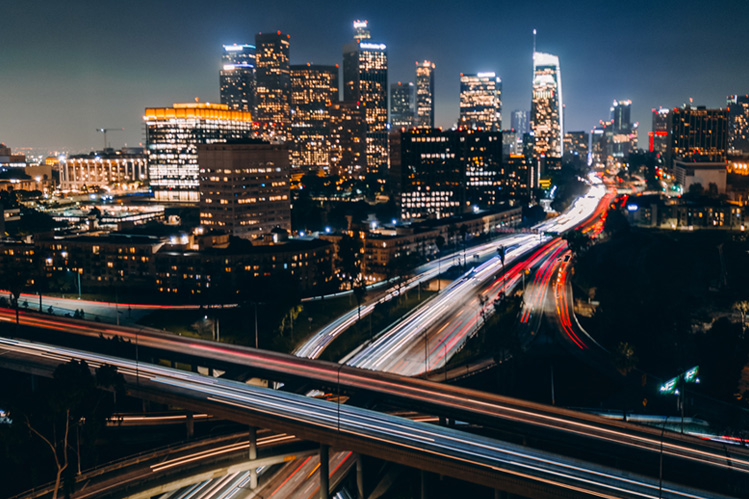 As said in the American way - when you travel by plane, you have to go to the airport. Located 18 miles towards the southern region of downtown Los Angeles in Westchester, Los Angeles International Airport is the principal international airport serving LA and the adjoining areas. Like the city itself, LA International Airport can be a bit perplexing due to its 3,400-acre sheer size. Most commonly known as LAX, the IATA callsign, LA Airport is the fifth busiest airport. It is an appealing and strategic hub with tourists worldwide traveling and passing 24x7 through its 9 terminals. The airport is operated by Los Angeles World Airports (LAWA). There is a lot of rerouting at the airport if you are delayed or stuck overnight. So, if you have an upcoming business or leisure trip from Los Angeles International Airport or have a long layover, these essentials mentioned will help you navigate from and through the airport smoothly.
Famous Airports Near Los Angeles
LAX Airport is not just a busy and demanding hub, its iconic location closer to the splashing waves of the Pacific Ocean makes it all the more popular and fascinating. If you had been to LAX airport 2-3 years back, travelers were moving in and out like bats out of hell. Presently, things are getting back to normal with safety guidelines for the well-being of the passengers. LAX is a major gateway for Asia, Europe, Latin America, and Oceania and the main home and hub for United, Delta, American, Alaska, and Virgin America, with American Airlines as the busiest carrier at LAX, with more than 200 flights daily to more than 70 destinations on 5 continents. Los Angeles International Airport flights also include Allegiant Air, Air New Zealand, Qantas, Southwest, Spirit, and Volaris. The airport dominates and manages three other airports - Los Angeles International Airport (LAX), Ontario International Airport (ONT), and Van Nuys general aviation airport (VNY).
Los Angeles International Airport Airlines
Almost every leading domestic and international airline services LA Airport more than any other airport in Northern America with modern-generation aircraft including - Airbus A380, Boeing 787 Dreamliner, and Boeing 747-8. In 2019, Los Angeles Airport operated an average of 800 daily non-stop flights to more than 120 destinations in the US alone and 1300 nonstop flights to more than 50 countries. Nine passenger terminals with 146 gates function at LAX linked by a U-shaped walkway. Terminals 4-8 are connected with Tom Bradley and 1-3 require exiting from the building to reaching the terminals via shuttle bus. Being a reputed airport, LA faces crucial traffic conditions. A little planning is required to diminish headaches and detains. It is advised to avoid peak hours and instead, use carpool lanes for self-driven cars, FlyAway buses, or the green line metro system.
Let's Discover LAX International Airport
Passengers are required to arrive at LAX Airport 2 hours before a domestic flight departure and 3 hours before an international flight departure. The airport is nothing less than a lavish mall brimming with many options to kill time. From travel to transportation, helpdesk, and lounges, flight delayed activities, shopping, and dining, spending time at the airport is a walk in the park.
LAX Airport has scores of lounges for unwinding before you take off.
| Terminal | Lounge | Shops | Drink & Dine |
| --- | --- | --- | --- |
| Terminal 1 | | BeRelax Sol Surf LA Original Brookstone | Cassell's Hamburgers Trejo's Tacos Urth Caffe & Bar |
| Terminal 2 | Virgin Atlantic Clubhouse / Delta Sky Club | DFS Duty-Free Shop InMotion Entertainment | Sealegs Wine Bar Built Custom Burgers Slapfish |
| Terminal 3 | Delta Sky Club | Hudson DFS Duty-Free Shop | Shake Shack The Parlor |
| Terminal 4 | American Airlines Admirals Club / AA Flagship Lounge | Hudson DFS Duty-Free Shop | Cole's Real Food Daily Campanile |
| Terminal 5 | American Airlines Admirals Club | Rip Curl The Mattel Experience | Lemonade Ford's Filling Station |
| Terminal 6 | Air Canada Maple Leaf Lounge | M. Fredric MAC Cosmetics Belkin Tumi | Osteria Starbucks Evenings Earthbar |
| Terminal 7 & 8 | United Polaris Lounge | Hugo Boss Harley-Davidson Book Soup | B Grill by BOA Steakhouse BLD Engine Co. No. 28 |
Easy & Quick Check-in at LAX Airport
Get your journey off to a flying start with easy, quick, and convenient airport check-in. LAX International Airport check-in counters along with passenger security screening open between 4 am to 5 am and closes depending on the airline schedule. For online check-ins, you can pick your seat and even print your boarding card. If you have a priority pass, you are entitled to exclusive priority service at more than 1,000 airports globally including LAX International Airport. You are guided through LAX with ease and speed for check-in, baggage, boarding, transfers, and immigration. Just skip the queues with assistance from your airline representatives and airport officers. Early passengers at the airport will benefit from:
Priority boarding & transfers
First baggage handling
Luggage drop-off
Easy frisking security lanes
Immigration clearance
LAX International Airport lost and found helpdesk
Looking for a currency exchange counter? The ICE Currency Exchange machines are located in the Upper & Lower, Arrival & Departure Level of every terminal.
LAX long-term parking charges around USD 7-17 a day. Garages inside the airport charge USD 40 per day, so an off-airport spot will save you a significant amount. The off-site economy section starts at USD 9 per day and indoor LAX valet parking start as low as USD 12.75.
Transfers from Los Angeles International Airport to Domestic
Whether you are looking for a ride home or a quick commute from the international wing to the domestic or vice versa, there are several transportation options at LAX: airport & local buses, shuttle vans, taxis, rented cabs, and light rail metro. Moreover, a free shuttle carries passengers in between the airports. LAX FlyAway buses offer speedy transfers between LAX, Van Nuys, and Union Stations. The busiest domestic routes from LAX (November 2020 - October 2021) have been Dallas/Fort Worth in Texas / JFK New York / Chicago / Hawaii and Las Vegas and the busiest international routes were London Heathrow, Paris, Mexico City, Seoul, Sydney, and Vancouver.
What are Covid Requirements at LAX Airport?
Whether you are departing from LAX Airport or flying into the city with flights to LAX, the airport ensures the safety and welfare of passengers. LAWA - LA World Airports is working tirelessly to upgrade policies, regulations, and spaces to ensure safe and healthy transfers and trips. The airport offers free, airport Covid-19 vaccinations and ensures social distancing and wearing of masks for all. There are thermal screenings and sanitizers installed at most core places at the terminals.
Best Month to Fly Out of LAX International Airport
LAX Airport is always sizzling with travelers. Whether it's night or day, weekend or weekday, there is so much happening at the airport. Most travelers flying out happen to come from any nearby county or suburbs and Tuesday to Thursday seem to be less crowded whereas, Friday to Monday are generally crammed. If you are departing, the early morning timings seem to be busy and things slow down from 11 am to 4 pm. Nights are slow and cost-wise there will be a huge difference when you fly out during weekdays, between noon and night. Some prefer Red Eye flights, after 8 pm - less traffic on the road and at the airport and you can bag low-cost air tickets easily. For those flying into LAX Airport, the high season is considered to be January, November, and December. The cheapest month to fly to Los Angeles is in August.
Presently, there are newer and innovative developments happening at LAX International Airport - new boarding gates with high-class dining, shopping, and entertainment options. If you are thinking about traveling out of LA and are searching for different flight options available, you can contact your friendly and knowledgeable travel company Fond Travels at +1-571-389-6426 for information on Los Angeles Airport and we'll be more than happy to offer cheap flights to Los Angeles, unpublished low-cost airfares, top airline deals to your destination from the US, info on unaccompanied minors, etc. Hoping for the world to get back to normal and travel to begin in a fully-fledged manner.
Also, read our blog Miami International Airport - An Insight.
Customer Comment
Your email address will not be published.
For immediate assistance
kindly call on below number
571-389-6426
OR, We will contact you within 24 hours.