How to Get Cheap Flight Tickets: Top FAQs
Friday, March 04, 2022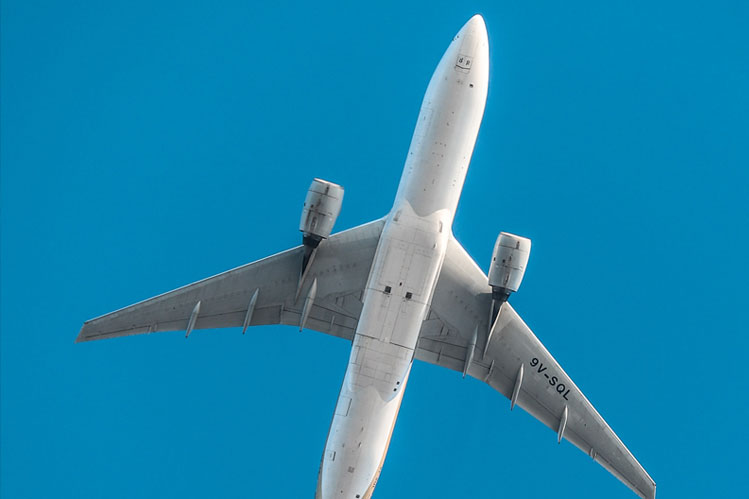 Flight is undoubtedly the fastest mode of traveling but not the cheapest. Sometimes it stands out as being infamous due to pricey air tickets burdening the common man. For that reason, many are not able to travel as it disrupts the monthly budget. All the more, solo travelers find it difficult to avail air travel and there is no other way to visit your dream destination. The very thought of flight booking has become a nightmare to many. However, flight booking is an art that has to be mastered to get a hold of pocket-friendly deals. You just need to know where to look. Here, we've tried to answer the most common and yet difficult questions on how to get cheap flight tickets and save money on airfares.
Q1 - While making travel plans, do I need to book flights tickets early?
A - Yes, start searching early but do not book soon. Keep an eye on how prices fluctuate. When you feel that prices are reasonable enough, bullseye. Grab it!
Q2 - Should my travel date be flexible to book cheap flights?
A - If you are flexible with your travel dates, planning a trip becomes much easier with low-cost fares.
Q3. Do flight prices drop on a specific day of the week?
A - Well, there is no magic, myth, or rabbit trick to book cheap flight tickets. Genuine studies have shown that Sunday is one of the best days if you have 21-25 days before traveling. And, prices on domestic flights decrease mid-week, or on Tuesday and Wednesday.
Q4. How to get cheap flights through price trackers?
A - Price trackers are fantastic tools to find cheap flights. One search and that's all you need. Using services like Hopper, Kayak, or Google flights lists out unlimited price alerts for scores of destinations. You just have to set alerts and get notified.
Q5. I've heard - do not fly direct always. Is it correct?
A - You need to be flexible with routes also. For example: If you are flying from US to Paris, the airfare might be US$900. You can fly to Dublin for US$500 and board a US$60 flight to Paris. You can save US$340. It's worth it!
Q6. How to keep an eye on special deals?
A - Before you start looking for certain flights, make sure you've signed up to receive exclusive offers and discounted airfares. Maybe you could join the mailing list and last-minute offers from Fond Travels.
Q7. Do budget airlines help to save money?
A - Yes, of course! Airlines like Delta, American and United are budget airlines. You can easily fly down to the Caribbean from the US on low airfares.
Q8. What are the best low-cost airlines in the USA?
A - Southwest Airlines, Frontier Airlines, Sun Country Airlines, JetBlue Airways, Spirit Airlines, Hawaiian Airlines, Allegiant Air, Alaska Airlines, United Airlines and American Airlines (you could be flying from US to the Caribbean for US$30 one way, and US$ 80 round trip).
Q9. Do flights get cheaper if you book last minute?
A - Well, sometimes they do. Flights tend to be expensive when you book between 3-4 months but yes, at most times airfares drop.
Q10. How to find last-minute flight deals?
A - Sign up for price alerts and search for the flight you want. Check the 'Get Price Alerts' button and enter your mail to receive updates. On Fond Travels, you can sign up to receive flight deals.
Q11. Does incognito mode help in displaying cheap flights?
A - It's observed that while searching for the best flight deals, fares escalate due to cookies installed in your PC so that booking is completed. Incognito mode does not save previous searches and any number of times you can find cheap flights.
Q12. Is it wise to buy cheap flights from the airport?
A - No, it is recommended to reserve air tickets online via Fond Travels as you can get access to some incredible last-minute deals and unpublished fares, whereas at the airport airfares are expensive.
Q13. How to find cheap flights for domestic and international travel?
A - To get a hand on cheap air tickets, book 2-3 weeks before the actual date of the journey for domestic travel, and 4-5 months in advance for international travel.
Q14. How to get cheap business class tickets?
A - Lookout for flight sales or airline discounts by signing up for fare alerts. Avoid mileage brokers; it's illegal. However, US carriers (United, American and Delta) are now offering cheap advance non-refundable business class fares.
Q15. Where can I book the cheapest flight tickets online?
Fond Travels offers you the best deals on domestic as well as international flight booking. With reliable transaction options, a tracking interface, amazing offers, and last-minute flight deals, you can easily book the cheapest air tickets anytime.
Q16. How do red-eye flights help in obtaining the cheapest flight tickets online?
A - Red-eye flights depart at night and arrive early morning. If you are comfortable flying these hours, you'll find cheap flights.
Q17. How to get cheap airlines tickets through airfare errors?
A - Airlines slip up quite often. An airfare update gets mistyped and here you're flying to Cancun for US$30 round-trip. If you are fortunate to spot one, you can enjoy mega-savings.
Q18. I'm a member of the Armed Forces. Do I qualify for a military discount or lowest airfares?
A - Firstly, honored by your services. For such a request or deals do not hesitate to talk to our travel experts and they'll be able to help you further as there might be some relief in airfares for senior citizens and defense personnel.
Q19. Are there tips to book cheap flight tickets or last-minute deals?
A - If you have an upcoming trip but still waiting for the best airfares, no issue. Keep an eye on airfares in two ways:
(1) Trigger a Price Alert and we'll watch best fares and notify you via email, or (2) talk to our airfares experts and they will help you book lowest flight tickets to your destination.
Q20. How can I book cheap flight tickets through Fond Travels?
Booking cheap flight tickets via Fond Travels is a walk in the park. On the flight booking page, you just need to enter the "Flying From" and "Flying To". Enter your Departure Date, Number of Travelers and Class. Click on Search. You'll be guided to the airline and price page.
You can also talk to one of our flight and vacation experts at +1-571-389-6426 for discounted flights, unpublished airfares and other incredible offers.
Also, read our blog Cheap Destinations with Great Weather.
Customer Comment
Your email address will not be published.
For immediate assistance
kindly call on below number
571-389-6426
OR, We will contact you within 24 hours.