5 Best Places to Travel in 2022
Friday, June 10, 2022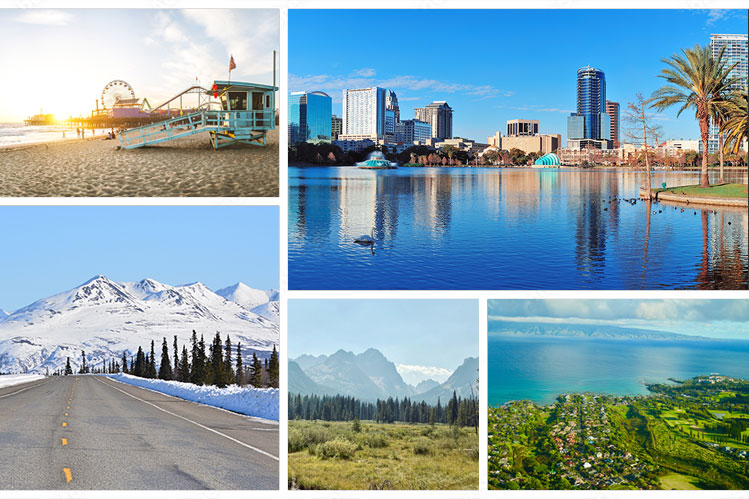 Travel and tourism are being welcomed once again like long-lost cousins. So for those of you wanting to explore the US and its surroundings, we've compiled the best places to travel in 2022 to make your domestic vacation more exciting. Each of these places has been listed for adventure, entertainment & fun, water sports, theme parks, and beaches. So before you pack, read to unveil a collection of the best places to travel in 2022 in the USA.
ALASKA
If you love cruises, this is one of the best places to travel in 2022. If you've been in the four walls for a while and are tired of familiar faces, change your scenery to adventure, food, fishing, and tours.
Being newly tagged as one of North America's best places to travel in 2022, you'll find luxury lodges overlooking the mysterious Alaskan wilderness.
Best Time to Visit – June, July, and August for unique opportunities and lower prices to enjoy one of the best vacation spots in 2022.
Top Things to do in Alaska
Visit Anchorage
Explore Juneau
Experience Ketchikan
Walk through Denali National Park
Enjoy White Pass & Yukon Route Railway
Tour Kodiak Laboratory Aquarium & Touch Tank
Visit The Aurora Ice Museum
ORLANDO
Orlando is one of the best places to travel in 2022 with your kids. This year, Walt Disney World completes 50 years, and the preps are on to spellbind visitors with festivities and events spanning 18 months until 2023. Dubbed 'The World's Most Magical Celebration and one of the best cities to visit in the US in 2022,'— it's hard to pin down the excitement the world will see on its fiftieth.
Best Time to Visit: Between October and May, the climate is perfect to experience one of the best places to travel in 2022. July is hot!
Top Things to do in Orlando
Enjoy Remy's Ratatouille Adventure
Experience Guardians of the Galaxy coaster
Spend time at Cinderella Castle
Take your Kids to Magic Kingdom
Explore Legoland
Visit Universal Orlando Resort
Tour Lake Eola Park
Winter Park Scenic Boat
IDAHO
Very few know that Idaho is adventurous —gigantic redwood forests, desert trails, hiking, and white water rafting; it has all that can tag it as one of America's best places to travel in 2022. Families and couples can tuck away in the rugged mountain setting and unwind with a sauna and a relieving swim.
Explore roaring waterfalls — Perrine Coulee Falls and Pillar Falls, and the most iconic Shoshone Falls. No doubt, Idaho is the top travel destination for 2022 adventure.
Best Time to Visit: Fall is a great time to explore Idaho and its natural wonders without any hassle.
Top Things to do in Idaho
Visit Yellowstone National Park
Visit Craters of the Moon
Experience Shoshone Falls
Explore Hells Canyon
Discover Sawtooth Mountains and lakes
Enjoy Sun Valley Resort
Picnic and Lake Coeur d'Alene
Hell's Canyon National Recreation Area
MAUI
Dreaming of a dreamy tropical bliss without leaving the country? Ranked thrice in a row as one of the 'best places to travel in 2022' with 120 miles of shoreline, Maui is loved by beach bums. It has all the ingredients you'd expect from an island destination — spectacular beaches, hiking adventures, dramatic mountains, and active volcanoes.
Best Time to Visit: April, May, or June. The climate is enjoyable, with fewer crowds. After gloomy months, Maui is the best place to travel in 2022.
Top Things to do in MAUI
Explore Haleakala National Park
Ride the Hana Road
Visit the Maui Ocean Center
Lahaina and Kaanapali Beach
Go snorkeling and diving at Molokini
Witness Old Lahaina Luau
Discover Haleakala Crater
Take a Scenic Drive at Maui's Ulupalakua Vineyards
Witness Maui Whale Festival
LOS ANGELES
Los Angeles is the super bowl for all culture vultures and is reputed as one of the 'all-time' best places to travel in 2022. It offers a cultural bloom and dramatic surroundings. Go shopping; explore theme parks, fine dining, nightlife, and more. Due to the tourism boom, several newer attractions will keep you hooked. No wonder LA is the top travel destination of 2022.
Best Time to Visit: March to May, when prices are low. The crowd is scanty between September and November.
Top Things to do in LOS ANGELES
Visit Santa Monica Pier and Beach
Explore Zuma Beach
Tour Runyon Canyon Park
Explore Rodeo Drive
Walk at Angeles National Forest
Explore The Getty Center
Tour the Hollywood Walk of Fame
Explore The Broad
Tour Venice Beach
Don't miss a chance to visit some of the best places to travel this summer between June and September. These breathtaking locations are worth tagging top of your travel list. Contact us on +1-571-389-6426 to get competitive prices on flights and hotels.
Also, read our blog Best Places to go in February in Europe.
Customer Comment
Your email address will not be published.
For immediate assistance
kindly call on below number
571-389-6426
OR, We will contact you within 24 hours.