Best Places to go in February in Europe
Monday, January 24, 2022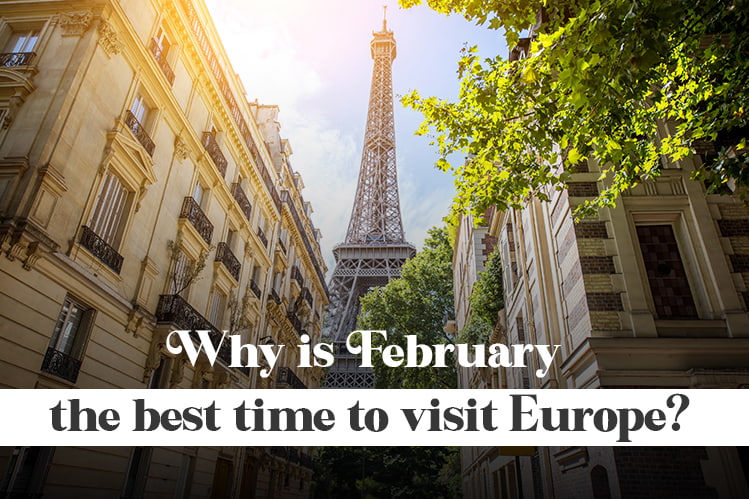 Are you craving some winter sun? What better place other than Europe can offer the best of both worlds? It might be freezing in some parts of the continent, but in others, the sun might be a bit more generous. Whether you're a party animal and looking for a night out at one of the Carnivals or basking under the winter Mediterranean Sun, February offers respite in several sun-soaked places in Europe. So, if you are looking forward to escaping the bitter cold in search of warm golden sun and fun, this mega guide to the best places to visit in February in Europe will inspire you to explore sun-kissed destinations like never before. Here are the top places to visit in Europe in February:-
Crete, Greece
If escaping the freezing weather is your first resolution this year, Crete is where you won't find a blanket of snow. Greece's largest island will not allow you to get bored as there are endless things to see, do, and experience. It is one of the best destinations to visit in Europe in February. Being 100 miles south of the mainland, Crete is an unforgettable escape from the ancient city of Athens with lesser tourists than Santorini or Mykonos. The fact is Crete is one of the warmest destinations in the entire European belt with more than 500 beaches. These are a few activities you can do in Crete:
Take a dip at one of Crete's several beaches
Chase waterfalls, explore gorges & rivers
Enjoy economical stay, cheap tours and activities
The average high temperature in February: 22
The average low temperature in February: 16
How to Reach: Crete has two main airports - Heraklion and Chania. Disembark your flight at Santorini or Mykonos, catch a ferry to Crete which takes 2.5 hours.
Barcelona, Spain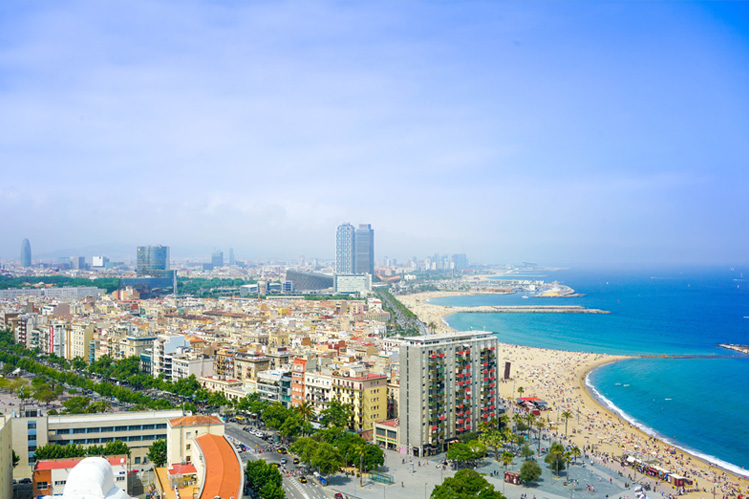 While talking about the best cities to visit in Europe, it's unfair to miss out on Barcelona. Year-round, the football capital Barcelona is a fabulous destination as it offers something memorable for everyone. The city offers surprises, excitement, and unforgettable experiences to the young and old. Even if you halt by the city anytime, you're sure to enjoy the best times of your life. In February, Barcelona might still be on the winter side, but it experiences low temperatures than other places in Europe. Thanks to the closeness of the Mediterranean warm breeze that keeps the atmosphere perfect for water sports and beach activities.
What's On in Barcelona in February?
Barcelona Carnival
Sitges Carnival
Average high temperature in February: 19
Average low temperature in February: 13
How to Reach: You can fly directly into Barcelona El Prat Airport. We recommend that you land in Madrid and take a high-speed, 3-hour ride train to Barcelona and enjoy the views.
Venice, Italy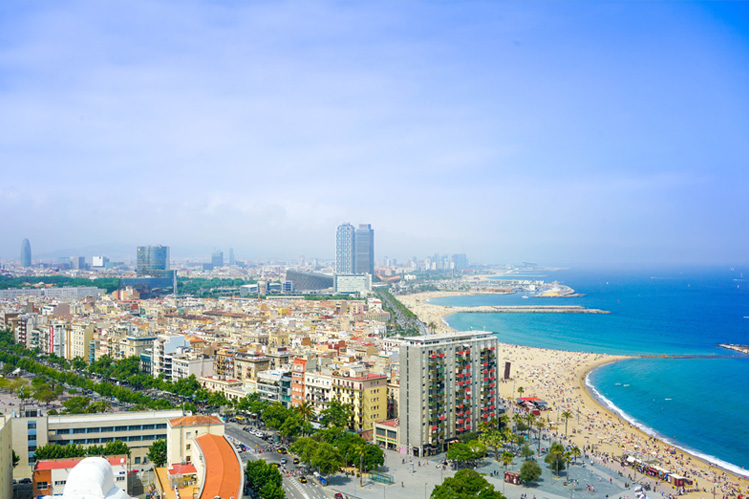 The illustrious 'floating city' is a summer hub with tourists enjoying the winter sun and above all the city Carnival begins as the icing on the cake. The attractive Venetian masks are on display all around Venice and the enthusiasm is indescribable. The temperatures towards northern Italy are cooler than in other parts. The frivolities and excitement alongside the canals are pulsating.
What to see and do in Venice?
In February, the world-famous Carnival is in its entirety from February 12 to March 1. The colorful presentation features unique clothes and masks that sizzle all over the city. First-timers, families, and solo travelers will find it a special moment to witness something grand.
Average high temperature in February: 13
Average low temperature in February: 10
How to reach Venice?
International tourists can fly into Venice Airport or even travel by train from other Italian cities. Rome to Venice is around 3.5 hours' drive and Florence is 3 hours. Do not miss these road trips and soak up the warm sun.
Canary Islands, Spain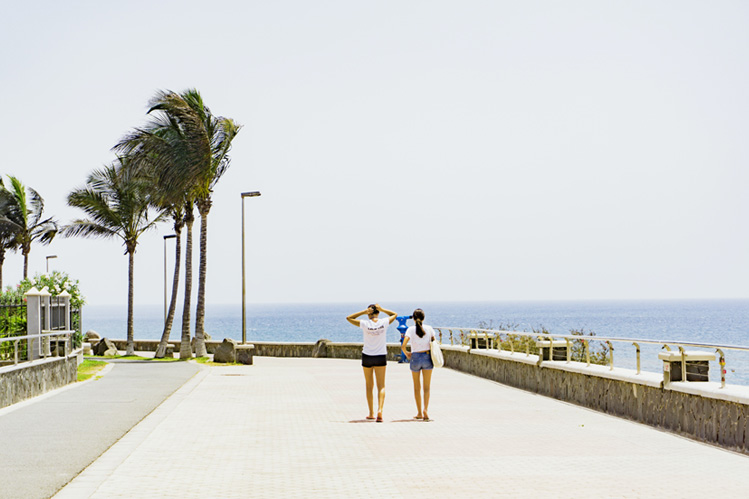 Let's take you to the beautiful and warm Spanish island, the Canary Islands. With a collection of 7 tiny atolls, Canary Islands include Tenerife, Fuerteventura, Gran Canaria, Lanzarote, La Palma, La Gomera and El Hierro, Canary Islands is one of the best places to visit in Europe in February. These isolated beauties are, especially for sun-seekers and adventure buffs. With 12 hours of sunshine, you can have the entire beaches to yourself. Watersport lovers will not get bored with snorkeling, swimming, cliff diving, and scuba diving activities. The waters stay warm enough due to the strange landscapes and lava fields of El Hierro. You can also trek up to the lower hills and enjoy the stunning views.
Things to see and do on the Canary Islands
Explore beaches of Gran Canaria & Tenerife
Leisure on the beaches of Fuerteventura
Visit Las Palmas de Gran Canaria
Loro Park in Tenerife with a large collection of parrots
Discover the 7km long Cueva de los Verdes
Average high temperature in February: 20
Average low temperature in February: 13
How to Reach?
There are no direct flights to the Canary Islands. You will have to make a stoppage at Madrid airport and reach the Canary Islands by plane or ferry.
Algarve, Portugal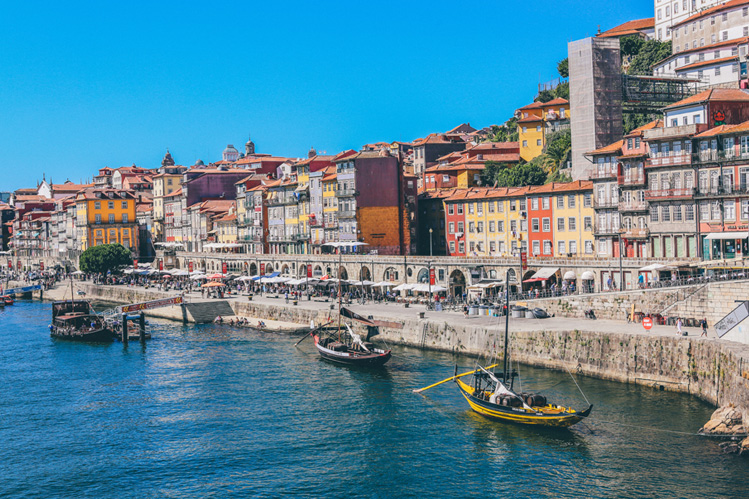 Algarve is famous for its golden shores and mild climate. Despite having a brilliant landscape, rich culture, and sizzling sunrays, Algarve is the best place to soak up some amazing Vitamin D this February. Undoubtedly, it is one of the best places to travel in February in Europe. Apart from lazing on the beaches and trekking up the hills, the shoreline town also offers a few events and festivals in February including the famous Chocolate Fest and Loule Carnival.
What to do in Algarve?
Explore Parque Natural da Ria Formosa
Take a walk through the town of Lagos
Visit Benagil Caves
Average high temperature in February: 17
Average low temperature in February: 10
How to reach Algarve?
You can fly into Faro Airport and the best way to get from Faro to Algarve is via International Circuit is to train which takes 1h 49m.
Madrid, Spain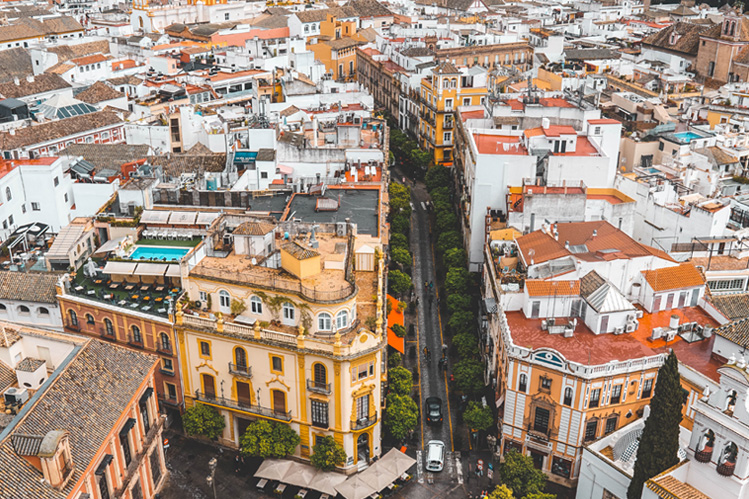 Spain's capital Madrid poses perfect weather in February. It's neither too hot nor too cold. You will not feel the chill as the sun shines brightly for at least 7-8 hours. Being a hyped capital, Madrid bustles with activities and you will never run out of things to see, do and experience. You can spend hours in the museums and party till dawn, explore tapas bars and other restaurants and pubs.
What to do in Madrid?
Visit the museums: Prado, Thyssen-Bornemisza; Reina Sofia and Sorolla
Relish a squid roll while walking around the Plaza Mayor
Stroll around the Puerta del Sol area
Shop in Gran Via
Average high temperature in February: 15
Average low temperature in February: 8
How to reach Madrid?
Adolfo Suárez Madrid-Barajas Airport is among the largest airports in Europe and it is serviced well by many flights by international carriers.
Malta, Italy
Considered as one of the best holiday spots in Europe, Malta is amazing in winter and one of the perfect destinations to explore in February without much crowd. It may not be that hot, but you can take a dip in the shallow sea. Visiting Malta in February allows you to enjoy other attractions as well. Do not miss out on Valletta, the capital city. It offers ancient monuments and wonders of the medieval world.
Things to do in Malta
Witness calm sunsets in Golden Bay
Take a walk beside the powerful waves in Ghasri Valley
Enjoy amazing views from Dingli Cliffs
Average high temperature in February: 13
Average low temperature in February: 10
How to reach Malta?
Land at Malta International Airport which is located in Luqa. It is the main hub for Air Malta. The quickest way to reach Malta is by plane, from almost anywhere in Europe. Travelers coming directly from the United States need to connect to Malta from a larger European city, like Paris or Rome.
There are endless best places to visit in February in Europe. Some of you might go and chase the sun and others might go for a honeymoon closer to the snow-capped mountains, the choice is vast. We, at Fondtravels, provide you with the best vacation deals with budget flights. Fond Travels has one of the best flight search engines to search and compare more than 500 flights that can help you save on flight tickets every time you book through us.
Find airfare and cheap flights from the United States to Europe. Search flight deals from various top airlines with one click. Call FondTravels at +1-(571)-389-6426 to get cheap flights and save big. Go on, book with confidence!
Also, read our blog Events and Festivals in Mexico in November.
Customer Comment
Your email address will not be published.
For immediate assistance
kindly call on below number
571-389-6426
OR, We will contact you within 24 hours.