Cheap Flights for Rio Carnival
Friday, February 04, 2022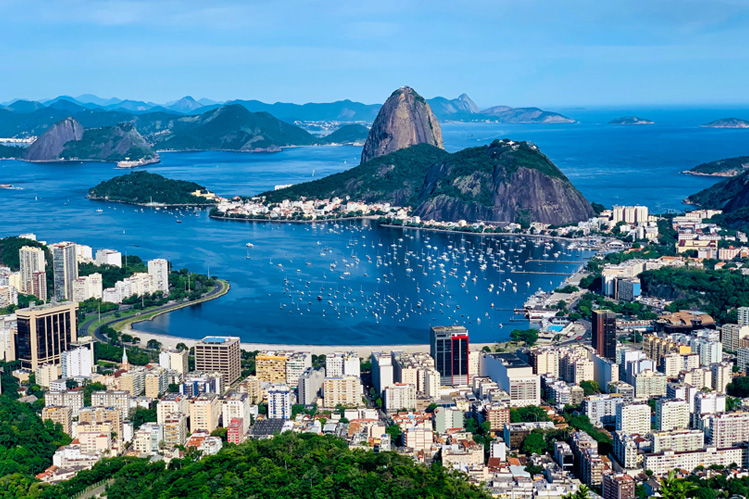 Hey, are you gearing up this year to visit Rio de Janeiro Carnival? Finding budget-friendly flights can be quite challenging as many enthusiast travelers would be on their toes to make a trip to Brazil this year. If you are desperately searching for affordable airfares, that's where we step in. Fond Travels is not just another online booking tool. We value our customers and strive to make sure that our esteemed clients have an enjoyable booking and traveling experience. Calling us is the best option to bag some amazing flight deals and offers. As you speak to us, you instantly have access to cheap flights to Rio de Janeiro for economy, business, and first-class cabins as well.
Rio de Janeiro Carnival – An Insight
Brazil is no doubt, one of the world's most appealing destinations. Ordained with pulsating cities, white-sand beaches, rain forests and unique natural wonders, South America's fun-loving cultural country is the perfect paradise for all the right reasons. Due to mild weather conditions from April to June and August to November, vacationers, historians, and party-lovers book flights to Brazil when the crowd is less and travel is reasonable.
That's not all! Every year Brazil sets the stage to celebrate Carnival with much grandness and madness in the capital - Rio de Janeiro. Celebrated each year before Lent, the Carnival reflects all the elements of Brazilian culture - colorful parties, food, costumes, dance, and music fill Rio for seven to ten long days. So, what dates are Carnival 2022? It's Wed, 20 April – Sat, 30 April 2022.
Cheap Plane Tickets to Rio de Janeiro
Have you ever dreamed of visiting Brazil during the famous Carnival? There are numerous gateways to Brazil from the US and Canada. Direct flights leave from Atlanta, Chicago, Dallas, Houston, Los Angeles, Miami, Newark, New York, Orlando, Washington, and Toronto. To witness the grand Carnival, it's important to reserve Rio Carnival flights as early as possible to save money and avoid last-minute hassles. Easter week is another popular time to bag pocket-friendly deals and explore your desired place.
Which US Airlines Fly to Brazil?
American Airlines, GOL & Azul, and Jet Blue have the most frequent connections from the United States to Rio de Janeiro. The most popular route is from New York to Sao Paulo, and Japan Airlines, Delta, and LATAM Airlines fly this route the most. Moreover, Delta currently offers service between Atlanta and Sao Paulo, Rio de Janeiro and Manaus; and service between New York-JFK and Sao Paulo. This chart will help you to understand the routes between US and Brazil.
| Airlines | Flying To | Distance and Time |
| --- | --- | --- |
| American Airlines, GOL & Azul, and Jet Blue | New York to Sao Paulo Miami to Rio Airport | 4773 miles / 9h 40m 4174 miles / 8h 34m |
| TAP Portugal | Galeao International Airport | 4809 miles / 9h 49m |
| Delta | Atlanta to Sao Paulo | 4670 miles / 9h 55m |
| United Airlines | Galeao International Airport | 4773 miles / 9h 40m |
| LATAM Airlines | Los Angeles, New York, Dallas to Galeao Int'l Airport | 6303 miles / 14h |
Non-stop Flights from US to Rio de Janeiro – Things to Know
American Airlines: American Airlines (Oneworld): Year-round flights from Miami (MIA) and seasonal flights from New York City (JFK).
Delta: Delta (SkyTeam): seasonal flights from Atlanta (ATL).
United Airlines: United Airlines (Star Alliance): Year-round flights from Houston (IAH).
If you are looking for direct flights to Rio de Janeiro, there are 4 airports to choose from:
From Atlanta, direct flights are operated by Delta (SkyTeam). This is a periodic route that starts in February and ends in March.
From Houston, the only airline with direct flights is United Airlines (Star Alliance).
From Miami and New York City, you can fly with American Airlines (Oneworld). Which day is the cheapest to fly to Brazil? In recent times, Wednesday is the most cost-effective day to take a flight to Brazil. Thursday and weekends are likely to be expensive.
Book 45 days ahead of your departure date as you're most likely to stumble upon cheaper flights to Rio de Janeiro from the United States. You might see flights to Rio de Janeiro from the United States for as low as $308 on Fond Travels. So, book early and over a call to get the best offers.
How to book a Cheap Flight for Rio Carnival from US?
A trip begins when you start looking for flights. Avail a cheap flight to Rio de Janeiro via Fond Travels by either selecting a deal or just by entering your details into the search bar - origin airport, travel dates, number of passengers, one-way fare, or roundtrip. You can narrow down your search, filter for flexibility, number of stoppages, departure/arrival times to get the best offer for you. We advise using 'flexible dates' on our booking page to list the air ticket prices. This enables you to choose cheap flights to Brazil.
A useful tip: Be aware that choosing a non-stop flight can sometimes be more expensive while saving you time. And routes with connections may be available at a cheaper rate. The cheapest flight from Miami to Rio de Janeiro to date has been $191. So, don't leave things until the last minute. You can easily pick up a bargain by researching all options. If your destination city has several airports, ensure the best research options to fly into other smaller terminals. Be quick to reserve your flight if you encounter a great deal as they do not stay too long.
Covid-19 Guidelines for Entry into Brazil
International travel to Brazil is allowed for vaccinated tourists.
Travelers need to present a valid international Covid certificate.
A 14-day self-quarantine for non-vaccinated travelers.
A negative PCR test proof within 72 hours must be presented.
Face masks are mandatory in public places, transportation etc.
Food joints, bars, and shops may open with reduced seating capacity.
Rio Carnival Flights – Grab Cheapest Offers and Save
At Fond Travels, we source many flight deals from multiple providers, so you can easily find the best deals that are right for you. A great strategy for getting the best deals can be bagged to make sure you book and travel at ideal times. Flights to Rio de Janeiro vary throughout the year based on seasonal demand. You'll see the lowest rates for roundtrips to Rio in April and in April for one-ways. So, do not lose time. Rio Carnival is just around the corner. Call Fond Travels at +1 (571)-389-6426 to choose from our hand-picked flight offers, negotiated airfares, unpublished fares, and discounted air tickets to Rio departing from major US cities. Enjoy the convenience and travel to Rio de Janeiro and Sao Paulo from San Francisco, New York, Los Angeles, Miami, or Houston and witness the greatest event on earth.
Also, read our blog How to Book Cheapest Flights from USA?.
Customer Comment
Your email address will not be published.
For immediate assistance
kindly call on below number
571-389-6426
OR, We will contact you within 24 hours.