Dubai Airport Travel Guidelines-COVID-19
Wednesday, January 19, 2022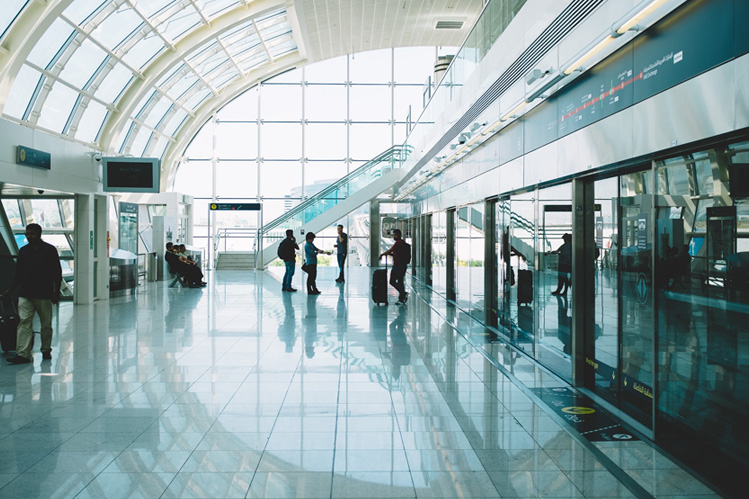 Sun, shopping events, and endless fun for all -- people travel to Dubai to get away from the mundane life and of course, from the bitter cold that is sweeping across most places. So, have you been planning to visit Dubai? After being confined up at home due to the pandemic for a long time, you might be one of those who are longing to escape, be it for work or vacation. It's a kind of relief that Dubai has opened itself again after being closed for 15 months since August 2020 but ensuring that all arrivals must present a valid health report and a negative Covid status. Passengers arriving in Dubai need to adhere to the Dubai airport travel guidelines Covid-19 for safety while traveling to and through the city. So here is what you need to know and what you can expect while traveling to the other country amid prevalent COVID-19 guidelines.
What Should I Know About Dubai Airport Covid Protocol?
The Dubai airport Covid rule, strictly advises that traveling procedures for entering the UAE are changing rapidly but one should always take heed of the general guidelines before flying to Dubai. Speaking of the situation, the US has decreased its travel advice for Dubai to Level 1, which is usually 'Low', and strongly recommends all tourists to be completely vaccinated before traveling there. However, once your travel papers such as passport, visa, and air tickets are in hand, it is mandatory to undergo a Covid-19 RT-PCR test within 72 hours before takeoff. The Covid test report should be printed and presented during immigration checking. Besides, wearing a mask is compulsory along with maintaining a two-meter social distance in public places.
What are the Safety Measures & Rules for Covid at Dubai Airport?
According to recent health reports, the national vaccination campaign in 2020 commenced with several vaccination centers and camps and progressed at a great pace where 95% of the population has been fully vaccinated. The Ministry of Health and Prevention alongside other subordinates continues to itemize, supervise and certify the safety and also the well-being of other visitors coming to Dubai and the residents as well with complete guidance from the World Health Organization to maintain high-end safety and hygiene. Moreover, Dubai has also received its Safe Travel recognition for its safety measures from the World Travel & Tourism.
What is the international travel need for Dubai Airport Covid Rule?
As mentioned, all tourists arriving at the Dubai Airport must possess a negative PCR test proof that should not be more than 72 hours before the departure time. The tourist must get tested at any designated lab authorized by their country's health authority. While entering Dubai, the negative Covid-19 certificate must be presented in English or Arabic and should not be handwritten but must have a valid QR code. Also, while adhering to Dubai airport Covid-19 guidelines, ensure that you need to have international medical travel insurance that certifies Covid-19 coverage before traveling.
Before Booking Your Fight to Dubai International Airport
Passenger measures are varying regularly, so there are a few things you need to know whether you are returning to Dubai or a visitor traveling with flights to Dubai. Look out for any limitations before you book your flight. Understand what are the restrictions concerning your travel to Dubai. Don't forget to check any quarantine necessities before arriving in Dubai.
In line with Dubai airport Covid protocol, ensure you are free of any Covid symptoms which might include respiratory illness, fever, dry cough, and breathing difficulties. If you are Covid negative and still have a mild cold and cough, avoid contact with airport staff, maintain social distance and use the online check-in option. Carry your travel accessory pack with enough masks, hand sanitizer, and even gloves.
Dubai International Airport Covid guidelines upon exiting the airport
After checking out from the Dubai International Airport, tourists should download the Covid19 DXB app and keep a check on it for their good health. If any tourist is diagnosed with Covid positive on arrival, he or she must adhere to 10-day isolation and must show improvement in all the symptoms with no fever for at least 4-5 days. The tourist undergoing Covid treatment in Dubai must bear the cost of medicines and quarantine facilities as well as stick to the Dubai airport covid rules.
Knowing about Dubai Airport Covid rules and regulations is a wise thing before traveling. It not only ensures your safety but also the safety and well-being of your fellow passengers and other tourists who have come to enjoy Dubai with you. For other queries and safe travel, you can contact us, Fond Travel on +1-571-389-6426 and speak to one of our travel experts. Stay safe and fly safe!
FAQs for Dubai International Airport Covid Regulations
Q - Is an RT PCR test required before traveling to Dubai Airport? If yes, how many days prior?
A - Yes, 72 hours.
Q - Any rapid antigen test required at Dubai airport? If yes, how many hours prior?
A - Within 6 hours of flight.
Q - What proof is to be carried when traveling to Dubai?
A – According to Dubai International airport covid regulations, a valid negative COVID 19 PCR test certificate with a QR code issued or PCR test report with a QR code for a test conducted at the departure airport within six hours of departure.
Q - Would tourists require to take a PCR test on arrival in Dubai?
A – Yes.
Q – What are the guidelines whilst staying in Dubai hotel, transfers, etc.
A - Till the results are out for the test done at Dubai airport, the guests have to be quarantined in their room, wear masks at all times and maintain distance.
Customer Comment
Your email address will not be published.
For immediate assistance
kindly call on below number
571-389-6426
OR, We will contact you within 24 hours.