How Early Should You Get to the Airport?
Thursday, March 31, 2022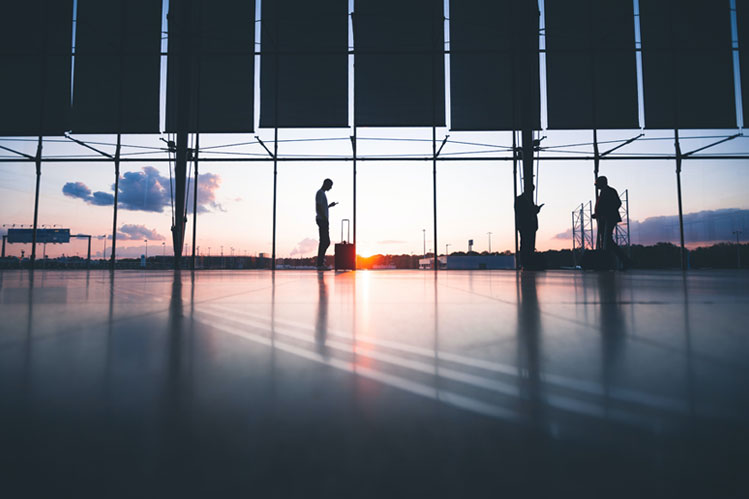 Are you a frequent traveler or a first-time flier? Well, doesn't matter. Getting early to the airport is imperative for all. Even your pet has to maintain time and reach the airport much early. So, how early should you get to the airport? Some reach the airport hours before departure, and some make it before the boarding gate closes. Whatever side you take for this discussion, we all want to reach the airport on time and fulfill the requirements before boarding the flight, especially when the pandemic has introduced new check-in rules to air travel.
The question here depends on the destination and the travel duration, along with a few other significant questions. Is it domestic or international travel? How huge is the departure airport? What are the check-in requirements? For example, United Airlines advises international fliers to reach the airport 3 hours before departure. If you're checking baggage, it's 90 minutes; otherwise, 60 minutes if you're not.
How Early Should I Get to the Airport for Domestic Flights?
Suppose you are flying domestic via the domestic airport, for example. In that case, O'Hare International Airport, Chicago and you have luggage to check, how early you should get to the airport is something to ponder. Be there at least 2 hours in advance before take-off. If you aren't carrying bags and can check-in online or are already enrolled in TSA PreCheck with your boarding pass, you can arrive at the airport 90 minutes before departure.
O'Hare International Airport Check-in
All the airport essentials can take 45 minutes to 1 hour. According to the Chicago airport analysis, you must be at your gate 15 minutes before departure. For smaller airports, Delta and United recommend leaving 60 minutes early for check-ins, and they'll make sure that you complete all the routine work at the airport within 30 minutes before take-off. A domestic carrier will depart without you even if your checked luggage is onboard unless some common situation arises. Chicago's O'Hare International Airport has long bag drop lines, and if you cannot meet the luggage check-in requirement, you probably won't be able to make it through the plane door.
How Early Should I Get to the Airport for International Flights?
During international departures, TSA PreCheck doesn't work well. Bearing that in mind, major airports and airlines recommend that travelers arrive 3 hours early before take-off. With international flights resuming from most major airports in the USA, you might or might not require a negative Covid test, but you still do require one while returning. As per IATA - International Air Transport Association, even the relief from Covid that the world is recovering from is causing delays at the airports, approximately 1.5 hours by going through all the requirements – longer drives to the airport counting the traffic as well, check-in, security, screenings, border control, customs, currency exchange, visiting duty-free shops and baggage claim.
Travel has bounced back this spring, doubling the routine check-ins at the airports. On international flights, if you cannot reach the boarding gate at the last call, your luggage will, unfortunately, bid goodbye to you, and your seat will be given up to someone else. And that isn't very reassuring!
We advise you to arrive at least 4 hours before departure for long-haul international flights due to long lines and those extra steps taken to reach the boarding area. Long-haul air routes from the US are Atlanta to Seoul (15h 30m), JFK to New Delhi (14 hours), Los Angeles and Sydney (16-17 hours), Newark to Addis Ababa (14h 27m), Houston to Singapore (20 hours), LA to Dubai (16 hours), etc.
How Early to Get to the Airport – Passenger Survey
Mr. Kevin Pinto, a former retired engineer from the US, simplified how early you should get to the airport. He says:
I generally give 4 hours to leave my home and get to the airport.
Drive from home to airport = 45 min and longer if there is an accident or traffic, so allow 1 hour.
Park the car and take the shuttle to the airport = 30 min
Check-in at the airport counter and check the printout ticket to make sure the seat has not changed = 15 min
TSA check = 30 to 45 min
Get to the gate = 20 min
So you see how the time flies. Better to arrive at the gate early than run to catch a flight gasping for breath.
Things to Consider Before Getting to the Airport
Whatever you plan on reaching the airport, be cautious for domestic and international flights as you've spent your hard-earned money on the tickets and do not wish to miss your flight. So, consider a few things:
How busy will the airport be? - Allow time at check-ins and kiosks during the holiday season and weather conditions.
The hour of the day and week - If your flight is at 4 am, the road and the airport will not be crowded as they would be at 9 am.
The month of the Year - Holidays are busy times. There will be more traffic, long queues at the airport.
Early Checked Bags - Pay for your checked bags online, and printing the bag tag will be easy and quick.
Big or Small Airport? - If you reside near a smaller airport, you'll reach fast. Significant and major airports are usually far from the central city, and walking to the gates can take ample time.
Most airlines call for travelers to check in 2 or 3 hours before the flight. Consequently, ensure you are at the airport at least 2 or 3 hours before the scheduled departure. This will give you ample time to check-in and collect your boarding pass, check-in your baggage, go through the security screening and be at the departure gate in time for your flight. A word of advice: make use of public transport to minimize the unwanted delays in parking your vehicles. For more information on cheap flights, discounted airline tickets, and updates, you can always call Fond Travels at +1-571-389-6426 to speak to one of our travel experts.
Also, read our blog Dubai Airport Travel Guidelines-COVID-19.
Customer Comment
Your email address will not be published.
For immediate assistance
kindly call on below number
571-389-6426
OR, We will contact you within 24 hours.