JFK Airport - John F. Kennedy International Airport
Thursday, May 19, 2022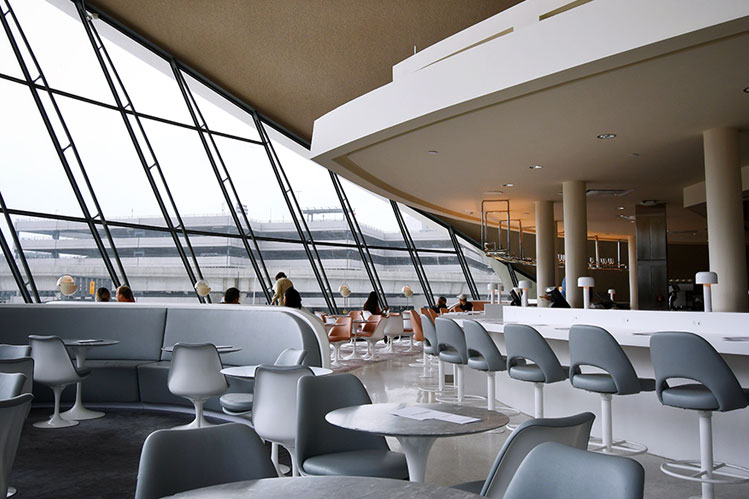 Its summer, and you must be planning a summer getaway or need to fly for a business meeting and need quick information about airports. Whether its Los Angeles or London, Miami or Mexico, Fort Lauderdale or Frankfurt, JFK Airport is home to several airlines operating to several destinations and is considered one of the busiest and most popular airports in the United States.
Situated in the Jamaica district of Queens, 16 miles from Manhattan, JFK Airport and Kennedy Airport, New York-JFK or JFK, all refer to the main international airport - John F. Kennedy International Airport serving New York City. The airport is the busiest of the 6 airports in the New York Airport network and the 13th busiest airport in the US.
New York Airport - airlines flying out of JFK Airport
JFK has 6 terminals numbered 1-8 (3 & 6 demolished) with 131 gates and cater to numerous JFK airport flights.
Terminal 1
Aeroflot, Air China, Air France, Air Italy, Alitalia, Austrian Airlines, Azerbaijan Airlines, Brussels Airlines, Cayman Airlines, China Eastern, Eva Air, Interjet, Japan Airlines, Korean Air, Lufthansa, Philippine Airlines, Royal Air Maroc, Saudi Arabian Airlines, Turkish Airlines, Viva Aerobus.
Terminal 2
Terminal Closed
Terminal 4
Aeromexico, Air Europa, Air India, Air Serbia, Asiana, Avianca Brasil, Caribbean Airlines, China Airlines, China Southern, Copa Airlines, Delta Air Lines, Egypt Air, EL AL, Emirates, Etihad, Kenya Airways, KLM Royal Dutch Airlines, Kuwait Airways, Singapore Airlines, South African Airways, SWISS, Uzbekistan Airlines, Virgin Atlantic, Volaris, WestJet, XiamenAir.
Terminal 5
Air Lingus, Cape Air, Hawaiian Airlines, JetBlue, TAP Portugal
Terminal 7
Aerolineas Argentinas, Alaska Airlines, ANA (All Nippon,) British Airways, Eurowings, Iberia, Icelandair, LOT, Qatar Airways (AM flights), Ukraine International Airlines, United Airlines
Terminal 8
American Airlines, Cathay Pacific, Ethiopian Airlines, Finnair, LATAM, Qatar Airways, Royal Jordanian
JFK International Airport - hotels near the airport
TWA Hotel – It is within walking distance from the airport – 0 miles
Crowne Plaza JFK Airport – This is closest to the airport – 1.7 miles
Radisson Hotel JFK Airport – Enjoy a great stay with commendable services – 1.7 miles.
Best Western JFK Airport - 1.4 miles
Days Inn by Wyndham - 1.4 miles
Holiday Inn Express - 1.5 miles
Sleep Pods – Travelers in Terminal 5 will find some GoSleep pods in the Airside area.
JFK Airport - popular domestic routes from JFK
Los Angeles, California - American, Delta, JetBlue, United
Miami, Florida - American, Delta, JetBlue
Orlando, Florida - Delta, JetBlue
Fort Lauderdale, Florida - Delta, JetBlue
San Francisco, California - Alaska, American, Delta, JetBlue, United
San Juan, Puerto Rico - Delta, JetBlue
Atlanta, Georgia - Delta, JetBlue
Seattle/Tacoma, Washington - Alaska, Delta, JetBlue
Las Vegas, Nevada - American, Delta, JetBlue
Salt Lake City, Utah - Delta, JetBlue
Busiest International Routes to and from JFK
London-Heathrow, UK - AA, British Airways, Delta, JetBlue, Virgin Atlantic
Paris–Charles de Gaulle, France - Air France, American, Delta
Mexico City, Mexico - Aeroméxico, Delta, VivaAerobus
Amsterdam, Netherlands - Delta, KLM
Madrid, Spain - Air Europa, American, Delta, Iberia
Santiago de los Caballeros, Dominican Rep - Delta, JetBlue, Sky Cana
Istanbul, Turkey - Turkish Airlines
Santo Domingo, Dominican Republic - Delta, JetBlue
Milan–Malpensa, Italy - American, Delta, Emirates, ITA Airways, News
Frankfurt, Germany - Condor, Delta, Lufthansa, Singapore Airlines
John F. Kennedy International Airport - baggage restrictions
Getting information on the current baggage allowance is wise before planning a trip. It will help you get prepared and proceed without hassle. Remember, you need to save money and time at the airport.
Carry On: All personal items, medicines, and documents must be packed in the carry-on bag. You can carry a pillow, laptop, purse, briefcase, diaper bag, etc. Liquids must be in containers and stored in a zipper bag.
Checked Baggage: You can only bring two bags to the JFK Airport. There is a limit on the size and weight of each bag. Before you fly, make sure to check with your airline about the weight and size limitations. Bags over 50 lbs cannot be placed in the overhead compartment. Bags weighing more than 70 pounds are not allowed and may result in additional fees.
JFK Airport Flights - make flight connections easy
There are 2 ways of commuting between terminals. Use Delta's JFK shuttle bus to transfer between Terminals 2 and 4. It makes 3 stops between Terminals 2 and 4, closer to Gate C60 at T2, and near gates B54 and B18 in T4. In-between all other terminals, take the AirTrain that operates between all terminals. Just reclear of TSA security once you arrive at your departure terminal.
Dining & Drinks at JFK Airport
JFK has over 130 restaurants, bars, and cafes, offering diverse, world-class food courts noticeably between the terminals. Terminal 7 has very less options; you'll need to head to another terminal.
JFK Wi-Fi & Internet
There's free Wi-Fi access at JFK. To connect, choose the network "_Free JFK Wi-Fi" and then "Free unlimited Wi-Fi." Plus, 24/7 customer support is available by calling 571-389-6426.
Official Airport Parking
JFK has six parking lots, five of them located outside the terminals. These are best suited for passengers with larger budgets or short-term trips. Long Term Parking Lot 9 can be found 4 miles from the terminals. It is connected via the AirTrain. You can check the capacity of parking lots on the airport website.
JFK Airport – Final Thoughts
The AirTrain connects each terminal to JFK, making it easy to travel to and from the airport. The AirTrain connects to the NYC subway system and makes it easy to get to and from JFK. Each terminal has been renovated individually over the years. Passengers will enjoy different levels of modernization and additional facilities. Terminal 4 is planned for 2023. For further information on the airport - flights, policies, check-ins, etc, do not hesitate to call Fond Travels at 571-389-6426 and talk to one of our flight experts.
JFK International Airport - FAQs
Q - What are the transportation options from JFK?
A - You can hire a taxi. JFK to Manhattan costs $50-52. There is Airport Shuttle; take the AirTrain or the City Bus. Also, board the LIRR — It's quicker.
Q - How can I spend my layover?
A - You can explore New York and pick one of the 5 neighborhoods or landmarks. If you have an overnight layover, you could get a hotel and explore nearby markets. There are many duty-free shops (in terminals 1, 4, 5, and 7) and dining options. JFK airport also offers numerous other services, including Nursing therapy, Beauty & Spa, Charging Stations, Animal & Pet Relief, and Worship closets.
Q - Where can I shop at the airport?
A - Except for Terminal 2, you'll find surplus stores at all the terminals.
Q - What airports are closer to JFK International Airport?
A - La Guardia LGA - (10 miles)
Teterboro TEB - (20 miles)
Newark Liberty EWR - (21 miles)
Westchester County HPN - (30 miles)
Long Island MacArthur ISP - (37 miles)
Q - When does the first JFK airport flight leave from New York JFK airport?
A - The first flight from New York to Guayaquil is at 12:05 AM, Lan Ecuador Aero airline 539, followed by Avianca Aerovias 245, which leaves at 12:10 AM.
Q - When does the last flight leave from New York JFK airport?
A - JetBlue Airways 609 to Guayaquil is the last flight that departs from John F. Kennedy International Airport at 11:59 PM.
Also, read our blog Newark Liberty International Airport (EWR).
Customer Comment
Your email address will not be published.
For immediate assistance
kindly call on below number
571-389-6426
OR, We will contact you within 24 hours.