Newark Liberty International Airport (EWR)
Wednesday, May 11, 2022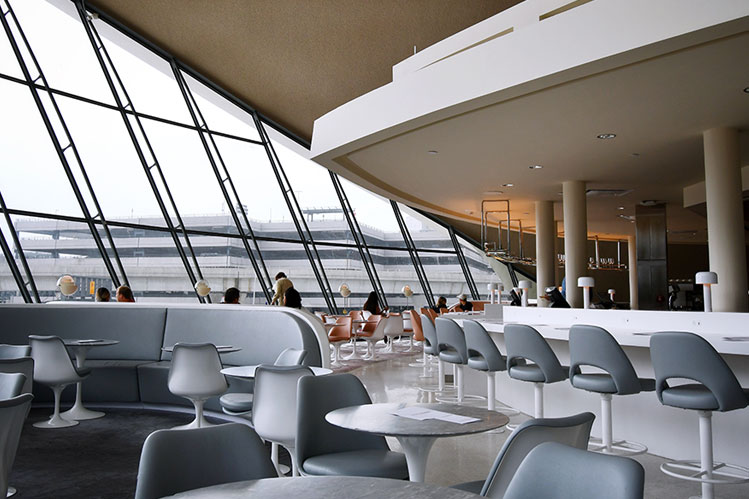 Are you planning to visit New York – for work or leisure? The alternatives are endless regarding which airport you intend to fly to. The three most significant airports cater to the air traffic of New York City: JFK, LaGuardia, and Newark Airport. All 3 airports are located in Manhattan and face the hustle of mass passengers in these terminals every year. The distance between Newark Airport and the city center of Newark is 4 km.
JFK is situated 13 miles (20km) southeast of NYC and is popular as the busiest among the 3 airports, with 60 million passengers in 2018. LaGuardia is located northeast of NYC and welcomed 30 million passengers in the same year. Newark Airport also called EWR welcomed 45 million passengers in 2017 and is situated 15 miles (24km) west of NYC. While delays at the airport are common, there's so much to do and notice at this 14th busiest airport in the USA.
So, don't be fooled — simply due to the fact Newark Liberty International Airport is in New Jersey, it has nothing to do with NYC. A variety of New York vacationers fly there and make a short trip to the city. Here's a traveler's guide to why Newark Airport matters.
Newark Airport Flights – airlines flying out
More than 35 airlines fly out of Newark Liberty International Airport. These include Air Canada, Air China, American Airlines, British Airways, Delta, Emirates, Icelandair, LOT- Polish Airlines, Lufthansa, JetBlue, Singapore Airlines, Spirit, TAP Air Portugal, Turkish Airlines, and United Airlines, which also has a hub at EWR.
Newark Liberty International Airport - transportation
Hassle-free travel is possible between EWR and Manhattan or Newark by taxi, bus, van, or rented car. AirTrain is quite affordable that connects to New Jersey and Amtrak stations. Parking at Newark International ranges from $22 a day in the economy lot to $45 a day in the short-term lot.
Newark New Jersey airport – getting around
Opened in 1928, Newark became the city's first, most important airport and the oldest. Since then, Newark airport terminals have gone through several transformations, including Terminal B and C renovations. The airport additionally hosts free, limitless Wi-Fi throughout its 3 terminals.
Do you wish to make certain you arrive at the airport in time? Or perhaps you've just landed and do not feel like pushing the crowd to make your way into the city. Just book an airport transfer to drop you at your destination.
The automatic monorail Airtrain Newark operates 24 hours a day, linking the Northeast Corridor, the North Jersey coastline, and Philadelphia and extending south for those who wish to venture out for a longer time.
It takes approximately 4 minutes to reach Terminal A and B from the Newark terminal checkpoint and up to 7 minutes to Terminal C. If needed, you can also board the Airtrain Newark to reach the terminals.
Newark Liberty International Airport – wine & dine
The 2017 period noticed more than 50 world-class eating options at the airport, presenting a range of food options to hungry travelers. With the support of some American and French cooks, top-notch dining spots have been created across the 3 terminals that should not be missed. Savor a few New York street classics — from pizza, hotdogs, burgers, and pastrami on rye, to pan-roasted Atlantic salmon, steak fries, duck confit, and dim sum.
Dishes are diverse, and ordering is easy as most dining tables have an iPad to order food. Enjoy video games or e-newspapers on the iPad as you wait for your order. You can also scan your boarding pass to look out for your flight.
United Airlines Newark Airport
From Terminal B or C, you can board a United Airlines flight. But the airline usually operates from Terminal C. Wish to enjoy a mystery dining at Newark Airport? United Airlines runs a 36-seat eating area called Classified, tucked away at another corner through invitation only. If you're lucky to get an email, you can discover this amazing location and relish amazing items. To enjoy a delicious beverage, head to Proof Whiskey Bar and choose from various worldwide whiskeys or stop at Oeno Wine Bar to sip on world-class wines.
EWR Airport — Newark airport lounges
EWR is considered United's biggest hub, and the airline has new and upgraded lounges throughout Terminals 1 and 4 of the airport. In 2018, United revamped its biggest lounge at EWR to compete with the new Polaris Lounge, hosting a 50-seat dining area with a shower area, day beds, and more.
There are numerous lounges inside Newark Airport, along with Air Canada's Maple Leaf Lounge, positioned at Concourse A. Here, you could unwind in the cell-free area in peace and sip a variety of fresh drinks from tea and espresso to wine and spirits. Connect with the living room Wi-Fi and access 7000 guides in 18 different languages.
Newark Liberty International Airport
Virgin Atlantic visitors can relax at the Clubhouse before transferring to Terminal B and enjoy a variety of goodies such as a Clubhouse burger with house-made remoulade, chicken Milanese with wild rocket, lemon and caper sauce or an artisan cheese board with pear chutney. Want to freshen up? Showers and luggage storage shelves are provided to make you comfortable and hassle-free.
British Airways Lounge is in Terminal B. It is open each day from 3 pm to 10 pm. The lounge offers a variety of facilities — a wide range of food and drinks, workstations, Wi-Fi, and shower options.
The American Airlines Admirals Club is in Terminal A, close to Gates 30-39, and is open Saturdays and Sundays from 5 am to 6:30 pm. Passengers can enjoy a variety of morning and afternoon snacks, fresh fruits and salads, and freshly brewed espresso.
Newark Airport — check-in & security
Newark boasts a 15-minute wait time for security and quick check-in for flights, making it a positive experience for many visiting New York. However, if you're delayed boarding and your time is approximately 1.5 to 2 hours beforehand, you can never feel bored at Newark Airport.
Newark Liberty International Airport - hotels near EWR
If you're planning to stay for some days, Newark is full of the best budget stays that will not break your bank. About a 40-minute drive from the airport, Hotel Brooklyn Bridge is a good option. A waterfront retreat makes one feel miles afar from the hustle and bustle of New York's swarming streets. Every area links you to nature with floor-to-ceiling windows, local greenery, and cultivated materials. POE Yoga, spa treatments, and craft cocktails are all in-house, a boon to the laid-returned luxurious 1 Hotel is recognized.
Next, the NoMad Hotel is a stylish, traditional resort, the best preference for guests looking to live someplace closer to the city. Live the European way in a European-fashioned hotel with great dining options near Chelsea, Flatiron, Gramercy Park, and Midtown.
Suppose you find yourself on a stopover in Newark and unable to get into Manhattan. In that case, there are some excellent accommodations close to Newark Airport that are ideal for relaxation before your next flight.
Newark Airport Phone Number
So, if you've got an upcoming business trip or desire to take your partner for a vacation from or through New York or Newark, you can easily get Newark flight tickets at the best prices. Fond Travels makes finding the lowest flights to Newark or Newark International Airport easy. Whether you're searching for flying one-way, round trip, or non-stop, call our flight and tour experts at Newark airport number 24x7 on Fond Travels at +1-571-389-6426 to receive the best services and solutions and the latest information regarding your trip.
Also, read our blog Los Angeles International Airport – A Traveler's Guide.
Customer Comment
Your email address will not be published.
For immediate assistance
kindly call on below number
571-389-6426
OR, We will contact you within 24 hours.