Las Vegas Airport - Harry Reid International Airport
Monday, May 30, 2022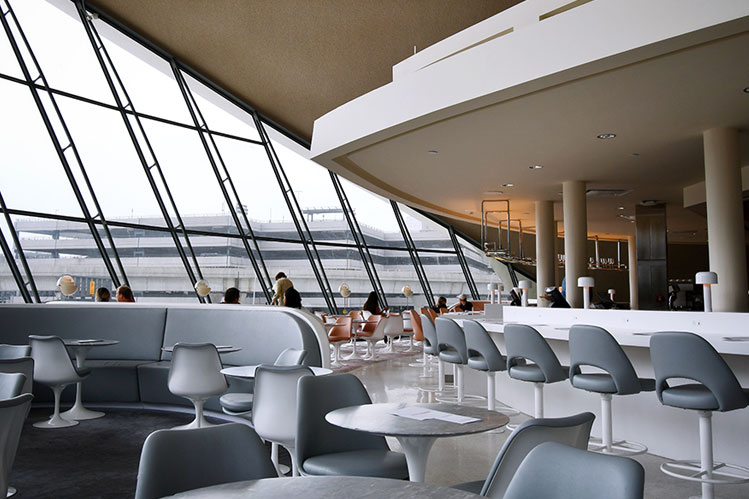 Harry Reid International Airport is the most popular Las Vegas airport for travelers visiting the 'Sin City' to attend a bachelorette party or enjoy vacations. You'll likely find yourself at one of Las Vegas' other airports if you're flying private or on a tour of the desert. LAS airport is located in Paradise, 5 miles (8 km) south of downtown Las Vegas, in Clark County.
Las Vegas is a prime destination for conventions in the United States. It's also a gaming and entertainment hub. So it's not surprising that its airport sees 50 million people each year. The airport services as a base for Allegiant Air, Frontier Airlines, Southwest Airlines, and Spirit Airlines.
It cannot be easy to know what services each airport in the Vegas area offers. But don't worry! Continue reading to learn more about Las Vegas' airports and how you can get there.
Las Vegas Airport Flights
Two terminals are located at Las Vegas Airport (Terminals 1 and 3). Terminal 1 has four concourses. Passengers can access two of these concourses via the airport's tram system. Although Terminal 3 handles international flights to Las Vegas, domestic flights to and from Las Vegas and even outbound flights may be operated out of any terminal. This list will help you find the best place to catch your flight.
Terminal 1
Allegiant Air (A gates)
Southwest (B and C gates)
Spirit (C gates)
Hawaiian Airlines
KLM
Thomas Cook Airlines
United Airline
Terminal 2
American Airlines
Delta Airlines
JetBlue
Frontier Airlines
British Airways
Virgin Atlantic
WestJet
How Many Airports are there in Las Vegas?
Harry Reid International Airport - Located in Paradise, 5 miles (8 km) south of downtown Las Vegas.
Henderson Executive Airport - Located 15 miles south of Las Vegas CBD and 12miles from the LV Strip.
North Las Vegas Airport - Located in a convenient location, it has good proximity to Las Vegas Strip.
Jean Airport - Located 1 mile south of Jean, this airport is mainly for aviation and ariel sports activities.
Las Vegas Airport - lounges
Before Las Vegas airport flights, you can find some relief from the constant noise of the slot machines in the airport's corridors by slipping into an airport lounge. The D concourse at Terminal 3 houses all the airport lounges.
American Express Centurion Lounge
The Club at LAS
United Club
Hotels near Las Vegas Airport
It is located at the southern end of the famous Las Vegas Strip. You can find four-star hotels right from Las Vegas airport flights. You can also check into The Bellagio and Caesars Palace further up the Strip. Or, choose from these hotels from the view from your plane's window.
Luxor Resort & Casino
Tropicana Hotel
Mandalay Bay Resort and Casino
The Venetian Resort Las Vegas
Harry Reid International Airport - transfers
Taxis
After disembarking your flight to Las Vegas at the airport, there are many ways to get into Las Vegas Airport, depending on your budget and preference. There are more than 10 taxi companies that offer service to the airport. Depending on when you arrive and what time it is, the lines for taxis can get long, so bring your Kindle or a game to keep you entertained.
Keep in mind that not all taxi companies accept credit cards. Additionally, there will be a $2 surcharge for all fares leaving the airport. You can only take 5 passengers in a car. Plan well if you are traveling with larger groups. You can take a taxi from Terminal 1's east side, just outside exits 1 and 4. You'll find them at Level 0 for Terminal 3.
The average ride to the Strip costs between $15 and $25, depending on the location you are being dropped off. However, prices will vary depending on the route, traffic, and final destination.
Rented Cars
A walk-up limousine service is a great option if you want to ride in style. On the west side of baggage claim, they can be found outside exits 7 to 13, in Terminal 1 and Terminal 3. In Terminal 3, they are outside Level 0 at the west end.
RTC Buses
Uber does not pick up at the Strip or airport right now. Lyft doesn't operate in Vegas. Many other options can get you to your destination, such as shuttles, RTC buses (take the WAX/CX), or rental cars. You will need to board the Harry Reid Airport Rent-A-Car shuttle (blue-and-white), which leaves approximately five minutes from each terminal's ground transportation area.
Harry Reid Airport - security
Harry Reid Airport has five security checkpoints. There are three security checkpoints in Terminal 1: the C Annex and the A/B. For flights departing from the A and B Gates, there are eight screening lanes at the A/B checkpoint. The C Annex has thirteen lanes, and the C/D has 17.
Terminal 3 has two security checkpoints. The Level 2 and Level Zero checkpoints are available. There are 14 lanes at the Level 2 checkpoint for domestic and international flights. Harry Reid International Airport website states that the Level Zero checkpoint has not yet opened but will offer 17 screening lanes to airlines departing at Gate D.
Both Clear and TSA PreCheck can be found at Las Vegas Airport. Both Clear, and TSA precheck lanes are available in Terminal 1 or Terminal 3. TSA PreCheck is currently available for the following airlines: Air Canada and Alaska, American, Delta Hawaiian, JetBlue Southwest, United, US Airways, and Virgin America.
Harry Reid International Airport - parking
Most convenient: Valet, $23/day. Parking garage. Short-term lot: $2/first hour; maximum $36/day. Long-term: $16/day; $2/first 30 minutes. Least expensive: Long-term garage: $16/day. Economy lot, $10/day.
The first 15 minutes are free in all lots if you exit via the ticket lane within 15 minutes.
Cellphone lot: Positioned at the south end of the economy parking lot, at 576 Kitty Hawk Way. Hours: 6 a.m. - 1 a.m. 115 spaces. No amenities.
Las Vegas Airport - Departures and Arrivals
The airport boasts 110 aircraft gates spread over two terminals. Both have their facilities, such as parking garages, ticketing, check-in areas, baggage claims, security checkpoints, shopping and dining options, and separate terminals.
Many domestic airlines use Terminal 1 to access domestic Las Vegas airport flights. Here you will find American, Delta, Southwest Airlines, and US Airways. You will need an automated transit system to reach the D gates. It is composed of the A, B, and C gates.
Terminal 3 (yes, Terminal 3 is the second terminal) is where you'll find all international airlines and domestic carriers. You'll find the following airlines in Terminal 3: Air Canada, British Airways, and Virgin Atlantic.
Food & Entertainment
There are many options for food, even if you don't have the option of leaving the airport before boarding Las Vegas airport flights. Village Pub is a family-owned restaurant located at Terminal 3's E-Gate. Their fish and chips and fried chicken are well-known. Terminal 3 restaurants include Las Vegas Chophouse & Brewery and La Tapenade Mediterranean Cafe.
Terminal 1 is the best option if you are looking for healthier options. You can find healthy snacks and salads at Fresh Market on the Go to keep you going until your flight. Flatbreadz offers lighter options, such as sandwiches and soups.
There are plenty of Starbucks near both terminals for a quick caffeine fix. But you can also stop by the Coffee Bean & Tea Leaf at either terminal. It's a popular spot for celebrities. Corcoran's Irish Pub, a quiet spot to have a pint or watch the game, is an option if you need to relax before your flight. Stop by Jose Cuervo Tequileria to enjoy a more luxurious margarita.
Busiest Domestic Routes from LAS
Los Angeles, California - Alaska, Allegiant, American, Delta, Frontier, JetBlue, Southwest, Spirit, Sun Country, United
Denver, Colorado - Frontier, Southwest, Spirit, United
Dallas/Fort Worth, Texas - American, Frontier, Spirit, Sun Country
Seattle/Tacoma, Washington - Alaska, Delta, Frontier, Southwest, Spirit
Atlanta, Georgia - Delta, Frontier, Southwest, Spirit
Chicago–O'Hare, Illinois - American, Frontier, Southwest, Spirit, United
Phoenix–Sky Harbor, Arizona - American, Frontier, JSX, Southwest
Minneapolis–Saint Paul, Minnesota - Delta, Southwest, Spirit, Sun Country
Houston–Intercontinental, Texas - Frontier, Southwest, Spirit, Sun Country, United
Detroit, Michigan - Delta, Frontier, Southwest, Spirit
Busiest International Routes to and from LAS
Toronto, Canada - Air Canada Rouge, Westjet
Mexico City, Mexico - AeroMexico, Interjet, VivaAerobus, Volaris
Calgary, Canada - Air Canada Rouge, WestJet
Vancouver, Canada - Air Canada Rouge, Alaska
London-Heathrow, United Kingdom - British Airways, Virgin Atlantic
Guadalajara, Mexico - Interjet, Volaris
Montréal–Trudeau, Canada - Air Canada Rouge
London-Gatwick, United Kingdom - British Airways, Norwegian Air Shuttle, Virgin Atlantic
Manchester, United Kingdom - Thomas Cook Airlines, Virgin Atlantic
Seoul-Incheon, South Korea - Korean Air
Las Vegas Airport Phone Number
Below are details for Las Vegas Harry Reid Airport. It includes the phone number and address. For questions about Las Vegas Airport flights & services, including flight status, cancelations, special assistance, baggage claims, car parking and airport transportation, hotels, taxis, or other information, you can contact Fond Travels at (571)-389-6426.
Also, read our blog Ontario International Airport (ONT).
Customer Comment
Your email address will not be published.
For immediate assistance
kindly call on below number
571-389-6426
OR, We will contact you within 24 hours.