Qatar Airways Pet Policy
Thursday, April 20, 2023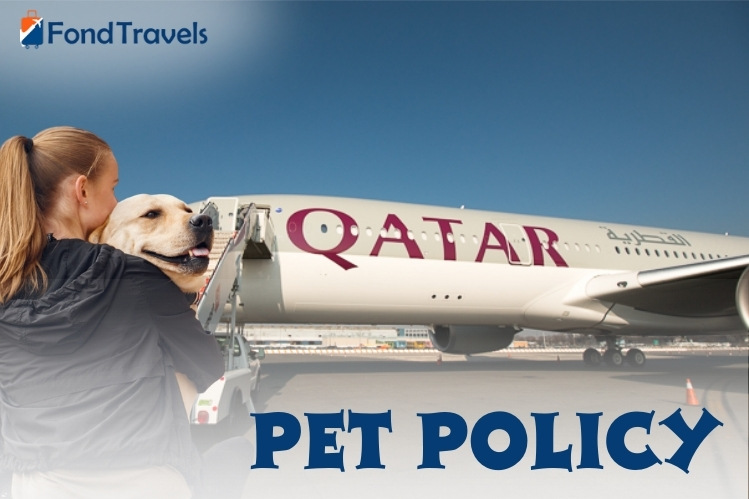 The much-awarded, Qatar Airways, strives to offer top-class service not only to you but also to your furry friend. In harmony with excellent air travel standards, Qatar Airways pet policy is easy as a pie where you can carry your pet along with you.
Whether you are traveling for vacations with your entire family, solo tour with your pet or carrying your pet with your kids, Qatar Airways permits birds, dogs and cats as checked baggage with certain restrictions. This post will help you understand the present guidelines you need to follow while traveling with your pet.
About Qatar Airways
Having been founded in 1993 and headquartered in Doha, Qatar Airways is the state-owned flag carrier of Qatar, connecting over 160 international destinations across Africa, Asia, Europe, North America, South America, and Oceania. It is one of the youngest global airlines and has since grown rapidly to become one of the world's leading carriers.
The airline operates a modern fleet of over 200 aircraft, primarily consisting of Airbus and Boeing wide-body jets. Qatar Airways is a member of the Oneworld airline alliance, and has codeshare agreements with many other airlines, allowing it to offer an even wider network of destinations.
Qatar Airways is known for its high-quality service and luxury amenities, such as its award-winning Qsuite business class product, which features private suites with sliding doors, lie-flat beds, and direct aisle access. The airline has won numerous awards, including 'Airline of the Year' by Skytrax seven times—in 2011, 2012, 2015, 2017, 2019, 2021 and 2022.
Carrying your pet on Qatar Airways is not at all painstaking if you share your needs with Fond Travels travel experts. Dial +1-(571)-389-6426 to clarify all your doubts and queries regarding Qatar pet policy.
Qatar Airways in-cabin travel for pets
Pets are permitted in the Qatar cabin but as per Qatar Airways pet travel rule, the airline only allows falcons inside the cabin. Up to 6 falcons are permitted as per the law of the country.
Only service pets can fly free of charge in the cabin. The Qatar Airways fee for falcons can cost between $115-550 as the flight route.
However, domestic cats and dogs are not allowed to fly inside the cabin. Falcons are not permitted to fly to and fro Tunis.
On a few flights, only trained service pets are allowed to travel in the cabin for no extra fee. The service dogs are there to help specially-abled passengers and they can fly for free as checked baggage in the carrier hold. Get them reserved at least 48 hours before the timely takeoff.
As per Qatar pet policy, small and Medium Pets weighing up to 32kg, including pet carrier or crate
To/from Qatar: $200
Other routes: $350
Large Pets weighing 32–75kg including pet carrier or crate
To/from Qatar: $300
Other routes: $450
Checked baggage for Qatar Airways pets
According to Qatar Airways pet policy, service dogs are permitted to travel as complimentary checked luggage in the flight hold on several routes.
Qatar Airways pet fee would be charged if a falcon is carried along as checked luggage.
Qatar Airways permits the listed animals to fly as checked baggage:
Dogs
Cats
Livestock
Tropical fish
Small mammals
Birds
Qatar Airways check-in policy for pets
Qatar Airways allows domestic birds, cats and dogs as checked baggage as per international air travel rules. Qatar requests travelers inform them of the necessity to travel with their pets at least 48 hours before the scheduled departure.
Travel regulations encourage passengers to make all the required documentation for their pet. The documents include a health certificate signed by your veterinarian, identification papers or pet passport as per Qatar Airways pet policy.
Information about pet crate
Your pet's crate should be of proper size and spacious.
Its specific design should prevent escape.
Only one pet in a single container.
Qatar Airways can have refused pet entry if the container is too small.
An IATA-approved fiber container is recommended.
Provide enough food and water for your pet's travel.
How to book a flight for your pet on Qatar Airways?
Fond Travels is your all-inclusive store for all your travel needs. Our travel consultants are just a call away. Call +1-(571)-389-6426 and wait for one of our experts to attend to your need. Tell them your requirements and book a flight for your pet in a few easy steps.
Also, read our blog - Qatar Airways Cancellation Policy
Customer Comment
Your email address will not be published.
For immediate assistance
kindly call on below number
571-389-6426
OR, We will contact you within 24 hours.