Bereavement Flight Fares
Tuesday, November 08, 2022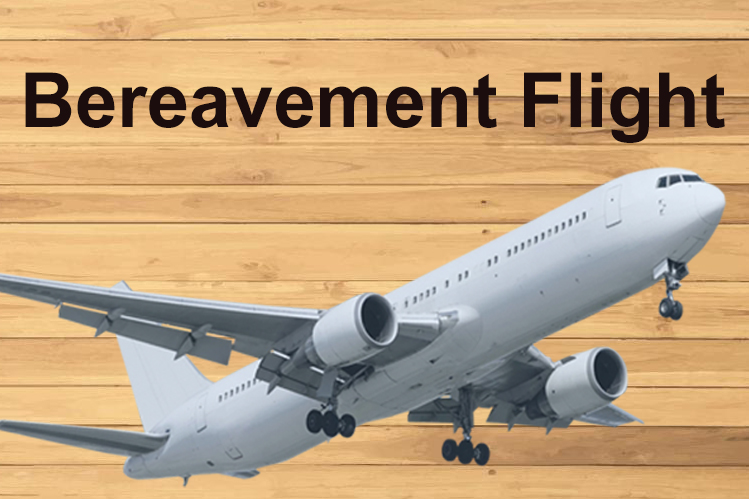 Losing a loved one can be difficult, and one might have to make last-minute arrangements for a flight that can be expensive. Bereavement flights can be a great option. Despite being an unplanned trip, bereavement tickets are discounted flight tickets for passengers grieving after the loss or needing to be near the dying relative.
Several airlines offer discounts on bereavement fares. It makes airfares a little more affordable. If you're looking to book bereavement flights, know which airlines provide these deals. Additionally, there are specific rules to follow when searching for a bereavement flight.
Bereavement Flight Discounts
A bereavement ticket is one of the discounts offered to those who've had a recent loss. Since one cannot know the time of someone's death, these flights are usually booked at the last minute. They're also more expensive than flights you can schedule ahead of time.
To help ease the burden, some airlines offer bereavement rates. It could include a flat rate discount, coupon, or even lower fares. Every airline has its policies to offer bereavement fares. In most cases, airlines waive fees for last-minute cancellations, changing your flight destination or your flight destination, etc.
You might be familiar with bereavement flights and their policies. The more you are prepped up, the better you can handle the situation. But booking flights and travelling in such a situation isn't easy. However, no worries! Fond Travels is your best travel provider of cheap bereavement flights. Call our travel experts at +1-(571)-389-6426 to book a flight at the last moment without any hassles.
Major US Airlines that Offer Bereavement Flights
Many airlines do not offer flights for bereavement. Even those that do must adhere to strict rules to guarantee affordable fares. We'll look at the top airlines that offer flights for bereavement and the policies they have in place.
Alaska Airlines: Alaska Airlines offers a discount of 10 percent on their bereavement flight fare. The purchase can be made within seven days of your flight date. To qualify, you'll need to be a member of the Mileage Plan rewards program, free to join. The program isn't offered to families or individuals in medical emergencies. It's only for people that have lost a relative.
American Airlines: While American Airlines ended bereavement flight fares in 2014, they do offer a free change to existing flights in the event of passing of a relative. Contact Fond Travels reservations department directly to get the latest details.
Delta: Delta's flights for bereavement are dependent on availability. They are only available to SkyMiles members. However, it's free to sign up for this program. They also offer bereavement or funeral flights for 'immediate relatives' in the case of death or imminent death.
Frontier: As with many other carriers, Frontier does not offer bereavement fares. They'll refund or even waive the cost of travel if it is affected by a qualifying incident, such as a family death. To apply for waiving of fees, applicants have to apply through their website.
Hawaiian: Hawaiian Airlines does offer a special bereavement fare. However, it's only valid for travel within Hawaii and the surrounding islands. For urgent travel beyond the Hawaiian Islands, there are no discounts. Call our ticketing department via phone to waive any ticketing charges in the event that you require tickets within 48 hours of your departure.
JetBlue: JetBlue does not offer bereavement flight discounts. However, there are choices that offer a 15% discount. The best choice is to buy a JetBlue refundable fare as you can change plans as required.
Lufthansa: Lufthansa occasionally has flights departing out of Canada and the U.S. and Canada. They also offer special fares in the event of the loss of a beloved family member. However, you'll have to call them directly to inquire about their U.S. reservation department directly to inquire about the fares available.
Southwest: Southwest Airlines does not offer any cheap bereavement flights at present. However, if you have a flight booked, they may waive costs for last-minute changes in case of a family emergency.
Spirit Airlines: Spirit is a low-cost airline that does not provide any discounts or waivers of fees. Being a low-cost airline, finding affordable fares at any time is possible.
United: United used to offer bereavement flight offers to grieved families. However, the policy was suspended in 2014. The company can now refund any fee for last-minute flight changes in case of an emergency in your family. To do this, you'll have to file an official request for a refund. Make sure you have proof of an emergency in your family.
Who Qualifies for Bereavement Flight Discounts?
Spouse or domestic partner
Parents
Sibling
Grandparents
Children
Stepchildren
Aunts and uncles
Niece and nephew
Family-in-law
What Evidence do Airlines Accept?
Evidence of bereavement leave from your employer
Proof of kinship
Hospital address and telephone number
Funeral home contact information
Doctor's letter
Parting Thoughts
While bereavement flights sound great, a few airlines are doing away with such discounts and offering flexibility to such travel plans. You might not always book with the best rate. So, the best way is to talk to your friendly Fond Travels experts to get the best solution and advice during such this crisis.
Also, read our blog Bereavement Flights - How to Book?.
Customer Comment
Your email address will not be published.
For immediate assistance
kindly call on below number
571-389-6426
OR, We will contact you within 24 hours.