What is Delta Sky Priority?
Friday, May 06, 2022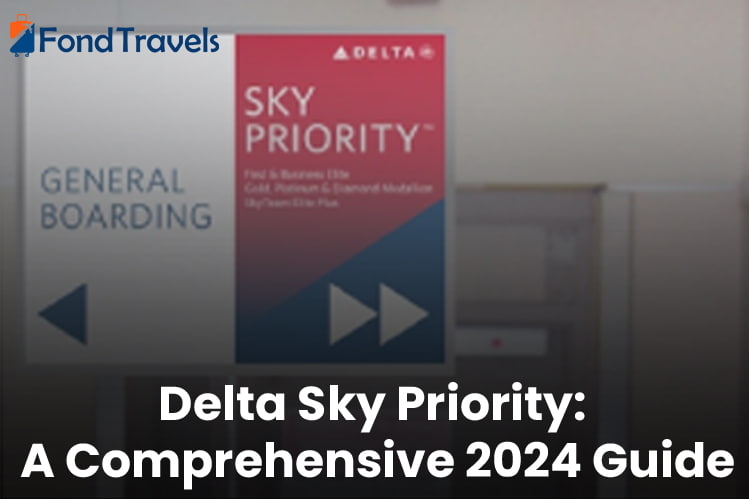 Delta Air Lines, commonly referred to as Delta, is a premier airline in the United States. Headquartered in Atlanta, it is one of the world's oldest airlines in service that operates to 325 destinations in over 50 countries. However, Delta strives to satisfy customers with its services and journey, being a people's favorite airline. If you are in a rush or want to avoid crowds at an airport, Delta Sky Priority access is a great option. Its advantage enables passengers to gain priority access to security lanes, check-in counters, boarding, etc. If you need to know what is Delta Sky Priority and wish to access it, all the details are down here.
What is Sky Priority?
Delta Airlines created Sky Priority to make travel easier and faster for their loyal customers. Passengers can utilize its benefits at all major Delta hubs and airports that Delta Airlines fly to. Follow the signs that show 'Sky Priority.' Sky Priority is available to select Virgin Atlantic Flying Club members, SkyTeam Program and Diamond Medallion Program. Sky Priority benefits will also be available to first- and business-class passengers. Further information on eligibility will be provided through Fond Travels — your trusted travel agent.
Sky Priority Benefits
Sky Priority is the same as Global Entry or NEXUS for expedited security checks, but Sky Priority has more travel perks:

Additional Baggage Free
If the piece concept applies, the extra baggage allowance for passengers is equal to the maximum weight of your base allowance. The extra baggage allowance for weight concept passengers is 10kg.
If you don't know the difference between weight and piece concept, piece concept restricts each bag to a certain weight while weight concept limits the baggage of all passengers.
Expedited Baggage Service
Delta has hastened Sky Priority passengers' luggage to make certain that it arrives first on the carousel.
Delta Sky Priority Lounge Access
Wait for your flight in comfort at one of the many Delta SkyTeam lounges that have been renovated with upgraded facilities. If you are flying through San Francisco, you'll experience some unique facilities. Enjoy the SFO Sky Club perks with modern design and Asian-inspired cuisine. At LA, Atlanta and JFK, soak up the enjoyable climate at the upper Sky Deck and sip your favorite wine or cocktail.
Lie-Flat Seats with Direct Aisle Access
This is where Delta stands out from its competitors. If you hate climbing over another passenger to move into the cabin, direct aisle access is all you'd want. Choose your seat from among the four major variations on a Boeing 757.
Priority Boarding and Seating
You can pre-select your seat before you board. Sky Priority Delta passengers will board the sixth group after Delta One, Delta Premium Select, and Early Access passengers.
Pre-boarding
Delta One
Delta Premium Select / First Class
Early Access Passengers
Delta Comfort+
Sky Priority
Main Cabin 1
Main Cabin 2
Main Cabin 3
Basic Economy
Securer and faster Check-in
Delta Sky Priority eligible passengers will have their check-in areas. At select airports, there will be special security lanes. Look out for Sky Priority boards at airports or enquire at the Delta staff desk for further assistance.
Hotline for Customer Service
Sky Priority customers will have access to a 24-hour hotline available. These agents will answer any questions about your benefits and provide travel assistance.
Priority Waitlist
Now that's a relief! Sky Priority travelers will be first on the waitlist ahead of regular travelers during irregular and sold-out operations.
Who Can Have Sky Priority Access?
You are qualified to include Sky Priority access if you fit into any of these categories beneath:
Medallion Members
Diamond Medallion Members
Platinum Medallion Members
Gold Medallion Members
Passengers Flying On Premium Fares
SkyPriority rights cannot be purchased promptly, but you can buy it through airfares on any of these premium cabins below:
Delta One
Delta Premium Select
First Class
How to Get Sky Priority?
Access to and use of Delta Sky Priority services are reserved for Delta One, Delta Premium Select and First Class passengers, Diamond, Platinum, and Gold Medallion Members, and SkyTeam Elite Plus members on all Delta and Delta Connection flights. However, the services offered by SkyPriority are not available for purchase. SkyPriority is a special travel service that customers can utilize with First and Business Class tickets and SkyTeam ElitePlus members, regardless of their cabin of service.
Delta Sky Priority Phone Number
In this fast and frequent travel era, proper travel guidance and information can save a fortune. If you're planning to travel with Delta and require assistance and information, contact your friends and travel experts at Fond Travels for all the travel support you require. Dial Fond Travels +1-571-389-6426 to speak to a live Delta expert for more information about Delta Sky Priority and get updates about low cost Delta flight tickets, baggage policies, unpublished airfares, and much more.
Also, read our blog Delta Airlines Flight Cancelation.
Customer Comment
Your email address will not be published.
For immediate assistance
kindly call on below number
571-389-6426
OR, We will contact you within 24 hours.