Delta Airlines Unaccompanied Minor Flight Policy - Complete Guide
Friday, February 12, 2021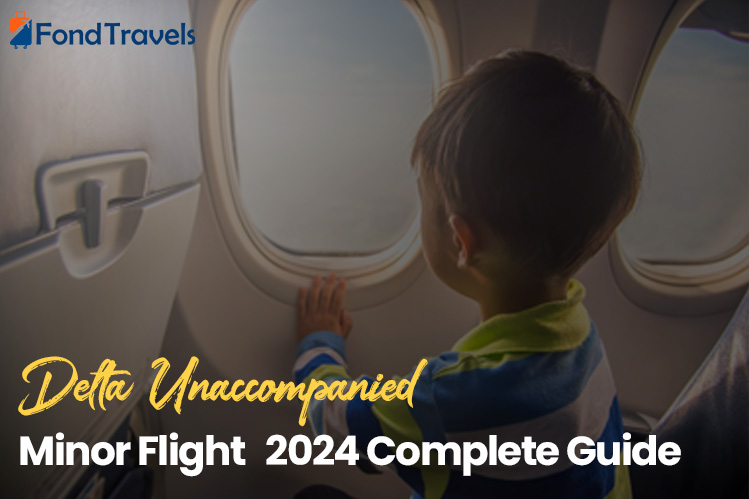 Flying is an exquisite experience, whether alone or in a group. Adults may be flying frequently. But what will you do when your child has to travel solo? Parents are mostly likely going to become anxious or worrisome when their child is in a situation when he/she has to board flights alone without being accompanied by an acquaintance or a known adult. There shouldn't be however any cause for worry as many airlines have a policy regarding unaccompanied minors.
When it comes to flying with Delta Airlines, be rest assured that your child is going to be taken care of very well whenever required to fly alone. You need to take a look at Delta Airlines Unaccompanied Minor Policy in detail, and why it is important to know beforehand when planning to make Delta Airlines reservations for your child who will be travelling alone.
Who is treated as an unaccompanied minor by Delta Airlines?
Children aged between 5 and 14 years who are flying alone without an accompanying adult passenger, known or others, on the same aircraft are treated to be an "unaccompanied minor" by Delta Airlines. The airline offers unaccompanied minor reservation service for an additional fee, and escorts the child through the airport by Delta personnel. However, for a child aged 4 or younger is required to be compulsorily accompanied by an adult passenger aged 18 and above.
Age requirement of unaccompanied minor
Delta Airlines has many rules and restrictions pertaining to child's age and the destination being travelled. The rules are applicable based on the child's age at the time of travel, and not when the reservation is made. The age requirements of unaccompanied minor are the following:
A child aged 4 and younger is not allowed to travel alone, and must be accompanied by an adult passenger at least 18 years old on the same flight
A child between 5 and 7 years old is allowed to travel only on select nonstop flights
A child between 8 and 14 years old is allowed to travel on select non stop as well as some connecting flights
Children aged between 15 and 17 years are allowed to travel as a standard passenger. However, if the parent can opt for unaccompanied minor reservation service by paying the required fee for their own satisfaction and child's comfort
Connecting Flights travel rule
Unaccompanied minors are allowed to connect on Delta Airlines' joint venture partners Air France and KLM. Travel is however not allowed on either red eye flights between 9 pm and 5 am or on the last connecting flight of the day. There will be some exceptions too. Travel on some flights will be permitted if the qualifying connecting flight is not available. These include destinations where only one connection is available when it is the last flight of the day, or flights to/from Hawaii and Alaska, or nonstop domestic flights of 2 hour or less. The unaccompanied minor will be assisted by a Delta employee or business partner employee when connecting through another city.
The airline also offers Delta Sky Zones facilities to the child when connecting through certain cities such as Atlanta, Detroit, Los Angeles, Minneapolis, Seattle, Cincinnati, New York JFK, Memphis and Salt Lake City. These facilities include toys, video games, books and complimentary phones. The child has to bring own medication needed on board the flight.
Delta Airlines Unaccompanied Minor Service Fee
The unaccompanied minor service fee charged by Delta Airlines is $150 (plus tax) each way, and is to be paid in US dollars. If departing from Europe or Canada the fee can be paid in Euro or Canadian dollars wherever applicable. The unaccompanied minor service fee will be in addition to the cost of Delta Airlines tickets required for travel. The fee will apply to domestic travel within the USA as well as for international travel on nonstop and connecting flights.
If you are worried about check-in, an adult must accompany the minor with check-in and pick up at the destination. Ensure the unaccompanied minor should be identified in the PNR. For more information on minor documents and quick booking, make your reservations by calling Fond Travels customer care toll-free number at +1-(571)-389-6426 to receive assistance from one of our travel experts.
Delta Unaccompanied Minor check-in and pick up Rules
The check-in process won't be allowed to be completed by a Delta agent if the unaccompanied minor comes alone at the check-in counter and is not accompanied by parents or any authorized person. To complete the check-in a photo ID and address matching the ID and contact phone number of the adult coming to pick up the child at the destination airport will have to be provided by the parent.
The unaccompanied minor will also be required to wear a trackable bracelet or wristband with a barcode on board the flight at the time of check-in. This is important for tracking the child. The parent must remain at the gate of the airport till the time the flight takes off.
After reaching the destination airport the unaccompanied minor will be handed over to only the designated authorized person whose details have been provided to Delta Airlines by the child's parent with a valid ID for pick up at the destination airport. The child will be released only after filling up the responsibility form and duly signed by the designated person.
Sending a minor child alone on a flight is surely scary and worrying. You however don't have to be anxious or concerned when it comes to flying with Delta Airlines. You child will be taken care of well, travel comfortably and reach the destination safely.
Also, read our blog Cheap Christmas Flight Deals.
Customer Comment
Your email address will not be published.
For immediate assistance
kindly call on below number
571-389-6426
OR, We will contact you within 24 hours.