Southwest Airlines Unaccompanied Minor Policy guide for children travelling alone
Thursday, February 18, 2021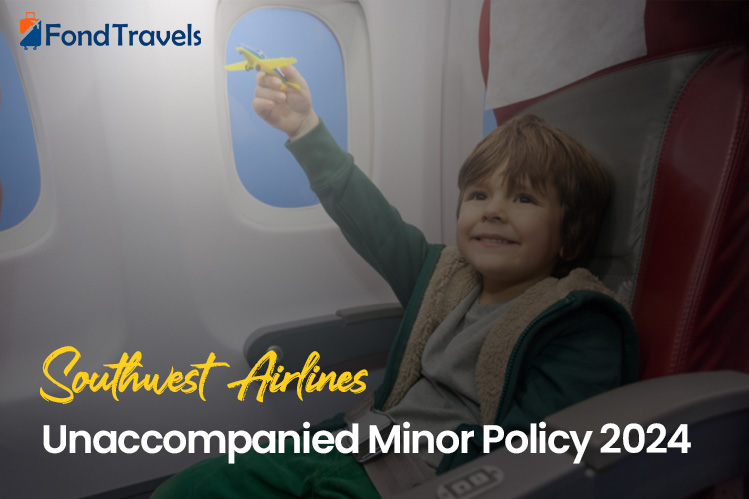 Southwest Airlines Unaccompanied Minor Policy guide for children travelling alone
Travelling alone is fun and exciting for adults, but not for kids. The very idea of sending young children to fly all alone can make every parent nervous and worrisome. If the child isn't mature enough and can't navigate independently at the airport, but is needed to travel alone then you don't have any reasons to be stressful and perturbed. If you are preparing your young one for a solo trip with Southwest Airlines next time, be assured that the leading U.S. carrier will be taking good care of your child and reach his/her destination safely and comfortably. You just need to know all the details regarding Southwest Airlines unaccompanied minor policy beforehand so that your child is going to have a hassle-free trip.
Who is considered "Unaccompanied Minor" by Southwest Airlines?
Southwest Airlines minor policy is somewhat different than that of other airlines. A child between the age of 5 years and 11 years is considered as "Unaccompanied Minor" by Southwest Airlines. When making your child's reservation online you will be asked to enter the child's date of birth and prompted to tell whether the child is travelling with another passenger aged 12 and older. If it isn't so then the airline will treat your child as an unaccompanied minor. In this case, you will have to fill out the unaccompanied minor form with complete travel details and pay the unaccompanied minor service fee to the airline for reservation.
Southwest Airlines has a separate "Young Traveller Policy" for children aged 12 and older. For children flying under the Southwest Airlines' Young Traveller Policy, the parent or legal guardian needs to ascertain whether the child will be comfortable with and capable of negotiating all airports, go through check-in and boarding processes, follow flight attendants' instructions, and deal with possible flight disruptions in case it may arise. If the child is not comfortable with these then Southwest Airlines strongly discourages the parents or legal guardian not to allow such children to fly alone.
Southwest Airlines will allow unaccompanied minors to travel on a nonstop flight only or a flight that doesn't require a change of aircrafts when making a stop. As such, Southwest Airlines minor flights will be indicated by a single flight number. Moreover, unaccompanied minors are not allowed by Southwest Airlines to board connecting flights, including those connecting with other airline partners.
Southwest Airlines takes good care of unaccompanied minors on board the flight by offering them a complimentary snack and beverage service. If the flight is however to be boarded during meal times then the parent or legal guardian are recommended to pack some extra food or snacks for their child so that he/she may not have to go hungry.
What is Southwest Airlines unaccompanied minor reservations process?
Southwest Airlines unaccompanied minor reservations can be made in different ways. The bookings for unaccompanied minors can be made online by visiting Southwest Airlines official website, or at the airline's ticket counter at the airport. The best way for a hassle-free, convenient booking is by directly calling Fond Travels Southwest booking experts at (878) 233-0733. They will assist you in making the reservations for you by filling the necessary travel details. The booking will be confirmed only after paying the unaccompanied minor service fee.
After the unaccompanied minor reservation is done, you must provide the confirmation number to the designated person as mentioned in the unaccompanied minor form for picking up or dropping off the child. The information regarding the person to pickup or drop off unaccompanied minors to be filled in the form includes name, address, phone number (including area code), relationship with the child, and phone numbers of an alternate contact. The unaccompanied minor will be accepted for travel only after providing the proof of the child's age.
You are recommended to advise the designated person coming to pickup the child to arrive at the flight's assigned arrival gate after confirming the flight's arrival time, and at least one hour before thus allowing sufficient time to secure an escort pass from the ticket counter after providing a valid photo ID and a copy of the child's itinerary. The escort pass will be required for getting through the security check and meeting the child at the gate.
What is Southwest Airlines Unaccompanied Minor service fee?
Southwest Airlines unaccompanied minor fee charged will be $50 each way per passenger ($100 for roundtrip flights). Even if two unaccompanied minors are travelling together on the same reservation you will be required to pay $50 each way for each unaccompanied minor boarding Southwest Airlines flights. The unaccompanied minor fee will have to be paid extra, in addition to Southwest Airlines tickets booking charges. The airline offers the option of paying the $50 one-way service charge at the time of check-in before the flight's departure.
The unaccompanied minor fee is refundable. The refunds are provided when Southwest Airlines reservations are cancelled and the unaccompanied minor is not travelling, or if the airline cancels the flight on its own and unaccompanied minor rebooking is not done, or if the unaccompanied minor is travelling with a passenger aged 12 years and above. You will have to contact the airline for the refund process.
It's mandatory to fill out the Unaccompanied Minor Form and get the child's boarding pass, without which he/she will not be allowed to board the aircraft
Designated person who will drop off or pick up unaccompanied minor must secure an "escort pass" to pass through security and take or meet the child at the gate after providing a valid photo ID and a copy of child's itinerary
Do remember to often check the flight's suggested airport arrival times so that it gives you an idea of how far in advance to reach the airport. It will provide ample time to complete required paperwork, check any luggage, pay unaccompanied minor service fee, clear security check, getting child's boarding pass, and letting the child take advantage of pre-boarding facilities
Make sure that the child is introduced to the airline's customer service agent and identified as an unaccompanied minor so that he/she is allowed to pre-board the aircraft after being escorted by a Southwest Airlines staff and finally introduced to the flight attendant as well
Arrive at the airport's departure gate with unaccompanied minors early for pre-boarding. If you and your child arrive late then he/she will be the last to board after all the passengers have boarded the aircraft. This will help Southwest staff to properly identify the unaccompanied minor to the flight attendant who will be responsible for taking care of the child during flight
It's a must for you to wait within the gate area until your child's flight has departed and is airborne. You will be informed by the airline's employee about when you should leave the boarding area
After arriving at the destination airport your child will be released only to the person whose name and identification has been provided in the unaccompanied minor form (or to the specified alternate contact). The child will be released only after the designated person provides his/her government-issued photo ID and a copy of the child's itinerary, and signs a release
Southwest Airlines COVID-19 rules
Unaccompanied minors are not restricted or barred from travelling alone as per Southwest Airlines unaccompanied minor COVID-19 protocols. However, for the enhanced safety of both employees and passengers, effect measures are being implemented by the airline in response to COVID-19. The airline is using both anti-microbial spray and electrostatic disinfectant on every aircraft. All the aircrafts have also been equipped with a HEPA (High Efficiency Particulate Air) filter, for filtering out recirculated air and removing airborne particles on each aircraft.
Southwest Airlines has also modified its boarding process and strictly adhering to the federal law requirements pertaining to COVID-19 pandemic. Every person, including airport staff, passengers and aircraft's crew members, are required to wear a mask at all times in the airport and throughout the flight, including during boarding and deplaning. If anyone refuses to wear a mask then it will be treated to be a violation of federal law and may result in denial of boarding, removal from the aircraft, and/or penalties under federal law.
Southwest Airlines has also implemented physical distancing measures by installing Plexiglass barriers at ticketing and gate counters for safer interactions between employees and customers. The modified boarding process allows boarding only in groups of 10. Physical distancing at the airports is also being encouraged.
Customer Comment
Your email address will not be published.
For immediate assistance
kindly call on below number
571-389-6426
OR, We will contact you within 24 hours.