Hawaiian Airlines Unaccompanied Minor Policy
Friday, April 22, 2022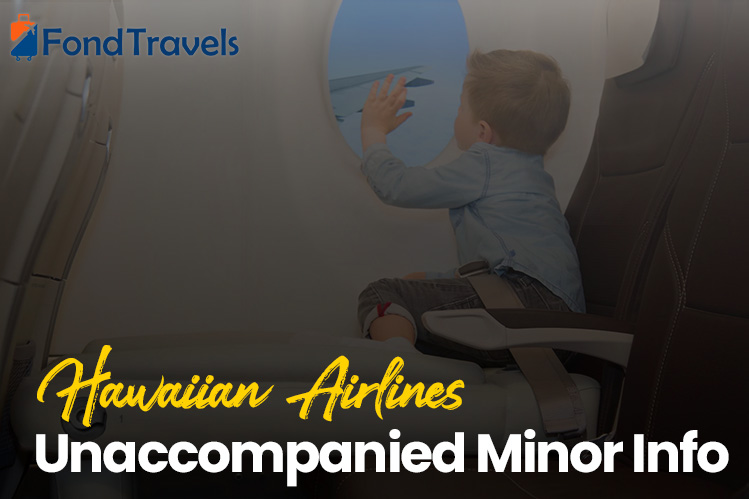 Hawaiian Airlines Unaccompanied Minor Policy
Have you ever thought what it would be like if your young kid is required to fly all alone? This is really a scary situation for everyone, especially parents. There are surely some circumstances in which you don't have any option but to allow your precious little one to board flights without being physically accompanied by an acquaintance. If you are planning a solo air travel for your child then consider making Hawaiian Airlines minor flight booking. Acknowledging that children are indeed quite valuable for every family, Hawaiian Airlines takes extra care of children travelling alone and reaches their destination safe and secure. Knowing Hawaiian Airlines Unaccompanied Minor Policy beforehand will offer you maximum peace of mind.
The guidelines for Hawaiian Airlines children flying alone provides complete details about the time when unaccompanied minors board the aircraft till the time they are handed safely to the authorized person at the end of the journey. If your child will be travelling alone then make sure to call Hawaiian Airlines reservations department for notifying about this so that special care is provided to your child during his/her air travel.
Whom does Hawaiian Airlines consider to be unaccompanied minor?
Hawaiian Airlines considers a child to be an unaccompanied minor if he/she is aged between 5 years and 11 years old, and travelling without an adult passenger aged 15 years and older in the same compartment on the same domestic flight, or who is travelling without an adult companion aged 18 years and older in the same compartment and same international flight. Hawaiian Airlines however strictly prohibits children under 5 years old from travelling alone. Such children must be compulsorily accompanied on board the flight with a parent, legal guardian or any other adult passenger.
What are the age requirements for children travelling alone?
The age requirements for children travelling alone generally depend on the destination being flown to. For domestic flights (State of Hawaii/North America), children who are 12 years old and above are allowed to travel alone. However, children aged between 5 years and 11 years old are required to travel with an adult passenger who is at least 15 years old in the same compartment and on the same flight.
For international flights, Hawaiian Airlines allows children aged between 12 years and 18 years old to travel alone. Additional documentation will however be required when travelling without any parent or with only one parent. The airline doesn't allow unaccompanied minors aged between 5 tears and 11 years old to board international flights. Children under 12 years old must be accompanied by an adult passenger of at least 18 years old in the same compartment and on the same flight when travelling to international destinations.
Hawaiian Airlines unaccompanied minor booking process
Hawaiian Airlines takes every possible step to ensure that the unaccompanied minor's journey is safe. The seat to the unaccompanied minor is assigned by Hawaiian Airlines' airport agent on the day of departure so that the child is provided special attention, care and supervision. The booking can be done by calling Fond Travels Hawaiian Airlines unaccompanied minor phone number. The Unaccompanied Minor Form also needs to be filled out and provided to the Hawaiian Airlines agent during check-in.
What is Hawaiian Airlines unaccompanied minor fee?
According to Hawaiian Airlines unaccompanied minor fee rules, a single fee is to be paid for up to two (2) children aged between 5 years and 11 years old in an immediate family with the same pick-up and drop-off information. For more than two children from the same family travelling together, the unaccompanied minor service fee will have to be paid for each additional child. The fee is to be paid at the time of unaccompanied minor's check-in by a parent or responsible adult.
For nonstop travel within the State of Hawaii, the unaccompanied minor fee (5-11 years old) charged will be $35 per flight segment, while for nonstop travel between Hawaii and North America the fee charged is $100 per flight segment. However, when booked on eligible connecting flights the applicable fee for each flight segment will have to be paid. Unaccompanied minors are also allowed to travel in First Class and Business Class as well.
Hawaiian Airlines COVID-19 rules
As per Hawaiian Airlines COVID-19 rules all the passengers must wear a face mask or covering over the nose and mouth during the entire duration of journey, including boarding, on the aircraft when flying and while getting off at the destination airport. The airline won't consider masks with valves or vents, made of mesh or obviously transparent material as acceptable forms of face coverings. However, children under 2 years old are exempted from this policy. The passengers who are unable to wear a face mask because of a disability or medical condition must complete an assessment with a medical professional by phone at the airport.
Hawaiian Airlines unaccompanied minor rules and restrictions
Unaccompanied minors won't be permitted to board any flight departing between 9 pm and 5 am unless the flight is operated out of Honolulu, Hawaii, and is the only flight of the day
Unaccompanied minors will not be allowed to travel on international flights, including flights to and from American Samoa
Unaccompanied minors won't be allowed to board flights requiring an overnight stay in order to make a connection
Unaccompanied minors will not be allowed to travel on any codeshare flights or connecting flights to and from another carrier. This though doesn't apply to unaccompanied minors on flights between Hawaiian Airlines and 'Ohana by Hawaiian operated by Empire Airlines
Unaccompanied minors are not permitted to travel on the last connecting flight of the day
Unaccompanied minors are not allowed to travel on connecting flights where the connection time is more than 2 hours, with the exception being that if the next scheduled connecting flight departs more than 2 hours after the previous flight's scheduled arrival then unaccompanied minors must be booked on that flight the same day and not on a later flight. However, if the seats are not available on this flight at the time of booking then the unaccompanied minor must travel on another day after fulfilling these conditions
Hawaiian Airlines may change the unaccompanied minor's flight schedule, including the departure date, whether in advance or at check-in when the airline assesses that there is a possibility of the child's flight being delayed or might have a misconnection
The unaccompanied minor's parent or an adult acquaintance will be responsible for bringing the child to the airport for drop off, and complete required documentation by providing the name, phone number and address of the authorized person who will be meeting the child at the destination airport for pick-up
The parent or responsible adult accompanying the child to the gate for the departing flight must remain at the gate till the time after the departure of flight and it is airborne
The authorized person named to pick up the child must arrive at least 90 minutes before the arrival of the flight, procure a gate pass, and pick up the unaccompanied minor at the designated area of the destination airport upon arrival
The parent or responsible adult coming to meet and pick up the child must be one of the contact persons named in the unaccompanied minor form submitted at the time of the child's departure. Hawaiian Airlines will only release the unaccompanied minor to the individual(s) named in the unaccompanied minor form
Hawaiian Airlines required both the parent or responsible adult and child to check in with an agent at the airport so that the unaccompanied minor form is filled out and the unaccompanied minor fee is paid
Hawaiian Airlines will not allow unaccompanied minors to check-in online or at an airport kiosk
Unaccompanied minors are not allowed to use cash for making in-flight purchases, which can be only done through major credit cards
Customer Comment
Your email address will not be published.
For immediate assistance
kindly call on below number
571-389-6426
OR, We will contact you within 24 hours.