United Airlines Pet Policy
Wednesday, April 05, 2023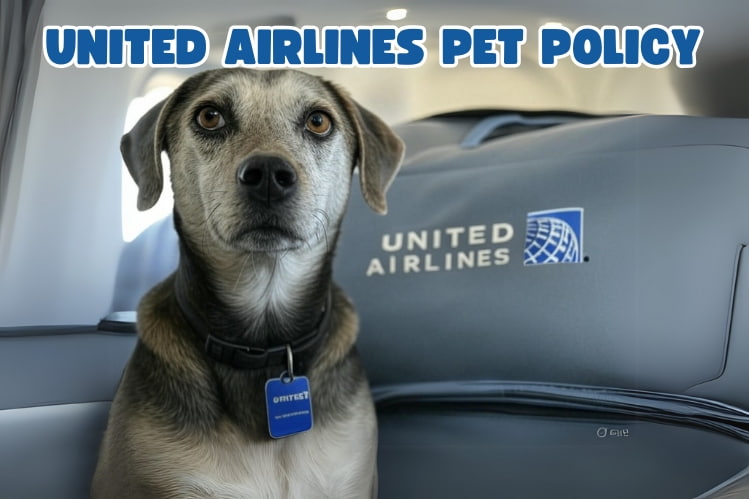 One may feel anxious about flying with their pet. Their health, comfort, food, and mood must be looked after. Navigating airline pet policies, regulations, and costs cannot be easy. We have thoroughly referenced United Airlines pet policy to make your travel with pets stress-free.
Whether flying with your entire family and pet for a holiday, a solo trip with your furry buddy, or a summer camp, you can easily contact Fond Travels customer care number, which may help you select the best flight deal for you and your pet.
About United Airlines
Founded in 1926, United Airlines is a major American airline headquartered in Chicago, Illinois. Being one of the largest airlines in the world, it operates to more than 350 destinations in 60 countries. United is also a founding member of the Star Alliance, the world's largest airline alliance, and has codeshare agreements with many other airlines. Today, United Airlines operates a large fleet of aircraft, including Boeing and Airbus.
UA offers a range of cabin classes, including Basic Economy, Economy, Premium Plus, Business, and First Class. The airline also has a loyalty program called MileagePlus, which allows members to earn and redeem points for flights, hotels, car rentals, and more.
Due to some controversies faced by UA over the years, the airline has since changed its policies and procedures to improve customer service and avoid similar incidents. Generally, United Airlines is a well-established and respected airline with a global network of destinations and a strong commitment to customer service.
United Airlines pet policy
United Airlines has a pet policy allowing certain pets to travel with their owners in the cabin or as cargo. Here are some details:
In-cabin pets: United pet policy allows dogs, cats, rabbits, and household birds to travel in the cabin for $125 each way. The pet and carrier combined must weigh no more than 16 pounds, and the carrier must fit under the seat in front of you.
Cargo pets: United also allows pets to travel as cargo, including dogs, cats, birds, rabbits, hamsters, guinea pigs, and fish. The fees for cargo pets vary depending on the destination and size of the animal.
Breed restrictions: Certain breeds of dogs are not allowed on United flights due to safety concerns—including Pit Bulls, American Staffordshire Terriers, and certain bulldogs.
Health requirements: All pets traveling on United must have a health certificate issued by a licensed veterinarian, and some destinations may require additional documentation or vaccinations as per United Airlines pet policy.
Reservations: To travel with a pet on United, you must make a reservation and receive confirmation from the airline. There are limits to the number of pets allowed on each flight, so booking early is important.
It's important to note that the United pet policy is subject to change, so it's always a good idea to call one of our travel experts at +1-(571)-389-6426 to check for the most up-to-date information and to add a pet to United flight.
United Airlines pet fee
United Airlines only allows cats and dogs as in-cabin pets for a charge of $125 per pet where your pet remains in the cabin. Moreover, United Airlines charges added $125 for a trip with the U.S. with exceeded 4-hour stopover or an international tour schedule exceeding more than 24 hours stopover.
However, reserving your pet is the most important thing that United observes and the airline limits the number of pets in the cabin on a few flights. So, even though United allows travelers to add a pet while reserving a flight, ensure there is availability for your pet.
United Airlines pet carrier requirements
United Airlines has specific pet carrier requirements that must be followed when traveling with pets:
As per United pet policy in cabin, the airline allows dogs, cats, rabbits, and household birds (excluding cockatoos) to travel in-cabin, as well as dogs and cats to travel as cargo.
Pet carriers must be leak-proof and well-ventilated with secure latches. The carrier must be able to fit under the seat in front of you if traveling in-cabin and must be large enough for your pet to stand, turn around, and lie down comfortably.
In-cabin pet carriers must not exceed 18x11x11 inches (46x28x28cm), while cargo pet carriers can vary in size depending on the animal's weight and breed.
All pets traveling with United Airlines must have a health certificate issued by a licensed veterinarian within 10 days of travel.
It's important to note that pet travel policies and requirements may change, so it's always a good idea to check with United Airlines directly for the most up-to-date information.
Bottom line - United Airlines pet policy
Traveling with your pet on United Airlines may be difficult due to the airline's pet policy. After all, United is one of several airlines that forbids the transport of animals in the aircraft cargo hold.
Furthermore, there are limitations on the kinds of pets that can travel under United's pet policy. Particularly, you will only be permitted to travel with cats and dogs that can be accommodated in a pet carrier that is the proper size. Call +1-(571)-389-6426 and talk to our experts about adding a pet to a United flight.
Also, read our blog United Airlines Cancelation Policy
Customer Comment
Your email address will not be published.
For immediate assistance
kindly call on below number
571-389-6426
OR, We will contact you within 24 hours.