Everything you should know about EVA Air Seat Upgrade
Tuesday, April 06, 2021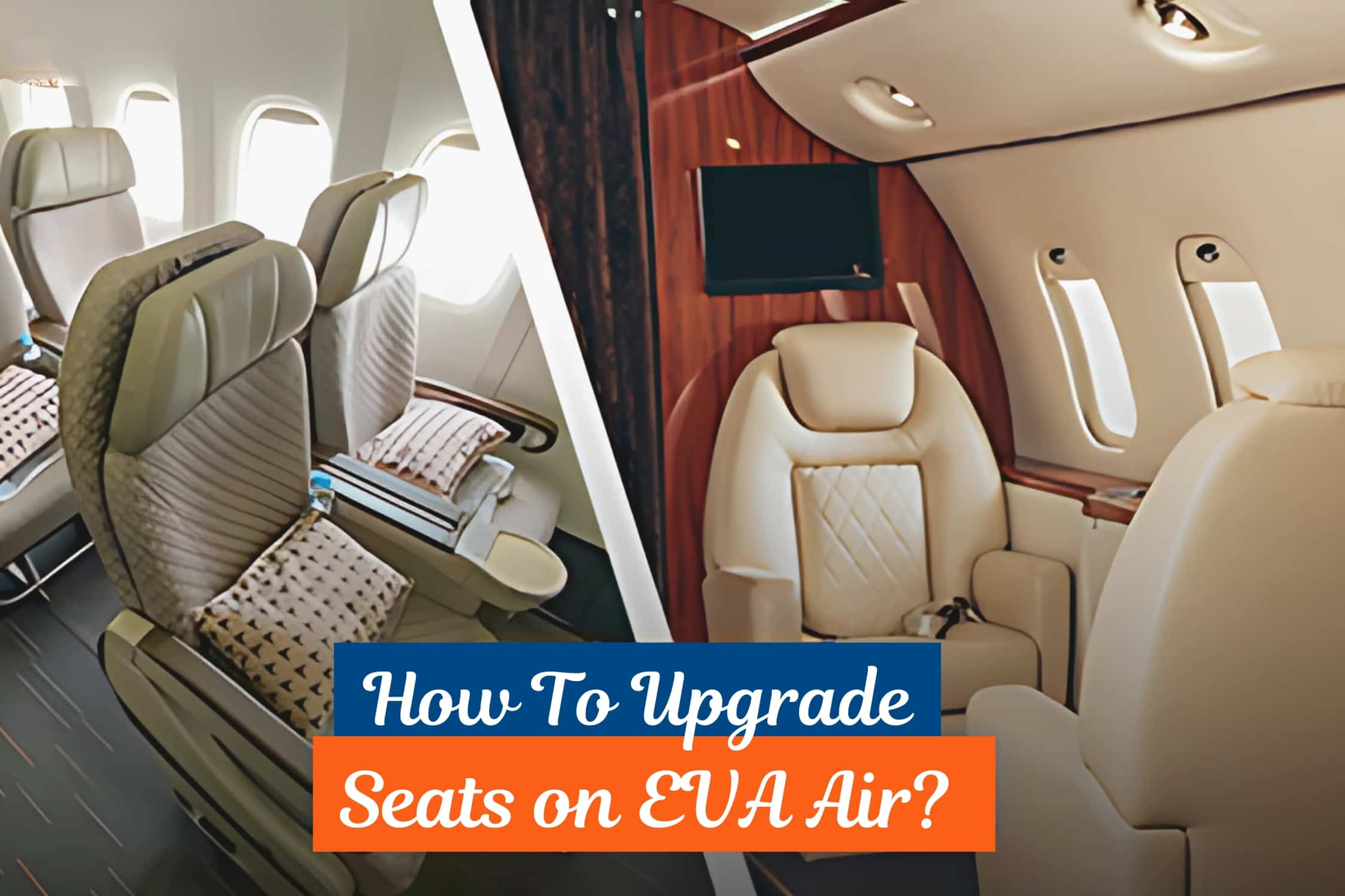 Do you want to travel in comfort and look for a luxurious flying experience? Then choose to fly with EVA Air. It is a privately-owned airline in Taiwan, and a leading airline after the country's national carrier China Airlines offering flights to more than 60 destinations in different parts of the world efficiently connecting Mainland China and Asia to North America, Oceania, and Europe. EVA Air is renowned for its high-quality service, beneficial flight schedule, user-friendly flight attendants, and more. The airline allows its customers to fly in utmost comfort through the EVA Air seat upgrade option. This enables the customers to upgrade their seats to the business class within 24 hours of the flight's scheduled departure.
Flying with EVA Air is a great experience in itself as this premier Star Alliance member helps its customers seamlessly connect to over 1300 destinations in more than 190 countries across the world through the extensive network of other Star Alliance member airlines. EVA Air offers some luxurious travel classes offering a top-notch, premium experience in the air.
Benefits of EVA Air Seat Upgrade
If you have booked EVA Air flights and have got your seat upgraded then you can look forward to a host of privileges and amenities that come along with it. Some of the benefits are just waiting to be discovered and enjoyed when utilizing the EVA Air upgrade seat to business class option. These include priority check-in, priority boarding, priority disembarking, extra baggage allowance, priority baggage handling, dedicated security lane, access to VIP lounge, state-of-the-art in-flight entertainment, spacious lie-flat seats, outstanding meals and best wine selection, Wi-Fi facility, power outlets, and USB ports. All these facilities and amenities make seat upgrades on EVA Air a worthwhile option and value for money.
How to upgrade seats to business class on EVA Air?
If you are planning to upgrade your seat to business class on EVA Air then this can be easily done online by visiting the official website of EVA Air. For this, you will need to click on the "Manage Travel" button. This makes it easy for the customers to conveniently manage their flight reservations with EVA Air. After clicking on the Manage Travel button you will need to enter your flight details such as the last name and the booking number. You will then need to click on the "Edit My Reservation" button after you have found your flight booking from the available list. After your flight booking details are displayed on the computer screen you will need to go to the seat section and click on the "Upgrade My Seat" button and choose "Business Class" to confirm your seat upgrade. You will however have to pay the fare difference when making payment for the seat upgrade. EVA Air will send you the seat upgrade confirmation on your registered email address or phone number.
Apart from the online process, EVA Air seat upgrades can be done in many different ways. Seat upgrades can also be made by using your award miles. For this, you will need to contact the EVA Air reservation office over the phone and talk to the airline reservation agent conveying the type of ticket being held or to be purchased and your desire to utilize your accumulated Evergreen miles for purchasing an award upgrade. Your request will be promptly addressed and your seat will be upgraded to the preferred class after deducting the accumulated Evergreen award miles. You can also make the upgrade yourself by logging into your Evergreen account as well.
Alternatively, you can also call the EVA Air phone number and request the airline staff at the ticketing office to upgrade your existing ticket to a higher class. You will need to provide your reservation details. Upon the availability of seats in the chosen class, your seat will be upgraded after paying the fare difference.
Moreover, the seat upgrade can also be done at the time of check-in at the airport. You will need to talk about upgrading with the check-in staff and get the price for upgrading your ticket to a higher class. If the seat in the preferred class is available then it will be upgraded after paying the upgrade fee. You may also inquire with the check-in staff if getting a free upgrade is possible. This will however be solely at the discretion of the EVA Air check-in staff to offer a free upgrade whenever possible.
What is the EVA Air Seat Selection process?
EVA Air offers the facility of advance seat selection, which is available without paying any extra charges 24 hours before the scheduled departure of the flight but is subject to change. The EVA Air seat selection can also be done at the time of check-in. The seat selection can be done either online by visiting the airline's official website or by calling the airline's customer service.
For advanced seat selection, the customers will need to pay a certain amount on lower economy fares. The customers opting for advance seat selection in economy class standard seats will be required to pay $20 for short-haul routes and $50 for long-haul routes, while for economy class extra legroom seats the charges will be $50 for short-haul routes and $160 for long-haul routes. For the premium economy class, the advanced seat selection fee to be paid by the customers will be $15 for short-haul routes and $40 for long-haul routes. The charges for preferred seats and extra-legroom seats will be more. The advance seat selection charge will be applicable on four of EVA Air's nine economy fare classes and one of its four premium economy fare classes. However, business class seat selection will be included for all three business fare classes.
Types of cabin classes offered by EVA Air
EVA Air offers four types of cabin classes to its customers, including economy class, premium economy, business class, and first class. A variety of amenities and services on board the flights are offered to the customers when choosing to fly with this certified 5-star airline.
EVA Air First Class: The first class seats offered by EVA Air are also called Royal Laurel Class seats, and is presently available only on Boeing 777-300ER aircraft. The reverse herringbone layout has been configured to offer maximum space and storage spaces for coats and shoes. Each Royal Laurel Class seat can be converted into a fully lie-flat bed and has privacy panels. The seats are also equipped with a small side table and retractable armrests. The amenities and services provided include VIP lounge access, five-star dining, a wide selection of alcoholic and non-alcoholic beverages, HD touchscreens, USB ports, power sockets, noise-canceling headphones, designer amenity kits, and sleepwear. Among other perks include priority check-in, priority baggage handling, and special baggage allowance.
The Premium Laurel Class is another category offered in the first class, with a 2-2-2 configuration and spacious legroom. It is presently available on Airbus A330-200 and A330-300 fleets. The seats recline offering maximum comfort with electronically-controlled seatbacks, lumbar support, fully adjustable headrests, and footrests. The amenities and services offered in Premium Laurel Class include a 10-4-inch personal video screen on Airbus A330-200 and a 15.4-inch personal video screen in Airbus A330-300 for in-flight entertainment, noise-canceling headphones, VIP lounge access, priority baggage handling, priority check-in, and designer amenity kit.
EVA Air Business Class: The business class seats on EVA Air are offered on its Airbus A321 fleets. The customers are offered a premium flying experience with spacious and exquisitely modern seats, which are equipped with a state-of-the-art 10.6-inch personal touchscreen for in-flight entertainment and power outlets. The amenities offered in business class cabins are mostly similar to those provided in Royal Laurel Class and Premium Laurel Class. These include outstanding meals and drinks, amenity kit, VIP lounge access, priority baggage handling, and priority check-in.
For more information about EVA Air seat upgrades, and other travel-related issues such as flight booking, cancellation, change or refund you can contact Fond Travels EVA Air booking experts +1-571-389-6426 whenever required. You can always look forward to the best possible assistance and a seamless booking experience with us.
Also, read our blog Bereavement Flights - How to Book?.
Customer Comment
Your email address will not be published.
For immediate assistance
kindly call on below number
571-389-6426
OR, We will contact you within 24 hours.