How to Find Cheap Domestic Flights USA?
Monday, February 14, 2022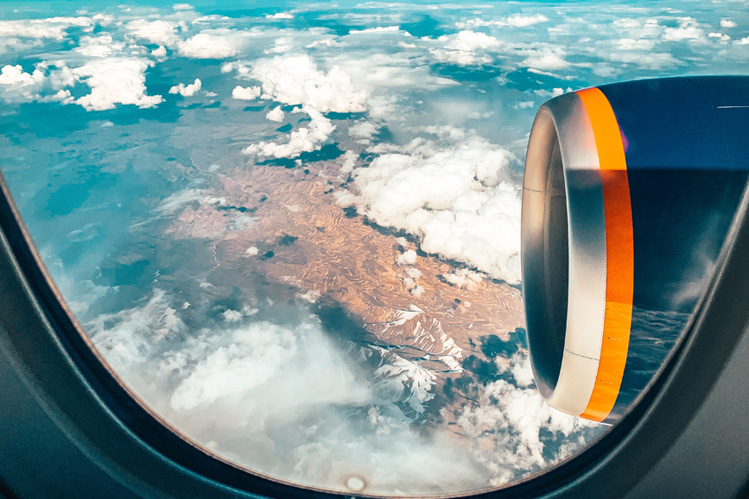 The United States has the largest domestic travel percentage globally. With weekend vacations and national holidays, an average person's travel equals 6.8 a year. Even so, overseas travel might be limited nowadays with only 2 out of 5 American travelers touring abroad. Whether international or domestic trip, airfare is the priciest part that can put a dent in our travel plans. If you are tight on budget, why travel around the world when you can explore and experience a country as captivating and multifaceted as the United States? With the most cost-effective and excellent domestic flight networks in the entire world, discovering USA is easy peasy. We'll disclose a few tips and tricks on how to get cheap domestic flights in USA.
Search and Book Domestic Flights in USA
The American aviation industry is witnessing a boom in the domestic airline industry due to the inflation of young travelers - both solo and group. Whether you are traveling for work to Washington, getting back home for the holidays, or planning a weekend vacay to Los Angeles, New York, or the Florida Keys with your family or spouse, several cheap domestic airlines fly within US; carriers, and regional fleets that service state-to-state - American Airlines, Delta (along with its regional subsidiary Delta Connection), Air Lines, JetBlue, Southwest, United Airlines, Frontier Airlines, Hawaiian Airlines, Spirit Airlines, Alaska Airlines, and Allegiant Air. Some of the cheapest domestic airlines in USA include Southern Airways, Cape Air, Boutique Air and Contour Airlines.
How to Book Cheapest Domestic Flights?
Dreaming of an island getaway to Hawaii or planning a night party in Las Vegas? Airfares are more volatile after the pandemic, but cheap domestic flights USA are still available. Indeed, difficult-to-resist domestic airline deals are waiting for you but you do not know which airline to use or how to book. Well, it's not on Marauder's Map that reveals things so easily. When you search for domestic flight offers, it generally takes time to find the lowest airfares. As the world gradually gets back to normal after vaccination and negative reports, demand has risen and travelers can expect a huge variation in pricing but they need to be flexible. You're going to find some fantastic bargains. Today's priciest airfare might be dirt-cheap tomorrow.
USA Cheap Domestic Flight Deals: Tips & Tricks
Try these 12 strategies to get cheap domestic flights from USA this year:
Timing counts - neither too early, nor too late
Find the cheapest place to fly
Choose off-peak hours, late nights, or early mornings
Set Google alerts and do your research
Be flexible in price, destination, and timing
Be ready for COVID-19 limitations
Consider seasonality before booking
Find cheapest days to fly
Opt for refundable air tickets
Befriend budget airlines
Don't always fly direct
Online travel companies and booking portals
Which are the Cheapest Places to Fly in the US?
After 2-3 years of being home alone, many of you might get itchy feet but lack funds. No worries, it's all good! Cutting down travel costs for a memorable vacation is not a problem. Grab cheap flights airfares by planning. Also, visiting in a group will reduce travel costs automatically. To help you save more, here are some cheap vacation destinations to visit in US.
Grand Canyon – G.O.A.T affordable vacation awaits at this magnificent place with a US$120 round trip. The scenic views from the North Rim of the Grand Canyon are spectacular. There's direct service to GC from 40 airports in US.
Glacier National Park - All outdoor lovers fall for this park. Bordering Canada from the northern edge of Montana, GNP offers hiking, swimming, and climbing. It's a US$121 round trip.
Williamsburg – It's both inexpensive and edifying. Go back in time at Colonial Williamsburg and explore discounted Williamsburg shopping stores. You can find airfare deals as low as US$67-100 round trip.
Colorado Springs - Located on the border of the Colorado Rockies and the Great Plains, Colorado Springs is dope. It is easily accessible from all around the country and offers a horde of free attractions. It's a US$133 round trip and every major US airline flies to CS.
Atlanta – Yo, Atlanta is Fire! You can't resist southern culture, history, outdoor fun, and a delicious food scene out there. It's a US$111 round trip with more than 100 direct flights from all over US.
Albuquerque - Right from native American culture, museums, and ancient towns, Albuquerque offers endless fun for all. It's a US$121 round trip. Southwest and JetBlue are among the airlines that fly to Albuquerque.
Honolulu – Revel in nature's lap with airfares as low as US$ 280, round trip. Fly cheap with Alaska, American, Delta, Hawaiian, Southwest, and United.
How Can I Get Cheap Domestic Flights?
Explore the United States with Fond Travels, one of the best websites for domestic flights USA. Being an expansive country, domestic flight fares can fluctuate. We offer scores of low-cost domestic flights to help you enjoy your backyard. There are many domestic flights or internal flights deals within USA on the Fondtravels.com search engine that you can choose from. We are exceptional due to three main factors: Leading Brand with Good Reputation, Wide Domestic Flight Options & Best Price Guaranteed. You can book a One-Way flight deal starting from US$ 47 and a Round-trip deal for US$ 96.
Where to Find Cheapest Flights?
Our advanced search tool can scan through thousands of comparisons and combinations to list out the best and cheapest fares and airlines within seconds. To know more about our deals on US domestic airlines tickets, call our travel experts at +1-571-389-6426 to get the best airfares and travel solutions. Our travel representatives are available to take care of all your travel needs. Finding a great domestic deal is all about being flexible. It might take time but if you follow the above tips, you'll always get incredible deals. Find your cheap domestic flight today!
Common FAQs Regarding Cheap Domestic Airlines USA
Q - When is the best time to book cheap domestic flights?
A - There is no special time as such, but you get cheap airlines if they are booked 2-3 months before the journey.
Q - Is it cheaper to buy domestic flights at the airport?
A - No, it's not a good idea to buy flight tickets directly from the airport. The prices will be much higher than expected.
Q - Which airlines provide cheap domestic flights USA?
A - JetBlue Airways, Frontier, Spirit, super saver American Airlines, etc. are a few airlines that provide economical domestic flights USA.
Q – Which are the best days to book a domestic airline in US?>
A - The cheapest days to fly with United, Delta, American, Spirit, Allegiant, Hawaiian, Southwest and Frontier Airlines are usually Wednesdays, Tuesdays and Thursdays. The airline algorithm tags these airlines as budget flights to help pocket-friendly flyers save money during weekdays.
Q - How early do I need to arrive for domestic flights in USA?
A - We recommend arriving at the airport 2 hours before departure for domestic flights.
Q - How much baggage can I take on domestic flights within USA?
A - Most domestic airlines USA will offer free hand luggage. Some also offer one piece of checked baggage, typically weighing up to 23kg.
Also, read our blog How to Find Cheap Weekend Flights?.
Customer Comment
Your email address will not be published.
For immediate assistance
kindly call on below number
571-389-6426
OR, We will contact you within 24 hours.