Introduction to Hajj & Its Significance
Friday, July 15, 2022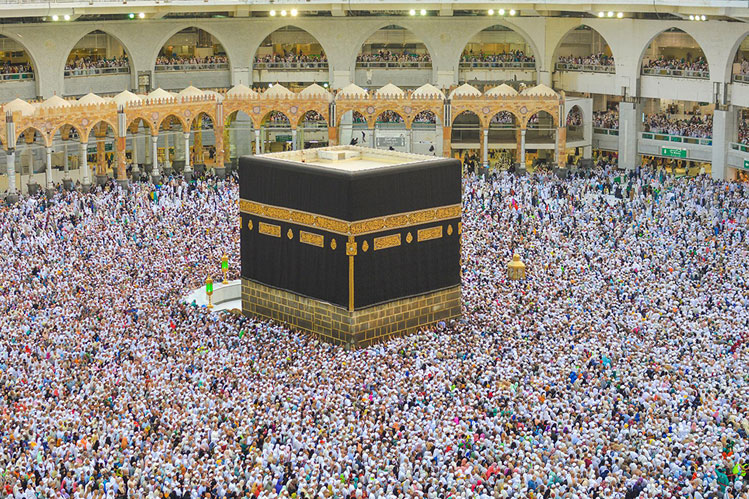 Each Muslim dreams of taking part in Hajj, an incredible spiritual journey. While some rules must be observed, the essential aspect of Hajj involves performing the trip with the highest intentions. We have compiled a list of all the details about Hajj 2023 and the rituals performed in Mecca.
What is Hajj?
Hajj is the fifth and final pillar of the five pillars of Islam.
Each Muslim has an obligation and the expectation to attend Hajj at a minimum once in their lives.
Hajj is performed in the last month according to the Islamic calendar, Dhul Hijjah (from the 8th to the 12th).
Hajjis refer to the title and name that Muslims get upon completing their pilgrimage. Some choose to formalize it.
Hajj 2023 rituals can be performed for 5-6 days.
How do you prepare for Hajj?
Muslims must enter a state where they are pure and wear the proper clothing before crossing the Miqat border. This is called Ihram. During Hajj, the dress for men is two sheets of plain white linen wrapped around their shoulders, leaving only the right shoulder exposed. Women can either wear the white sheet or dress modestly in any color.
You must have completed your hygiene rituals before Hajj, including trimming nails and removing hair under the armpits and naval. If Ghusl is not possible, you will need to perform Ghusl or Wudhu.
If you are traveling to Mecca and Madinah with Hajj packages 2023, your intention Niyyah should take place at the Miqat. Then, recite the Talbiyah. After all the rituals are completed, pilgrims can enter the state of Muhrim and become Muhrim.
What happens at Hajj?
On the first day, Pilgrims travel to Mina (the Day of Quenching Thirst). You might travel by coach the night before or the morning of the 8th day of Dhul Hijjah. Some groups walk 5-6 miles between Mecca and Mina. After a day of lectures and making Salah, the campers will spend the night in the camps during Hajj.
On the second day, the Day of Arafat (or Day 2), pilgrims travel to Mount Arafat, where Prophet Muhammad (PBUH) gives his last sermon. He taught how women should be treated and that all Muslims should strive to stay united.
The Day of Arafat is a religious ritual for Muslims. However, it is not recommended that pilgrims attending the Mount Arafat ritual should fast.
For Wuquf alArafat to be performed correctly, you must be present at Mount Arafat from midday of day 2 until the beginning of Fajr on Day 3.
Day 2 is spent in Salah. Here you can offer your prayers, recite Talbiyah, read the Qur'an, and connect to Allah (SWT). This is an essential part of the Hajj pilgrimage. It would help if you did not waste time talking or eating.
After sunset, you can leave Mt. Arafat and go to Muzdalifah. Here you will perform Maghrib Salah. This Salah will not be counted if you do it in Arafat. You will have to complete it again. Although you can go towards Muzdalifah at sunset, crossing the border to Arafat is not recommended until the sun has set completely. Book your Hajj packages 2023 and fulfill your rituals and religious vows towards Allah.
On the third day, many animals are sacrificed, the third day of Eid, also known as the Day of Sacrifice. Therefore, specific rituals must be performed to be valid on this day or between sunset on the 10th and sunrise on the 12th of Dhul Hijjah.
During Hajj, the first ritual involves pelting stones at the most significant pillar (Jamarah al-Aqaba) and only one giant post. This pillar is found at Jamarat, which is also the closest to Mecca.
These three pillars, or walls, are situated at the exact spot where the devil in human form appeared to Prophet Ibrahim in an attempt to mislead him. Prophet Ibrahim turned him off by throwing stones, and the devil fled.
It is now time to perform the animal sacrifice after Rami (stone-pelting) of the most prominent pillar. Qurbani is the name for the ritual of animal sacrifice. It is usually performed on behalf of the pilgrim, as per their tour group. For Hajj 2023, Qurbani refers to offering a goat or sheep, cow or camel for sacrifice. The shares are distributed amongst pilgrims, their families or neighbors, and the poor and needy. Qurbani is a way for Muslims to give their Qurbani away to the most deprived to share with all during the Eid celebrations.
Muslims can have their hair cut (Halq for men and Taqsir for women) after the sacrifice has been made. You can do this in Mina, Mecca, or Muzdalifah. However, it must be done before sunset on the 12th day of Dhul Hijjah and within Haram's boundaries; otherwise, a penalty will be imposed during Hajj.
Tawaf alZiyarah is the final ritual. It must be performed only after the hair has been cut. This involves performing seven circuits around Masjid Al-Haram's Holy Kabaa, two Rakats, and Salah, and finally drinking Zamzam water.
You are now allowed to leave the spiritual realm of Ihram after the sacrifice has been completed, your hair has been cut, and you have performed Tawaf al-Ziyarah.
If you cannot leave the state of Ihram for any reason, you must return to Mina during Hajj.
The Fourth to the Sixth Day is called the Days of Drying Meat; there are still some rituals that must be performed.
Head to Jamarat between midday on the 11th and before Fajr on the 12th to stone the remaining pillars. It is recommended to stone Jamarah al-Ula, the smallest pillar, first and then performs a Dua. Next, stone Jamarah al-Wusta, the middle pillar, and then stone Jamarah al-Aqaba, the largest pillar during Hajj. Finally, spend the rest of the day worshiping in your Mina camp.
On the fifth day, the same ritual is repeated. Fajr must be completed with Rami (stone-pelting) before you leave for Mecca. You must perform Rami if you are still in Mina on the 13th of Fajr Salah.
On the sixth day, the final ritual is the Tawaf al Wida or farewell Tawaf. The seventh circuit of the Tawaf is completed around Holy Kabaa. This is followed by two Rakats and the drinking of Zamzam water. The pilgrimage to Hajj ends with this farewell Tawaf.
Why is Hajj so Important?
It follows in the footsteps of Prophet Muhammad (PBUH), who performed Umrah four times and Hajj once during his life.
Muslims who perform Hajj enter a state known as Ihram. This is pure mind and body.
Hajj is a tradition that dates back thousands of years. It is a duty for all Muslims who can make this journey.
Difference between Hajj and Umrah
Umrah is like a mini-pilgrimage. It's not a pillar of Islam but is performed to receive blessings from Allah. Umrah 2023 can be performed at any time during the Islamic calendar, but Hajj can only be performed during the month of Dhul Hijjah. When you undertake Umrah, you will do your tawaf and sa'i.
Umrah is performed only in one place — at the Holy Kabah. Pilgrims do not have to travel to various locations. Hajj required pilgrims to visit several areas, such as Arafat and Muzdalifah. Book your Umrah 2023 packages and fulfill your religious vows.
Umrah can be done at any time of the year and can be combined with Hajj or done separately.
Fond Travels offers low-cost Hajj and Umrah packages for pilgrims who are willing to fulfil their vows this year or in the near future. Bookings are open, get yourself an affordable travel package — flights, hotels and tours that can also be tailored to your request. Do not hesitate to call Fond Travels at 1-571-389-6426 and book best Hajj travel packages along with Umrah deals.
Also, read our blog Travel Tips for Seniors.
Customer Comment
Your email address will not be published.
For immediate assistance
kindly call on below number
571-389-6426
OR, We will contact you within 24 hours.