Events and Festivals in Mexico in November
Thursday, October 13, 2022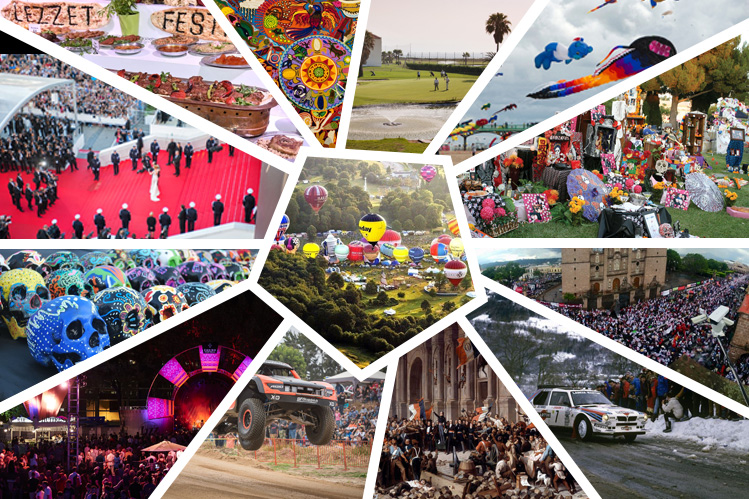 In Mexico, November starts with Day of the Dead celebrations that take the city by storm. November 2 is a public holiday and a celebration of the Mexican Revolution as well.
The official holiday to commemorate the revolution always falls at the end of every month on the 3rd Monday of November, which means that post offices, banks, and government offices are shut on the day. Below are a few significant festivals in Mexico during November that is a must-see.
Balloon Festival in Leon Guanajuato
November 17 - November 20, 2023
The sky above Guanajuato's Metropolitan Park in Leon, Guanajuato, sizzles with at least 80 balloons during this event in mid-November. With flights to Mexico, you must experience the spell of the Balloon Festival. It's one of the largest events of its kind around the globe. In the meantime, there are events, concerts, and contests suitable for all ages.
Day of the Dead
October 31 and November 2 , 2023
The celebration is observed all over Mexico from October 31 until November 2, this special holiday honors relatives who have passed away. Celebrations are held throughout the country, but they are the most vibrant in specific 'Day of the Dead' destinations, including Patzcuaro, Oaxaca, Chiapas, and San Andres Mixquic, which is a borough of Mexico City. Waste no time; book flights to Mexico City immediately to save with our discounted airfare deals.
Festival of the Skulls
October 27 to October 31, 2023
The celebration is held in Aguascalientes, the birthplace of artist Jose Guadalupe Posadas who invented the Calavera Catrina skeleton. This Mexican festival runs between October 28 and November 6 and is a celebration that coincides with the Day of the Dead.
Skulls of various sizes and types are on display, along with stands featuring traditional food items and seasonal fruit. Altars dedicated to the dead, various cultural and artistic shows, a skeleton procession, and a 'living altar' are just a few of the activities planned.
Grab Mexico City flight deals from Fond Travels. Call one of our travel experts at 1-(571)-389-6426 to avail of our cost-effective offers and book money-saving unpublished deals.
Festival of San Felipe Shrimp
November 5-6, 2023
If you're a fan of shrimp, visit San Felipe and book tickets to Mexico City, Baja, California in the first week of November to celebrate festivities like the Festival del Camaron, which celebrates the delicious crustacean.
This festival focuses on culinary aspects of the shrimp season, with chefs competing to determine who makes the most delicious shrimp dish. The food sampling events are paired with cultural events in the local area, such as wine tastings, tequila samples, and performances by regional and local folk performers.
Rocky Point Rally
November 9-13, 2023
Puerto Penasco, Sonora, also known as Rocky Point, hosts a motorcycle rally each year in November. The event helps raise money for various charitable causes. This year's celebrations will feature the poker run, several biker contests, stunt shows, and celebrations. Grab Mexico City airfares from our early-bird offers and save big on your Mexican trip.
Maestros del Arte Folk Art Festival
November 10-12, 2023
The most important folk art festival occurs at Chapala, Jalisco, in early November. Master artists book cheap flights to Mexico to visit across the country to provide collectors and buyers with the best of folk art that ranges from woodcarving, ceramics, and pottery to silver jewelry and rug weaving during this event which is held within Chapala Yacht Club, about forty miles to the south of Guadalajara.
International Gourmet Festival
November 9-19, 2023
The best restaurants in Puerto Vallarta participate in this festival of gourmets that has been in operation for over 20 years. It attracts the most renowned names in international culinary culture. Participants can take part in cooking classes or learn the art of wine pairing while drinking a great glass of wine. With flights to Mexico, experience the latest and greatest in tequila and take a meal at one of the finest restaurants in the area.
Morelia's International Music Festival
November 11, 2023
Illustrious as one of the best festivals in Mexico, the annual festival held in honor of the composer Miguel Bernal Jimenez features performances by musicians from around the globe. It is held in beautiful venues throughout the beautiful town of Morelia, Michoacan. The festival's primary goal is to experience the richness and variety of the best quality concert music.
Revolution Day
November 20-21, 2023
The 20th of November is this year's anniversary of the beginning of the Mexican Revolution of 1910. Celebrations and parades are held all over the country. The holiday of the year (when the government and schools are shut) is observed on the third Monday of every month. However, certain civic events may be celebrated on the 20th but make sure you get your Mexico City flight deals in advance.
Yucatan Bird Festival
November 20-23, 2023
Birders gather on the Yucatan Peninsula every year to take part in tours, exhibit conferences, and the annual 'birdathon.' The festival's goals are raising awareness of the diversity of bird species found throughout the Yucatan and establishing an environmentalist culture for tourists and tour operators. Bird-watching activities commence in and around Merida's city zoo, Tizimin, Rio Lagartos, and Celestun.
Also, read our blog Cheap Flights to Mexico from the US.
Customer Comment
Your email address will not be published.
For immediate assistance
kindly call on below number
571-389-6426
OR, We will contact you within 24 hours.