Allegiant Air Unaccompanied Minor Flight
Thursday, May 12, 2022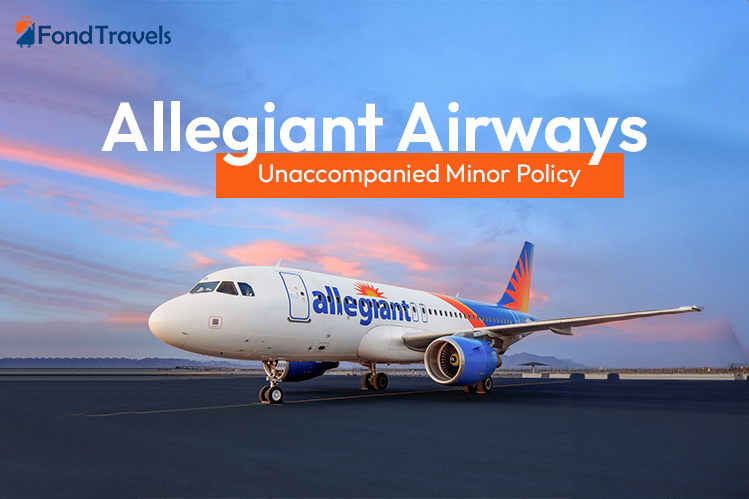 Must read if you decide to let your children fly alone.
Flying with minors is an exciting experience. Only parents understand how difficult it is to travel with young children and handle them throughout the trip. Booking flights for children with Allegiant Air is easy thanks to the hassle-free minor policy. You simply need to understand the rules and regulations regarding bookings of minors.
Families travelling with young children can experience the luxury of being able to fly with Allegiant Air to exotic destinations across the country. Allegiant Air promises to make every flight convenient and affordable. Book Allegiant Air unaccompanied minor flights and enjoy a rich travel experience that offers great value for money.
What is Allegiant Air Minor Policy?
Allegiant Air doesn't have a policy to offer unaccompanied minor services under any circumstances. The airline also doesn't offer special supervision for any traveller, nor bookings are accepted for pass-travelling or fare-paying unescorted children or unaccompanied minors aged 15 years and less.
According to Allegiant Air Minor Policy, children who are 14 years and younger must be compulsorily accompanied by an adult passenger 15 years or older. The airline offers online booking for children aged between 15 years and 17 years old without charging any extra fees. Allegiant Air however doesn't accept any responsibilities for 15-17 years old children beyond those provided to adult passengers. The airline also won't allow children under 18 years old to travel alone on a flight, which is affected by severe weather conditions. Allegiant Air requires age verification for all passengers under 18 years old who will be travelling alone. If the airline fails to get the proof of age then the passenger will be denied boarding. A photo ID such as passport, birth certificate or driver's license or any other government-issued identification must be provided to Allegiant Air for booking confirmation and travel.
Rules and Guidelines for parents travelling with children
Under 24 months: The parent travelling with an infant under 24 months may purchase his/her ticket and will be seated separately in an FAA approved car seat. Alternatively, the infant may also travel as a lap child on the lap of an adult passenger. The infant's proof of date of birth in the form of birth certificate or any other identification with birthdate has to be provided at the time of reservation.
2-14 years old: For children aged between 2 years and 14 years old travelling with an adult passenger at least 15 years old, a separate reservation has to be made with own seat assignment. The children travelling in this age group are prohibited from being seated in the exit row under FAA safety regulations. For children 40 pounds or under, additional requirements apply. A birth certificate or any other identification with birthdate will be needed at the time of booking.
15-17 years old: Allegiant Air allows children aged between 15 years and 17 years old to travel alone without an adult companion, but won't be permitted to board a flight with weather advisory.
They will be required to travel on own seat and provide a proof of birth such as birth certificate or any other birthdate identification at the time of booking.
18 years or older: Allegiant Air considers every passenger 18 years or older as adults and requires a separate reservation. They will need to provide a government-issued photo ID at the time of booking. All the TSA requirements will apply to each adult passenger.
Allegiant Air seat reservations process for minors
Allegiant Air tries its best to accommodate families, but doesn't guarantee the availability of seats when travelling together. To make sure that the family or group is seated together, advance seat assignment needs to be reserved at the time of booking Allegiant Air tickets for travel. This can also be done during online or mobile check-in.
The FAA safety regulations also require children not to be seated in an exit row, and allows only one lap child per row due to the limited number of oxygen masks per row. Children seated in car seats are also required to be compulsorily placed in a window seat, and are barred from being placed in an aisle seat, between the aisle and a passenger, or in the exit row or rows directly in front of or behind an exit row.
As per the FAA recommendations the infants and small children weighing under 40 pounds must be secured in an FAA-approved car seat or harness-type device during the flight. The FAA requires approved car seat style child restraint systems to have one or more of the following labels:
The FMVSS.213 insignia
Language indicating they conform to all applicable federal motor vehicle safety standards
Language indicating that they are certified or approved for use in motor vehicles and on aircraft
The FAA has however banned the use of backless booster seats, vest and safety belt extensions, or harness devices attached to an adult, on an aircraft. The AmSafe Aviation CARES specifically designed for children who weigh between 22 and 44 pounds is the only harness-type device approved by the FAA, and must include a label clearly indicating "FAA Approved in Accordance with 14CFR 21.305(d), Approved for Aircraft Use Only."
Checking a car seat, strollers and diaper bags
Allegiant Air strongly recommends the child being seated in a car seat during the duration of flight. However, if the child is not seated in his/her car seat during the flight then you have the option to check the car seat as checked baggage during check-in at the airport ticket counter and retrieve it at baggage claim upon arrival, or check the car seat at the gate during boarding and retrieving it at the gate or passenger loading bridge upon arrival at your destination. Allegiant Air allows one car seat per fare-paying passenger to check-in for free either at the airport ticket counter or at the gate.
Allegiant Air allows the parent travelling with children to check a stroller as checked baggage during check-in at the airport ticket counter or at the gate during boarding. One stroller per fare-paying passenger is allowed to check-in for free either at the airport ticket counter or at the gate. The gate checked strollers will placed in the cargo hold of the aircraft and delivered to the gate or passenger loading bridge upon arrival at the destination.
Allegiant Air allows one diaper bag for free to each fare-paying passenger travelling with a child. The diaper bag will be in addition to the passenger's carry-on or personal item.
Allegiant Air COVID-19 rules
Allegiant Air is committed to make the travel of all passengers a safe, healthy and comfortable experience especially keeping in view the COVID-19 pandemic. The airline has taken several safety measures for the benefit of its passengers, employees and crew members. The following COVID-19 protocols have been implemented by Allegiant Air:
A comprehensive cleaning program for all aircrafts are being done, which includes thoroughly disinfecting and sanitizing of all touch surfaces such as galleys, tray table, seatbelts and lavatories
A complimentary health and safety kit provided to each passenger at the airport, which includes two sanitizing wipes and a single-use face mask
All flights being currently offered by Allegiant Air are nonstop thus minimizing contact by helping passengers to spending less time in airports and avoiding crowded hubs
Wearing face masks is mandatory for all passengers, except at the time of eating and drinking. All crew members required to wear face masks at all times and gloves during in-flight service. Service frequency also reduced to once per flight
Social distancing strictly observed at check-in, when waiting at gates and during the boarding process. Friendly reminders provided with regular announcements and posted signs
A health acknowledgement must be completed by all passengers as part of the online or mobile check-in process certifying that a face mask would be worn by the passenger at all times during travel; the passenger won't travel if he/she has a fever; no household member has exhibited COVID-19 related symptoms; and the passenger will wash/sanitize his/her hands before boarding the flight
Boarded passengers may be re-seated by crew members for providing additional distancing whenever possible
Passengers are encouraged not to book the middle seat, except for families being seated together
Flying with Allegiant Air, especially for parents travelling with children, is undoubtedly a great experience. Planning your next travel anytime soon? Call Fond Travels Allegiant Air phone number +1 (571) 389 6426 for hassle-free and affordable flight bookings.
Also, read our blog How Do I Speak to a Live Person at Delta Airlines?.
Customer Comment
Your email address will not be published.
For immediate assistance
kindly call on below number
571-389-6426
OR, We will contact you within 24 hours.