Book Cheap Flights for Students
Sunday, April 23, 2023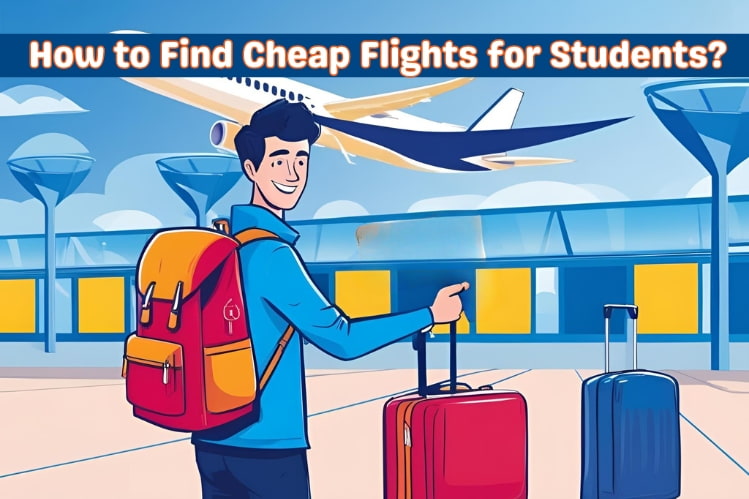 Young people have always been captivated by travel. As it chases away the routine of existence, the restlessness to discover the unknown has been a vital stimulant. It's time to reserve cheap flights for students to any location of your choice if you need a vacation from your studies.
Spend less on your flights because they are the most important component of your trip. Spend it on mouthwatering food, like in Sydney, paragliding on the gorgeous Malibu Beach in California, or embark on a life-changing walk at Canada's Rocky Mountains. Student flight specials from Fondtravels are available to exotic locations that will extend your horizons. You can make new friends and learn something special about their local traditions and culture.
Discounted Flights for Student Travel
Use student travel websites: Several travel websites cater specifically to students and offer flight discounts. Browse Fondtravels.com for incredible deals for students.
Be flexible with travel dates: Flights are generally cheaper when booked in advance or during off-peak periods. Always be flexible with your flying schedule to get the best deals.
Compare prices: Don't just rely on one website to book your flights for student travel. Compare prices across different airlines and travel websites to find the cheapest deals.
Sign up for email alerts: Airlines and travel websites often send email alerts for discounted flights. Sign up for flight deal notifications to stay informed.
Use credit card rewards: Some credit cards offer rewards for travel purchases. If you have a credit card that offers rewards, use it to book your flights and earn points that can be redeemed for future travel.
Always check the terms and conditions of any deals before booking to ensure you understand any restrictions or limitations that may apply.
Airlines offering cheap flights to students
Many airlines offer students flight discounts and special fares to help students save money on their air travel. Some popular airlines that offer students cheap flights include:
Fondtravels: This travel booking site specializes in student discounts on flights, hotels, and tours. They partner with over 90 airlines to provide discounted rates to students with savings of up to 70%.
American Airlines: American Airlines offers a Student Discount Program that allows students to save up to 10% on flights to select destinations.
United Airlines: United Airlines offers discounted fares to students through its United Student Travel Program.
Delta Airlines: Delta Airlines offers discounted fares to students through its Student Discount Program.
Turkish Airlines: Avail Turkish Airlines student discounts on certain flights, which can vary depending on the country, the route, and the availability. To find out if you are eligible for a student discount, you will need to contact Fondtravels travel experts and look for the student discount section.
Remember that student discounts may have certain restrictions or limitations, such as blackout dates or limited availability, so read the terms and conditions carefully before booking. Call us at +1-571-389-6426 anytime to clarify doubts and book our money-saving deals.
Best destinations for students
There are many great destinations for students to explore and learn from worldwide. Some of the best destinations for students include:
London, England: With some of the world's most renowned universities, London is an excellent student destination. It is also a vibrant city, rich in history, culture, and diversity.
Paris, France: Paris is a popular destination for students because of its iconic landmarks, world-class museums, cafes, clubs and famous cuisine.
Tokyo, Japan: Tokyo is a modern and exciting city with a unique culture that will fascinate students.
Barcelona, Spain: Barcelona is a lively city with a rich history, beaches, nightlife and architecture, including the works of Antoni Gaudi.
New York City, USA: New York City is a global hub of commerce, culture, and innovation, making it an excellent destination for students. With United Airlines student discount, explore various cultural activities, from museums to theaters.
Sydney, Australia: Sydney is a vibrant and multicultural city with a fantastic climate and beautiful beaches.
Berlin, Germany: Berlin is a vibrant and affordable city with a rich history and culture.
Cape Town, South Africa: Cape Town is a stunning destination with beautiful beaches, mountains, and a rich cultural heritage. It is also home to several top universities and offers a unique blend of African and European cultures.
These are just a few of the many great destinations for students to explore and learn from around the world and we offer top-class student flight offers with great discounts.
Be Flexible with Your Booking – save up to 70%
To book cheap flights for students, it's important to remain flexible. Instead of opting for O'Hare International Airport, you may be able to reduce expenses by selecting secondary airports like Chicago Midway or Dallas Love Field.
To discover more affordable flights, check prices a few days before or after your preferred travel dates since flight fares regularly fluctuate. By planning your trip earlier or later, you can save money. If you have decided to travel overseas, our student airfares will enable you to save money. Our travel experts are always available to assist you in obtaining cheap student travel deals. Call us at +1-571-389-6426 anytime for further information.
Also, read our blog - Book Cheap Flights At TAP Portugal
Customer Comment
Your email address will not be published.
For immediate assistance
kindly call on below number
571-389-6426
OR, We will contact you within 24 hours.