Silver Airways Pet Policy
Wednesday, March 29, 2023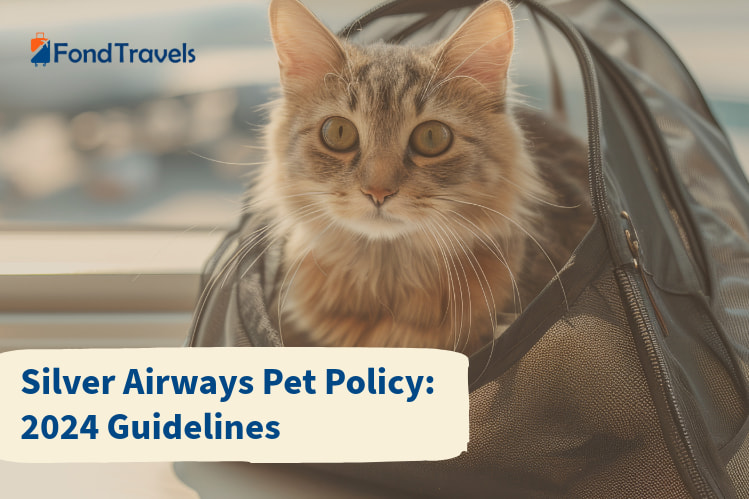 Planning to carry your pet on Silver Airways? Will my pet qualify to be carried as checked baggage or as carry-on luggage? What are the fees and restrictions? Well, we hope to discuss all that here so that you do not face any issues while carrying your pet.
Whether you are flying to a new place for vacation or sending your children to their grandparents with their cuddly pet, shun all your worries. Silver Airways friendly pet rules will assist you to book a flight for your four-legged pal without hassles.
About Silver Airways
Headquartered in Fort Lauderdale in Florida, Silver Airways was founded in 2011. It serves several popular locations in the U.S. and honeymoon destinations such as the Caribbean and the Bahamas.
Being a low-cost and popular airline, Silver Airways strives to offer a memorable and comforting journey to its travelers. With avant-garde in-flight amenities and facilities, Silver is one of people's favorite airlines with affordable airfares and easy policies.
Where will Silver take you?
United States
New Orleans, LA
Charleston, SC
Key West, FL
Tallahassee, FL
Orlando, FL
Jacksonville, FL
Greenville-Spartanburg, SC
Tampa, FL
Savannah, GA
Huntsville, AL
Pensacola, FL
Ft. Lauderdale-Miami Area, FL
The Bahamas
Georgetown
North Eleuthera
Governor's Harbour
Bimini
Marsh Harbour
Nassau
Freeport
The Caribbean
St. Kitts
Tortola
St. Croix
Dominica
St. Maarten
Anguilla
Vieques, Puerto Rico
San Juan, Puerto Rico
Culebra, Puerto Rico
St. Thomas
Santiago, DR
What should I know about Silver pet policy?
Silver Airways permits passengers to take their pet in the cabin or as checked baggage.
Follow these guidelines for a smooth journey:
You can take your smaller pets in the cabin
Ensure they fit in properly under your seat
The cage should be 18x14x9 inches and must be airy and spacious
With a fee of $95, consider the pet and the carrier as one
Silver allows just one pet per traveler
If you need more information about Silver pet policy, our FT travel specialists are available 24/7 to assist you further. Reach them on our free phone at +1 (571)-389-6426 for easy and quick airline ticket booking.
Pet Policy checked baggage
Those pets crossing the cabin size requirement are allowed to be carried as checked baggage.
Ensure that you abide by the airline's rule for carrier size and weight
To carry a pet in Silver Airways flights, you need to pay $125
As per checked baggage policy, you can carry only two pets per flight
What are the restrictions for pets on Silver Airways?
A few breeds might not be allowed on Silver as per their nature
Take note that pets need to be 8 weeks old, in good health, etc.
Pets are not permitted to fly on Jamaica and the Bahamas route
Silver allows a limited number of pets onboard
Reach the airport on time and make pet reservations beforehand
Silver Airways Pet Policy Fees
This is the fee structure for Silver Airways:
Cabin Pet Policy - $95 per pet/per route
Checked Baggage Pet Policy - $125 each way/per pet
Silver Airways ESA
If you carry a service animal, you must provide documentation from a licensed medical or mental health professional stating the need for the animal and the specific tasks the animal is trained to perform. You must also submit a completed Service Animal Form to Silver Airways at least 48 hours before your scheduled flight.
It's important to note that each airline may have different policies regarding emotional support animals and service animals. Hence, according to Silver Airways pet policy, it's always best to check with Fond Travels travel experts before booking your flight.
Also, Read Our Blog - Find Viva Aerobus flight deals
Customer Comment
Your email address will not be published.
For immediate assistance
kindly call on below number
571-389-6426
OR, We will contact you within 24 hours.