Spirit Airlines Baggage Policy and Fees
Tuesday, March 09, 2021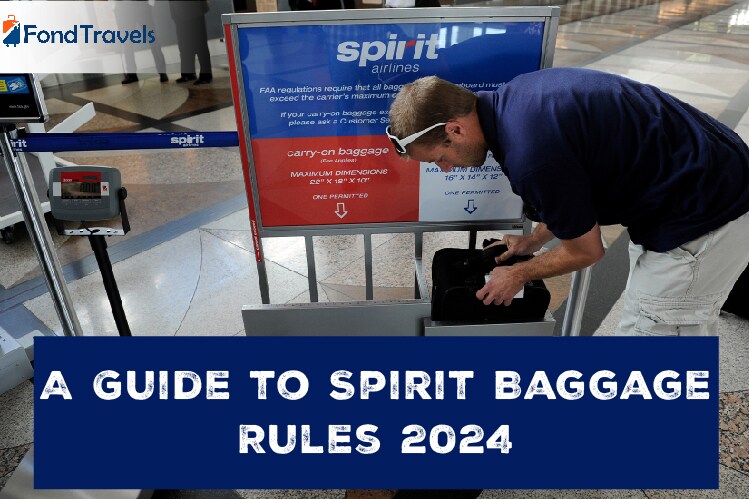 Spirit Airlines Baggage Policy and Fees
Did you ever get an opportunity to fly with a budget airline? If you still haven't then you will surely love. Look forward to flying with Spirit Airlines, America's seventh-largest carrier and North America's eighth-largest commercial airline, which comes with super affordability and comfort. Reaching more than 77 destinations in the USA, Central America, Latin America and the Caribbean is always possible and easy on your pocket when you choose to fly with Spirit. Widely acclaimed for offering its "Bare Fare" business model, the customers making Spirit Airlines reservations have the flexibility to pay only for the services they are availing, which makes the travel not only super affordable but also results in big savings. If you are planning to fly with the leading ultra-low-cost carrier on a leisure or business trip anytime soon then you must take a look at the airline's different policies. Spirit Airlines baggage policy is one such important policy which you should study in detail. This will help you in preparing for your future travel without any hassles or stress.
What is Spirit Airlines Baggage Policy?
Spirit Airlines has its own pricing structure, and it includes baggage too. When the customer is planning to buy Spirit Airlines tickets then he/she should know that the airline doesn't allow any carry-on or checked bags in its base allowance (Bare Fare). Moreover, the baggage prices tend to increase closer to the departure date. So, the best thing for the customers is to buy their baggage allowance in advance at the time of the original booking itself. Considering all these it's important for every customer to know all about Spirit Airlines baggage policy beforehand so that it becomes easier for you to book within your budget.
Spirit Airlines Bag Rule
According to Spirit Airlines bag rule, the airline charges for carry-on and checked bags in order to keep the customers happy with low ticket prices always. For carrying oversized checked bags over 40 pounds the charges paid by the customers will be more for the simple reason that the added weight will require more gas for the aircraft. The ticket price will however include one personal item such as a small backpack, purse, etc that can easily fit entirely in the smaller size box. Charges for additional personal items or anything larger such as a checked bag or standard carry-on will have to be paid for. Let's know about Spirit Airlines baggage size so that travel becomes convenient and cost-effective for everyone.
Personal Item: The personal item allowed to be carried on Spirit Airlines flight is included in the ticket price. The personal item allowed includes a purse, small backpack, etc, and must not exceed the dimensions of 18 x 14 x 8 inches (45 x 35 x 20 cm) including handles and wheels. If you are carrying any additional personal items then you will have to pay for them.
Carry-on Bag: The maximum permissible size of carry-on bag allowed on Spirit Airlines flight should be in the dimensions of 22 x 18 x10 inches (56 x 46 x 25 cm) including handles and wheels. If the airline however isn't able to safely stow a carry-on bag on a particular flight then it will be treated as a checked bag.
Checked Bag: The customers booking Spirit Airlines tickets will be permitted to carry a checked bag with a maximum dimension of 62 linear inches (length + width + height; 158 cm) including handles and wheels and a maximum weight of 40 pounds (18.1 kg). The checked bag exceeding these weight limits or dimensions will be considered overweight or oversized and will be charged accordingly. Spirit Airlines will however not accept bags weighing more than 100 pounds (45 kg) or whose size is more than 80 linear inches (203 cm) in overall dimensions.
People not only turn to Spirit Airlines for low-cost flights but also for easy travel policies and procedures. If you've queries or want detailed information about Spirit Airlines baggage policy and fees, you can always call Fond Travels at +1 (571) 389 6426 to talk to one of our travel experts. You're assured of the best assistance and hassle-free travel solutions with Spirit Airlines.
Spirit Airlines Baggage Fees
Carry-on allowance and fees: The customers are allowed one free personal item when purchasing tickets with Bare Fare option. The airline will charge somewhere between $28 and $37 at the time of booking. However, if you wait until check-in then the carry-on fees will be between $36 and $45. You will have to pay even more when you wait till the time of getting at the gate or at the airport reservation desk. The fee to be paid in such situations will be at a premium of between $55 and $65. The members of $9 Fare Club, also called Spirit Saver$ Club are at an advantage as they will have to pay between $26 and $31 for carry-on at the time of booking, while it will be between $36 and $41 before or during online check-in.
As already stated, the size limit for personal items shouldn't exceed 18 x 14 x 8 inches, while the standard carry-on bag should be at a maximum of 22 x 18 x10 inches. Spirit Airlines has however made an exception for customers traveling with an infant. The airline will allow such customers to carry a breast pump and accessories and/or formula for free, and these won't be included as carry-on allowance. The customers will be required to check-in strollers or double strollers before the scheduled departure of the flight.
Checked Baggage allowance and fees: Spirit Airlines allows its customers a maximum weight of 40 pounds for checked baggage with a total dimension of up to 62 linear inches, including handles and wheels. A flat rate is however not offered by the airline for checked bags. The following fee for checked baggage will have to be paid when booking Spirit Airlines flight tickets online:
First checked bag – from $23 to $32 (depends on weight)
Second checked bag – from $33 to $42
Third to fifth checked bags – from $78 to $87
The customers will be required to pay more for checked bags till the time they continue waiting for check-in. You may have to pay an increased rate for the first bag somewhere between $33 and $42. Similarly, the customers who continue to wait until getting to the airport or gate for check-in will be required to pay somewhere between $52 and $65 for just one checked bag. It may also be noted that restrictions may apply on the number of bags for check-in, which will depend on the destination to be flown.
Overweight/oversized baggage and additional baggage fee: There are strict requirements for customers who will be carrying overweight baggage or oversized baggage, and the specific fees to be charged by Spirit Airlines will depend on these. The customers are allowed to carry a checked bag with a maximum weight limit of 40 pounds.
However, for carrying checked bags weighing between 51 and 70 pounds, the customers will be required to pay $30 as overweight fees. When carrying checked bags weighing between 71 and 100 pounds, the overweight fees to be paid by the customers will be about $55. For checked bags weighing between 71 and 100 pounds the maximum overweight fee charged will be $100.
Spirit Airlines will charge a fee between $100 and $150 for oversized baggage that measures a total of more than 62 linear inches in dimension, including handles and wheels. There are some exceptions for special items such as musical instruments and sporting equipment.
What items have special restrictions?
Spirit Airlines prohibit certain items to be carried on all its flights that are considered to be hazardous by federal law and as per TSA prohibited items guidelines.
The following items are prohibited to be carried on flights. These include household articles, alcohol, ceramics/chinaware/glass, antlers, hoverboards and electric skateboards, firearms, camping gear, electronic cigarettes (e-cigarettes), artistic items, lithium batteries, windsurfing equipment, urns/ human remains and organs, portable dialysis machines, perishables, bicycles, kayak, boat and canoes, incubators, boxes and plastic containers, wheelchairs, power tools, archery equipment, and many more.
The full list of FAA prohibited Hazardous Materials and a full list of TSA prohibited items can be accessed by visiting their respective websites.
Also, read our blog Spirit Airlines Unaccompanied Minor Flight Policies and Fees.
Customer Comment
Your email address will not be published.
For immediate assistance
kindly call on below number
571-389-6426
OR, We will contact you within 24 hours.