Spirit Airlines Seat Assignment and Seat Selection Policy
Thursday, March 11, 2021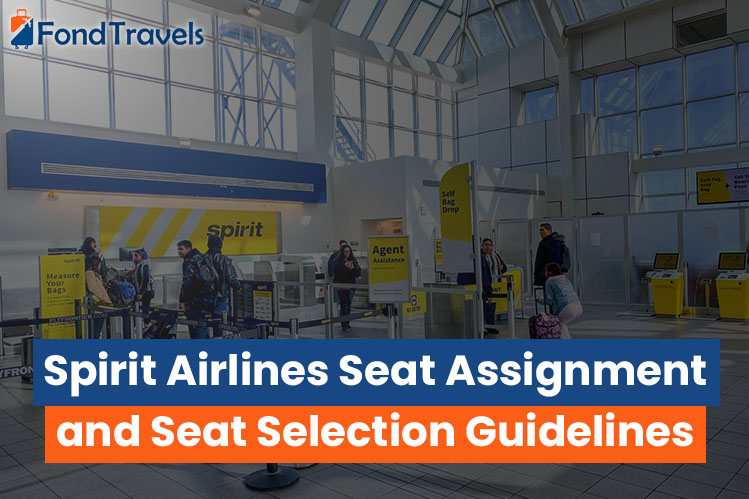 When it comes to air travel people mostly look for comfortable seats and great services for the amount spent on the tickets. People are greatly opting to fly with budget airlines because of affordability and flexibility in selecting services. The common thinking amongst many air travelers is that you have to compromise with services by paying less on budget airlines. But, this isn't the case at all. It's true that low-cost carriers charge less for travel, but it doesn't necessarily mean that you have to sacrifice your comforts. Spirit Airlines is one such leading ultra-low-cost carrier (ULCC), which promises a highly affordable flying experience to the customers by standing true to its motto "Less Money. More Go". The airline's "unbundled awesomeness" helps the customers to save an average 40% on its airfares. And, to top it all you also don't have to compromise on your comforts when it comes to choosing your preferred seat. You however need to know Spirit Airlines seat assignment and seat selection policy beforehand for a stress-free, comfortable travel.
Undoubtedly so, flying with Spirit Airlines, America's seventh-largest airline in terms of domestic share is a super affordable experience which results in fattening your wallet even more with the astounding savings made on travel. The No-Frills airline renowned for offering 'Bare Fare' will help you reach more than 77 destinations across the United States, Mexico, Central America, Latin America and the Caribbean. If you are looking to fly for incredibly less with cheap airfare and luxurious experience then Spirit Airlines is surely the best bet at the moment for all the budget savvy travelers. When planning your next trip with Spirit Airlines, here's all you need to know about the airline's seat assignment and seat selection policy so that your onboard experience can be as comfortable as it can be.
How to choose a seat on Spirit Airlines?
The biggest concern for air travelers will be how to choose a seat on Spirit Airlines for a comfortable travel. You will know the importance of Spirit seat selection only when you fully understand about the kinds of seats being offered by this popular ULCC.
If you have booked Spirit Airlines flights for your future travel then you will be happy to know that the airline's ergonomically-designed seats equipped with features like thicker padding, lumbar support and additional pre-recline promises you a comfortable journey. The travelers who have been assigned middle seat stand to benefit with an extra inch of width as an additional perk. Some of the narrowest seats on Spirit Airlines were slim with 17.8 inches of width, but the customers will now get much-needed elbow room with an extra inch in the middle seat. The airline offers even further pre-reclined seats in the exit row.
It may be noted that Spirit Airlines operates an all-Airbus fleet, and the seat selection will depend on the aircraft the customer will be flying on. The aircrafts include Airbus A319, Airbus A320 and Airbus A321. The 145-seat Airbus A319 features 10 Big Front Seats at the plane's front row and 135 deluxe leather seats (6 exit seats over the wings, 2 non-window seats in the last row and 9 seats reserved for passengers with disabilities). The Airbus A320 is of two variants – A320 (32A/32N) and A320 (32W). The 182-seat A320 (32A/32N) offers 8 Big Front Seats at the front of the plane and 174 deluxe leather seats (12 exit seats over the wings and 12 seats reserved for passengers with disabilities), while the 174-seat A320 (32W) features 174 deluxe leather seats only (12 exit seats over the wings and 12 seats reserved for passengers with disabilities). The 228-seat A321 (32B) features 4 Big Front Seats at the front of the plane and 224 deluxe leather seats (6 exit seats behind the wings, 6 exit seats before the wings and 12 seats reserved for passengers with disabilities).
In addition to Standard seats, the customers who want a more luxurious experience by paying more will get access to Big Front Seat offering domestic first-class experience. It will be good for you to know the features of the Big Front Seat.
Big Front Seat: The Big Front Seat offered by Spirit Airlines is a larger seat with a 36 inch pitch and 18.5 inch width. This leather seat provides additional legroom of a full 6 inches, and has been designed for customers who want more space. A significant upgrade to the airline's standard deluxe leather seats, the Big Front Seat can be purchased online by visiting Spirit Airlines official website after paying a fee during or after a booking, based on its availability and flight length. The Big Front Seats offered are limited, usually 4 to 10 per aircraft, and expected to cost between $12 and $150 when purchased in advance or between $25 and $175 when seeking an onboard upgrade. The biggest advantage of purchasing Big Front Seats are that they are located in the first row of the aircraft, prominently featuring up to 32% more legroom than the Standard deluxe leather seats. Moreover, they don't have a middle seat between them and are also wider.
How to buy Spirit Airlines seat assignment?
Spirit Airlines provides every customer opportunity to choose their favorite spot on an aircraft. The selection may be for an aisle up front or a window seat. If the seat selection is not made by the customer at the time of booking then Spirit Airlines will be assigning random seats at check-in for free. This will however not guarantee that the customer traveling with family or friends will be seated together. In order to get family seats together on flight the customer will have to purchase a seat assignment in advance at the time of the booking itself. Additionally, if the customer wants to travel in comfort and wants some space for stretching out then he/she should purchase the wider Big Front Seat with extra legroom.
For all those customers who want to get a seat of their choice the best thing will surely be to purchase a seat assignment in advance. Seat assignments can be purchased starting at $5 and may go up to $50, and will vary depending on the exact location of seats on the aircraft and specific route. The customer can purchase a seat assignment when booking online through Spirit Airlines official website or during online check-in within 24 hours of departure or can call Fond Travels Spirit Airlines experts 1-(571)-389-6426. The seat prices for the flight can be viewed on the website's Seats page.
The following are the important highlights of Spirit Airlines seat assignment and seat selection policy:
Every customer is eligible to get a seat allocated on random basis during airport check-in free of cost with no promise to get a preferred seat to be seated together with family or friends
Preferred seats will be guaranteed only when seat selection is made in advance and booked online after paying a fee starting at $5, which may be more depending on the seat location and specific route. This can be done at the time of original booking or during online check-in
Online seat selection on Spirit Airlines can be done up to 24 hours before the scheduled departure of flight
How can seats be added to Spirit Airlines reservations?
When making Spirit Airlines reservations the customers are also offered options to add or modify seats. For doing so they will need to visit Spirit Airlines official website and click on My Trips tab and follow the instructions to access their reservation. The customers will be required to click on the link to add or modify seats and complete the form when they are accessing their reservation more than 24 hours before departure. If the customers are accessing their reservation within 24 hours before departure (up to 1.5 hours prior to departure) then they will need to purchase a seat assignment during the online check-in process.
For getting more details and information regarding seat assignment or any other flights booking-related queries and solutions the customers are always free to speak to the airline's customer support executive by calling on Spirit Airlines phone number. The customers can look forward to getting the best solutions to their problems and any concerns addressed promptly so that their flying experience with Spirit Airlines is smooth, convenient and comfortable to the best possible extent.
Also, read our blog Spirit Airlines $9 Fare Club Complete Guide.
Customer Comment
Your email address will not be published.
For immediate assistance
kindly call on below number
571-389-6426
OR, We will contact you within 24 hours.