Cancel Your Flight $0 Cancellation Fee*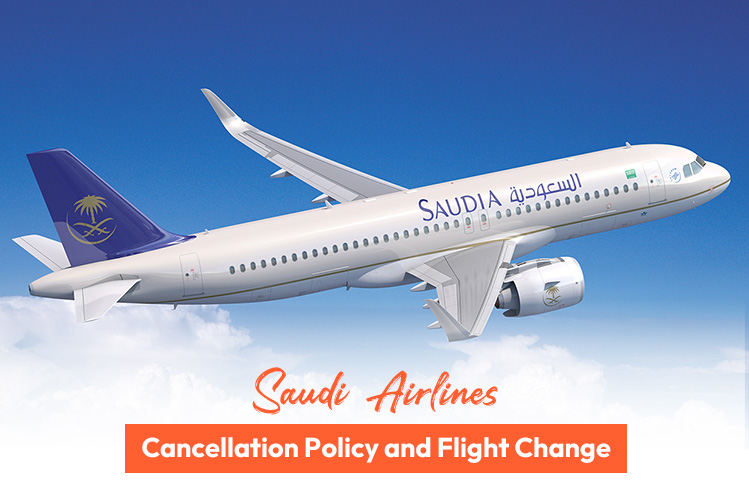 Saudi Airlines Flight Change and Cancellation Policy
Wednesday, May 18, 2022
Have you ever confronted a situation where the travel plan has changed abruptly or for some emergency reasons? Such situations do occur and are normal when planning a trip. People are sometimes forced to change flights or cancel their journey. If you have booked tickets with Saudi Airlines and need to make changes to your itinerary then be at ease and don't worry unnecessarily. The customers have the flexibility to change or cancel their reservations as per their needs. Before booking your flights it would be just great for you to know both Saudi Airlines flight change policy and Saudi Airlines flight cancellation policy. Knowing these policies prior to plane ticket bookings will ensure that your travel becomes as comfortable and convenient as it can be.
As you seek to get more details about Saudi Airlines policies, it would be prudent for you to, first of all, know about the airline itself. Saudi Arabian Airlines, now called Saudia, is the national carrier of the Kingdom of Saudi Arabia and operates out of its primary hub at King Abdulaziz International Airport in Jeddah. The airline also has secondary hubs at King Khalid International Airport in Riyadh and King Fahd International Airport in Dammam. This third-largest carrier in the Middle East offers flight services to 85 domestic and international destinations, including those in the Middle East, North America, Asia, Europe and Africa. The airline is also renowned for offering domestic and international charter flights during the Ramadan and Hajj seasons.
Saudi Airlines offers three classes of travel to its customers. You can look forward to a premium flying experience when booking one of the three cabins – Saudia First Suite, Business Class and Guest Class.
Saudia First Suite: An exceptional experience is waiting for all those planning to book tickets for travel on a fully-enclosed private Saudia First Suite with aisle privacy screens. Among the prominent highlights of Saudia, First Suite includes 82-inch long seat which can be converted to 80-inch x 30.5-inch wide bed, 23-inch HD Screen for in-flight entertainment, Buddy Seat for face-to-face dining, a large bi-fold table, touchscreen seat controller, two PC power sockets and USB ports, storage space for personal items and tablet, water bottle storage, headphone storage, personal reading light, passenger controlled suite mood lighting, 5-inch wide full height personal wardrobe, designer amenity kits, sleeping kit with pyjamas, 4-course menu and free Wi-Fi service.
Business Class: The Business Class seats, called Super Diamond seats, are provided in Boeing B77Z aircraft offering generous recline, ample legroom, adjustable headrests and lumbar support. The seat can be converted to a full flatbed and is equipped with a 17-inch wide HD screen for in-flight entertainment, an ottoman, large dining table, touchscreen seat controller, mood lighting, privacy divider, storage space for personal items, international cuisine featuring Arabic, Mediterranean and Western dishes with the option of 'Dine On Demand Dining', and designer amenity kits.
Guest Class: Saudi Airlines offers the most comfortable and spacious seats in the Guest Class with a 34-inch pitch, adjustable headrest, lumbar support recline, and manually-operated footrests. All seats have special monitors for in-flight entertainment. The passengers are also provided amenity kits and meals featuring Arabic, Mediterranean and Western dishes.
Saudi Airlines Flight Change Policy
If you have booked Saudi Airlines flight and have a sudden change in your travel plan then you can easily change or modify your reservations. For this, you need to study Saudi Airlines flight change policy. The customers are offered Saudi Airlines manage bookings and itinerary changes option, as per requirement. The flight change can be done online by visiting Saudi Airlines official website and following some steps. The customers will need to click on the 'Manage Booking' tab and enter their last name and reservation code. After retrieving the booking, they will have to select the 'Change the Flight' tab for making changes in the destination, departure or outbound date. The customers might have to pay Saudi Airlines flight change fees for some changes. The updated e-Ticket will be sent only after the changes are confirmed upon receipt of flight change fee payment.
The following are the terms and conditions according to Saudi Airlines flight change policy:
All flight bookings, both domestic and international, are allowed to modify
The itinerary cannot be modified if only less than one hour is left for flight departure
If the itinerary is modified within one day or 24 hours of the original booking then it can be done free of cost
When making itinerary changes after the lapse of 24 hours of booking then an amount of change fee is to be paid, which will vary according to different factors and calculated as per Saudi Airlines fare rules
The customers are generally offered refundable/changeable tickets by Saudi Airlines. Most flight tickets for Business Class and Guest Class provided by Saudi Airlines are changeable and it won't cost you much for the date change. The customers have the flexibility to make flight changes either online or by calling Saudi Airlines reservations department.
Saudi Airlines Cancellation Policy
Have you had a change in your travel plans and want to make Saudi Airlines flight cancellation? No issues. It's understandable that people are forced to cancel their tickets at the last minute. Saudi Airlines cancellation policy will be helpful to you whenever you want to cancel your reservations. The 24-hour cancellation policy introduced by Saudi Airlines has provided more flexibility and benefited the customers immensely.
According to Saudi Airlines 24-hour cancellation policy, the customers are allowed to cancel their flight bookings with the airline within 24 hours of the original purchase. If they do so then Saudi Airlines will provide the full refund of their ticket cost on the condition that the booking was done a week or more prior to the scheduled departure date of the flight. The customer will however have to pay the penalty as per Saudi Airlines fare rule when the flight is cancelled a few hours before the scheduled departure and that it was booked not more than a week before the original departure date.
When planning to cancel their reservation, it is also important for the customers to know about Saudi Airlines cancellation fee for both domestic and international flights. If the cancellation request was made by the customer after the lapse of 24-hour risk-free cancellation window then a cancellation fee of between $100 and $500 will be applicable. If the Saudi Airlines ticket was cancelled within 24 hours from the scheduled departure of the flight the customer will have to pay between $100 and $400 as a cancellation fee.
The major highlights of Saudi Airlines cancellation policy are the following:
If the booked flight is cancelled within 24-hours risk-free window of the original booking date then the customer will get a full refund of the cost of ticket. This will though depend on the booking done a week or more before the scheduled departure date of the flight
If the customer has booked the flight and cancelling it 7 days before the scheduled departure of the flight then he/she will be charged 10% of the ticket fee by the airline
If the customer is cancelling booked flight within the period of 7 days to 48 hours before the scheduled departure of the flight then Saudi Airlines will charge 50% of the ticket fee
Saudi Airlines will give no refunds whatsoever to the customers who cancel their flight in the period 48 hours to 30 minutes before the scheduled departure of the flight
The cancellation of Saudi Airlines flights can be done online without any hassles by the customers. This can be done by visiting Saudi Airlines official website. The flight change and cancellation can also be done over the phone by calling Saudi Airlines flight change number. After the successful cancellation within the prescribed time frame as per Saudi Airlines flight change and cancellation policy, a request for refund can be placed online by filling out the refund request form. The refund will not be provided after the expiry period of the ticket. The refund, if applicable, will be processed within 7 to 10 working days.
For further information on flight change and cancellation, and/or any other travel-related queries the customers are always free to call Saudi Airlines customer service number at Fond Travels - +1-571-389-6426 and get the best possible assistance anytime for a smooth and comfortable journey. Flying with Saudi Airlines is surely going to prove to be a highly comfortable and luxurious experience for the passengers.
Also, read our blog How to Book Business Class Flights?


Customer Comment
Your email address will not be published.
For immediate assistance
kindly call on below number
571-389-6426
OR, We will contact you within 24 hours.