Cheap Christmas Flight Deals
Wednesday, August 03, 2022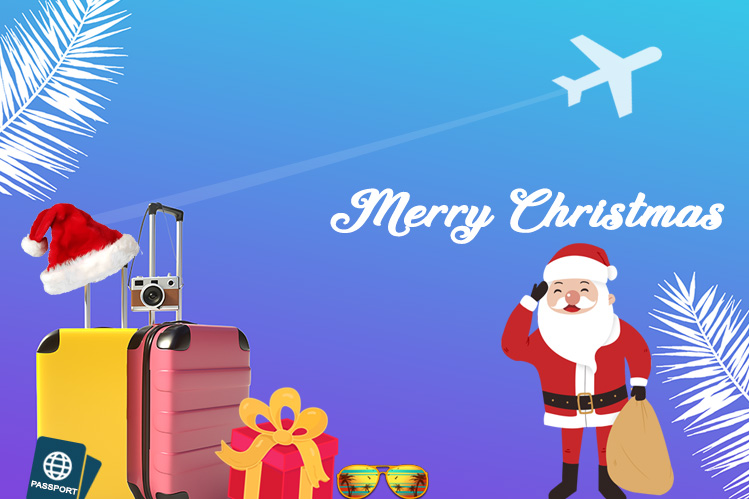 Are you eager to beautify the Christmas trees, decorate the halls and fill the stockings with presents? Unfortunately, when you're home for the Christmas holidays or going on a trip to a new destination, traveling during the holiday season can be costly, frustrating, and difficult to navigate.
The good news for travelers is that our Christmas travel deals allow you to book affordable flights and fly off to enjoy time with your loved ones or have a fun-filled getaway.
Christmas flight deals are plentiful, but you must know how to locate them. Below are some suggestions for booking a budget-friendly and relaxing holiday.
Early Bird Gets the Deal
It's not shocking that the cost of Christmas airfares rises as we approach the time of the year, so there's no excuse to hold off making your travel plans.
If you plan to fly this year with Christmas flight specials, don't stop or delay. The last-minute packing, sitting at the office to finish a task before heading to the airport, or perhaps deciding to jump into a taxi instead of making arrangements for airport transportation or booking cheap Christmas flight deals increase the chances of making your holiday travels anything less than joyful.
Instead, take the time to get started on your resolutions for the New Year by becoming the sophisticated planner who's not impeded by a long wait and extra security checks or traffic congestion.
Do Not Delay Your Travel Plans
The earlier you start planning your travel plans by looking for Christmas airfare deals, the greater your chance of getting cheap flights and saving money on your travel plans.
Plan months in advance, instead of just a few weeks in advance, to avoid the crowds for these popular and cheap flights for Christmas. Although you could also be patient and wait until the very last minute to get a ticket that isn't sold at a less expensive cost, you don't want to disrupt your plans for your vacation. So get your tickets booked in advance to ensure you get your Christmas 2023 flight tickets at the lowest price.
Since demand for flights in the holiday period is soaring, travelers shouldn't be picky regarding travel details, particularly when trying to find an affordable flight during this busy travel time.
The more flexible you are in your travel arrangements, the greater your chance of finding cheap Christmas flight deals for your holiday getaway. However, there are five things you might need to make clear:
Be flexible
Make sure to book an early flight. The best way to avoid crowds during the holidays is to travel earlier. The initial flight for the morning ensures you'll be less likely to have Christmas vacation deal with delays or chaotic situations on the way to the airport.
For those traveling with children, it's also simpler to avoid afternoon fatigue and have a comfortable, convenient, and cost-effective flight for Christmas 2023.
Make sure you book non-stop flights. Don't let your layover turn into a travel delay. You can avoid the risk entirely by making a non-stop flight reservation. Inclement weather, logistical issues, and lost luggage are just some of the reasons connecting flights can be a nightmare, particularly if you're traveling with kids.
Beware of traveling with the crowd
The flexibility of your plan is an essential idea to keep the costs of travel for holidays and inconveniences to a minimum. For example, cheap flights for Christmas travel 2023, most close to Christmas, and the time between the Christmas season and New Year's Day are when costs and crowds are at their peak.
Consider a Thursday-to-Thursday excursion to beat the trend, or better, take the New Year's Eve or flight for Christmas travel to enjoy a less expensive and relaxing experience.
Be careful not to make connections too close
Naturally, finding a cheap flight is the goal any time you travel. However, particularly during the holiday season, be aware of the information about connections.
It's better to take an extended layover than be rushing through a crowded airport to catch your next flight. If you do not connect, it's very unlikely that you will get an empty seat on the next flight for Christmas travel deals.
We're giving you an additional tip: stay clear of the final morning flight and an inter-city flight to ensure you don't get stuck at the airport in case there's a problem.
Take a look at the deal
Anyone who wants to go away for a vacation with Christmas 2023 flights at the beach must look for deals instead of the destination. Instead of Miami this year, what do you feel about a beach town along the Gulf like Galveston in Texas, Fort Myers in Florida, or Gulf Shores in Alabama? The key is to do your research for the best Christmas airfares.
Book a long layover
For your Christmas flight specials, if you cannot take a non-stop flight, then book a connecting flight with a lengthy layover. It allows you to make it through the airport and handle any unplanned delays to travel. If you've got an extended delay or the terminal is in proximity to a city such as Las Vegas or Atlanta, make the most of your time and visit the attractions during Christmas vacation.
What are the popular US domestic destinations to visit on Christmas 2023?
Miami
San Francisco
New York
New York City
Los Angeles
Honolulu
Orlando
Denver
What are the popular international destinations to visit on Christmas 2023?
London
Dublin
Paris
Seoul
Mexico City
Madrid
Vancouver
Cancun
We at Fond Travels offer you cheap flights for Christmas that can be availed simply by just visiting our website and browsing through the arrayed list of flights and booking the one most suitable to you. You can also surprise your friends and family by gifting Christmas flight tickets this holiday season.
We also offer cheap car rentals and deals on hotel bookings to make travel more convenient and pleasant. So, why are you waiting? Call (571)-389-6426 and book your cheap Christmas flight deals with Fond Travels and celebrate the festival like never before!
Also, read our blog When is The Best Time To Buy Christmas Flights?.
Customer Comment
Your email address will not be published.
For immediate assistance
kindly call on below number
571-389-6426
OR, We will contact you within 24 hours.